Summer Burger Recipes
Tips for forming perfect patties for your backyard barbecue, plus three great burger recipes to try.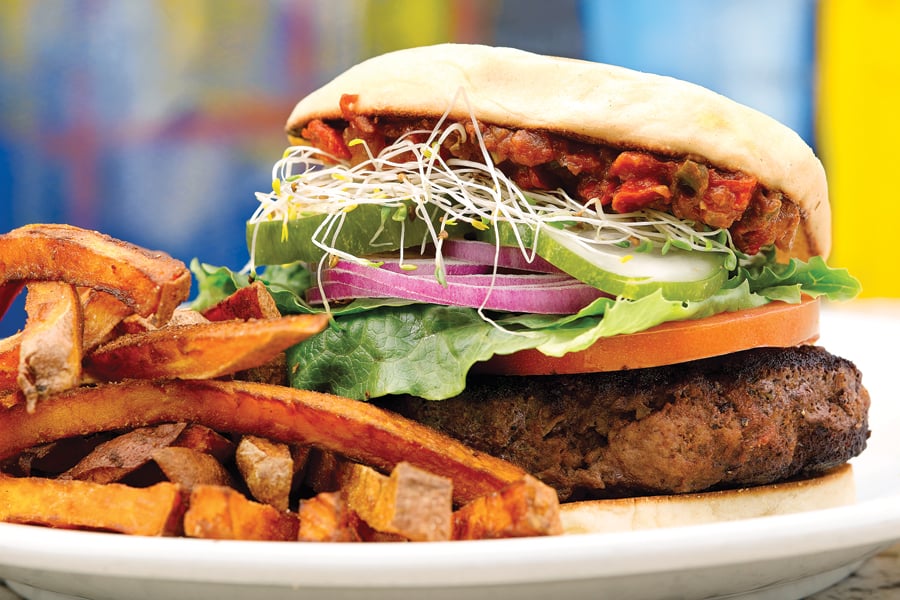 Tips for forming perfect patties for your backyard barbecue.
Michael Maxon, Crazy Burger Cafe and Juice Bar
144 Boon St., Narragansett
783-1810, crazyburger.com
Use frozen ground meat.
Try local and/or grass-fed to see if you prefer the taste, or try bison burgers for a nice change.
Handle the beef as little as possible.
John Elkhay, Chow Fun Food Group (Harry's Bar and Burger, Xaco Taco, Ten Prime Steak and Sushi)
chowfunfoodgroup.com
Bring frozen meat to temperature before cooking.
Don't squeeze the burgers; it removes the juices and flavor from the meat.
Only flip the burger once to be a pro and to achieve the best results.
Jake Rojas, Tallulah's Taqueria
146 Ives St., Providence,
272-8226, tallulahstaqueria.com
Choose a blend with a higher fat ratio. We prefer a 70/30 blend.
Pack the meat into tight patties. We use a large ring mold. It's also very important that all the burgers weigh the same, as this will ensure consistent cooking temperature.
Let the cooked meat rest for at least three minutes after removing from the grill or oven.
---
Quirky Cajun Burger
Courtesy of Crazy Burger Cafe and Juice Bar
Yield: Eight burgers
Ingredients
Caramelized Onions
Heat a medium aluminum or steel saute pan with canola oil. Add in 2 cups of diced onions and saute for 3 to 5 minutes. As the onions stick to the pan, scrape them off the bottom with a metal spatula. The browned bits will color the onions. Continue to cook until the onions take on a nice bronze color.
Cajun Spice
    ½    cup salt
    1⁄3    cup white pepper
    1⁄3    cup garlic powder
    1⁄3    cup onion powder
    1⁄3    cup ground cumin
    1⁄3    cup paprika
    1⁄3    cup chili powder
    1    Tbs cayenne pepper
    1    Tbs dried basil
    1    Tbs dried thyme
    1    Tbs dried oregano
    2    tsp dried mustard
    2    tsp celery salt
    2    tsp black pepper
    2    tsp cayenne pepper
    2    tsp turmeric
Directions
Mix in ½ up caramelized onions per pound of beef.
Mix in ½ up breadcrumbs if the burgers seem too loose.
Portion the burgers and form them by hand, packing them loosely.
Brush the patties with melted butter to coat. Coat each burger generously with Cajun spice mix, pressing the mixture into each side of the patties.
Heat a cast iron skillet with a little oil. Sear the burgers in the pan over medium high heat, turning patties once after 4 to 5 minutes for medium. Remove from heat when your desired temperature is reached and let them rest on a plate for 2 to 3 minutes while you toast your buns.
Add Cajun spice to catsup for a zippy condiment.
---
Red Wine Braised Onions
Courtesy of Jake Rojas, owner of Tallulah's Taqueria
Ingredients
6 white onions
1 cup red wine vinegar
3 cups red wine
1 cup sugar
Salt and pepper to taste
Directions
Cut onions in half, peel and thinly julienne each one.
In a large saute pan — preheated over high heat — coat the base with cooking oil and add onion.
Saute onions until almost translucent.
Add the sugar and cook until slightly caramelized.
Deglaze with half of the vinegar, and cook until almost dry.
Add 1 cup of the wine and cook again until almost dry.
Repeat the steps with the rest of the wine, with the vinegar being the last installment.
Season with salt and pepper to taste.
Tips
When making burgers, be sure to source great-tasting meat. For off-season Burger Night, Tallulah on Thames uses Blackbird Farm in Smithfield, where Ann Marie Bouthillette and her family raise some of the best Black Angus in the Northeast.
Cook burgers in an iron skillet on high heat while butter basting them. This locks in the moisture and creates a tasty char on the outside. Finish them in a 400-degree oven.
Top your favorite burger with the red wine braised onions, arugula and blue cheese aioli and serve in a freshly baked bun.
---
Bison Burgers
Courtesy of Chow Fun Food Group
Yield: Four burgers
Ingredients
2 lbs ground bison meat
2 Tbs soft salted butter
4 locally baked buns
Kosher salt and freshly ground pepper to taste
Iceberg lettuce
Ripe heirloom tomatoes
4 slices American cheese
12 dill pickle chips, drained
Special Sauce (recipe follows)
Directions
Light a hardwood grill or gas grill.
Divide bison meat into 4 equal patties. Do not over-manipulate the meat; this will cause it to become tougher. Leave at room temperature for 30 minutes to warm prior to grilling.
Spread the soft butter evenly over cut side of each bun.
Season burgers on each side with sea salt or kosher salt and pepper.
Prepare lettuce by cutting into strips.
Slice the tomatoes and sprinkle with salt.
Place the burgers on the hot side of the grill. Do not touch, turn or squeeze the patties to encourage faster grilling. This removes the juice and increases flames on the fire.
Turn the patties when they are the proper doneness or char, 3 to 4 minutes, away from the hottest part of the grill. Top with cheese and cook another 3 to 4 minutes for medium/medium rare burgers.
While the burgers are cooking, toast the buns and spread the special sauce on each side of the bun along with lettuce and pickles. Top the burger with tomato slices and enjoy. Don't forget the napkins!
Special Sauce
½    cup Hellmann's mayonnaise
2    Tbs ketchup
1    Tbs yellow mustard
1    tsp tarragon
Sprinkle of salt and pepper
Mix all ingredients together. Let them meld together for 30 minutes prior to use. Top burgers with it. Good for seven days.