Suit Yourself at Marc Allen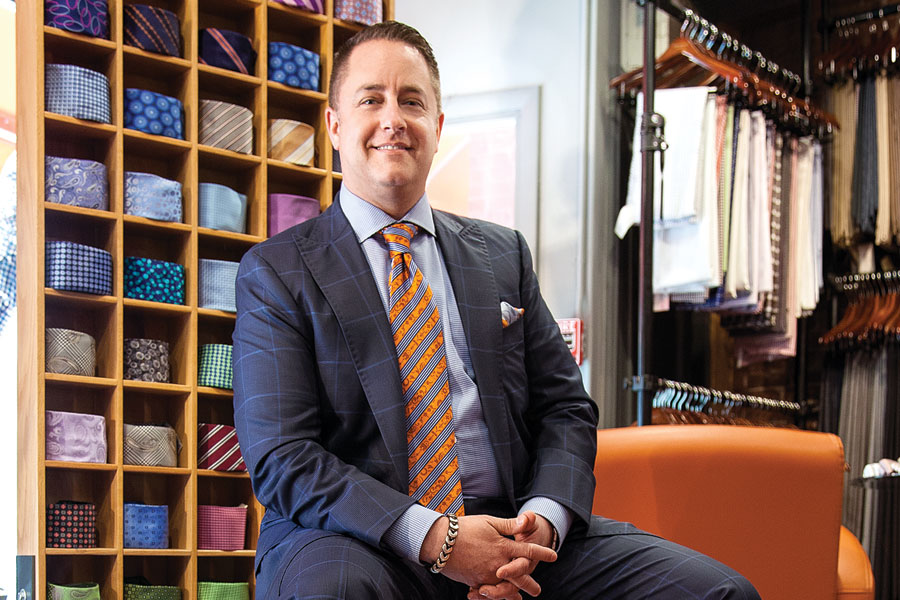 An orange painted carpet greets from the sidewalk outside Marc Allen Fine Clothiers, so clients know they're stepping into a luxury shop that likes to have a little fun. Owner Marc Streisand's passion for fashion began when he was a teenager. "Girls said I was cute, but I was too short," he says. "My mom took me shopping and helped build my wardrobe. I grew up with an appreciation for dressing."
Now, Streisand helps others build their wardrobes through his bespoke menswear business in Providence. Inside, hundreds of fine wools, cashmeres and linens hang from racks on wooden hangers, and a bookcase holds 150 books filled with luxurious European cloth, just waiting to be sewn into custom suits and sport coats. Like a box of crayons, there are hundreds of silk neckties and bowties in every color and pattern imaginable.
Streisand and his team of tailors create one-of-a-kind, handmade suits. They get an idea of a client's career and personal style, they take photos to get a sense of his posture and body type, he's measured and the cloth is selected, and then the work begins. "My job is to make him look better than he already does," says Streisand, adding that the fabrics he carries are exclusive to his shop. "No one else in New England will have that same suit."
He's dressed the publisher of Fortune magazine and another successful businessman in Rhode Island (who shall remain anonymous), who requested two Loro Piana wool suits that cost $35,000 each. "They can only make thirty to forty suits from it," Streisand says. "We put in a bid and it took six months to get." That's the kind of legwork Streisand and team will do for a suit.
200 South Main St., Providence, 453-0025, marcalleninc.com, theclubchair.com.
---
Check out these unique accessories available at Marc Allen FIne Clothiers

Pocket circle
"It's a pocket square for dummies." It has a circular shape, so you just grab it from the center and tuck it into your pocket.


Cayman crocodile belt
"We sell more of these than anything else in the store. You can wear it with a suit or a pair of jeans."


Patterned neckwear
Cashmere retro look and silk shantung with diagonal herringbone and tonal paisley. "Today's style is based on looks from 'Downton Abbey' and 'Boardwalk Empire.' "


Rotenier silver and rhodium-plated cufflinks
Collectible cufflinks created by late artist Robin Rotenier. Designs range from skulls, dog bones and octopi to black onyx and sparkling geodes.