StyleWeek Season 13: Night One a Success for SEED Designers
Here are some of our favorite looks from the shows.
StyleWeek Northeast moved into its new location last night at Rhode Island Convention Center, and it's already made itself at home. The vast space on the ground floor boasts a clean white and black palette and spectacular staging that suits the state's most fashionable event. A monstrous runway with two rows of seating allowed every audience member to capture unobstructed views down the catwalk. The evening kicked off with the SEED Student Design Challenge, judged by industry experts from Forbes, New York City notables and local leaders. The night continued with shows by Nstilla, Yona New York and Peach Carr.
Tickets are still available through Ticketmaster for Thursday, Friday and Saturday night shows. See the schedule here.
Here are some of our favorite looks from Night One's shows:
SEED Student Design Challenge
For this year's competition, students from Parsons School of Design, Rhode Island School of Design, Bay State College and Massachusetts College of Art and Design each created a three-piece capsule collection that was judged by the panel of industry insiders. The winner, Gabriella Delfino, earned $1,000 towards continuing her education and funding her business. Her collection included a show-stopping pantsuit, a form-fitting dress with a flowing fabric train and menswear-inspired pieces with a feminine edge. Taupe and nude fabrics in varying textures with an iridescent sheen gave an ethereal feel to her fashion show.
Some other notable designs include Veronica (Voni) Lee's voluminous "Womb dress," Zoe llana Grinfield's Robin Hood-inpired line featuring forest green details coupled with brown suede, Yvonne Attie's Audrey-Hepburn-like vibe and Cotey Bertone's solid silhouettes that mix masculine and feminine colors and textures with clean lines and impeccable structure.
Nstilla's feminine take on athletic wear brought some energy to the runway. Spandex-printed pants and tanks feature floral print and paisley motifs in pastel colors. Workout tanks are embellished with bows and bra straps, so they look almost like Victorian bodices and lingerie. Vegan handbags and clutches are made in Italy, and they feature whimsical scenes from the streets of Rome.
Career-worthy separates for all body types strutted the runway in vivid combinations, hues of deep purple and lacy textures paired with bold elements. We especially like the pairing of a black satin skirt with a misty green gauzy tank with black lace detailing, and suiting featuring flattering vertical striping.
Peach Carr is a "Project Runway" (Season 8 and All Stars Season 2) alum, and the designer turned her runway show into a walk down a Parisian street. The collection features demure dresses, tanks, trunks and pants printed with cheerful roses, pineapples, a dachshund, martinis and more. Two favorite pieces include a dress and a men's bathing suit sporting the cutest pink lobsters we've ever seen. Several dresses channeled the 1960s Mod era, with black and white and grey and pink Mondrian-style sequined numbers.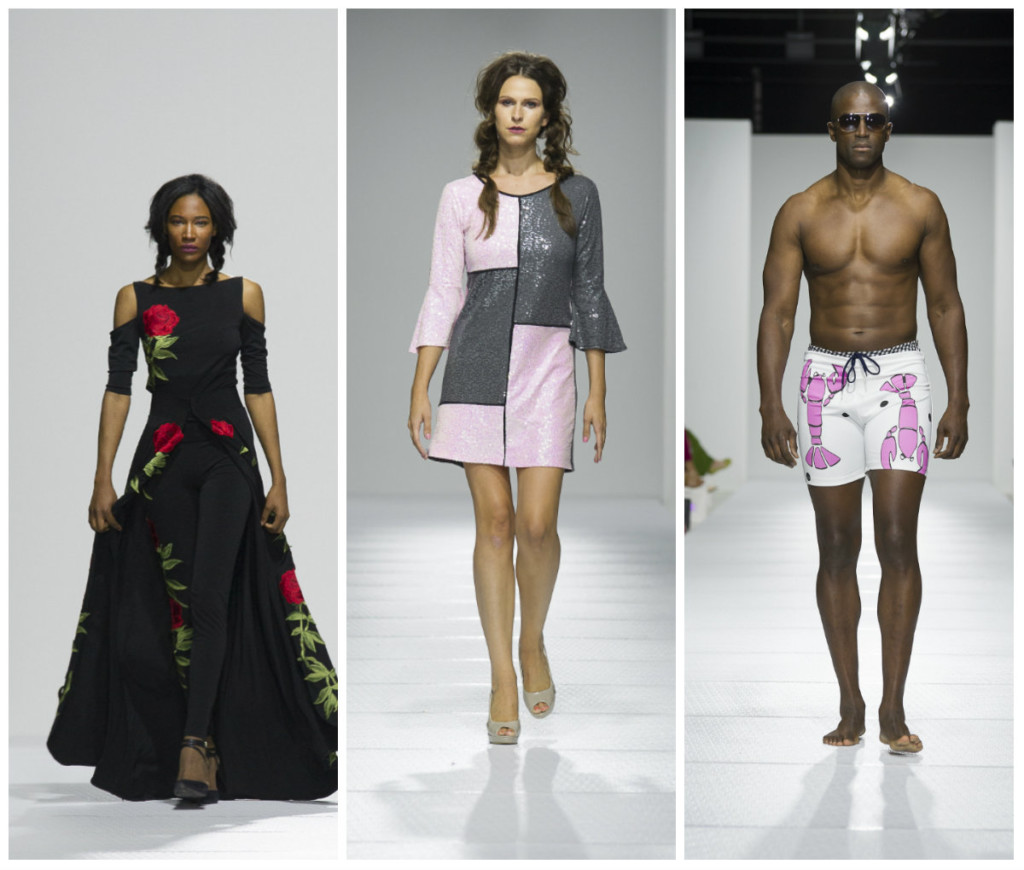 RELATED ARTICLES