StyleWeek part 3 (red!)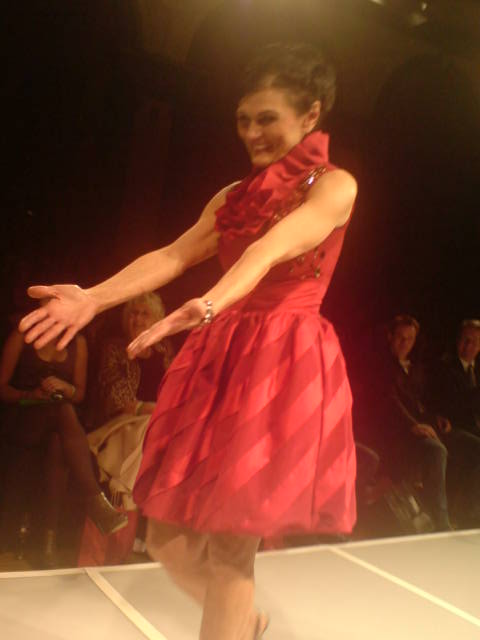 Any color was stylish last night, as long as it was red. It was StyleWeek's Go Red Challenge, designed to remind the audience that heart disease remains the number one killer of women – and men – in the country. For the fundraiser, twelve real heart disease survivors took to the runway in red dresses made especially for them, each with the dress's designer by their side and their stories, as told by them or their loved ones, playing over the PA. It was a strange but compelling mix of high-couture, struggle against disease and the celebration of life.
The ballroom was mobbed for the event, which kicked off with a sparkling accessories showroom next door with some enviable bags and bling (if anyone wants to buy me an Andrea Valentini necklace, they should just feel totally free).
Then the crowd moved next door, overflowing off the seats ringing the runway to create an appreciative standing audience as gorgeous, but decidedly non-model-ey, women took center stage. Their dresses ranged from formal to free-spirited. I don't think there was a dry eye in the house when one woman, who'd had her first stroke while pregnant, stopped and bent over to give a kiss to her baby, now a grown man. Another woman (Jeanette Nissett, at right, whose stunning high-collar dress by Providence's Jessica Abernathy won the challenge) ended up carrying her granddaughter, a toddler, up and down the runway after the little girl decided she'd rather hang with grandma than the rest of her family in the front row.
All proceeds from the show went to the American Heart Association.