StyleWeek Northeast Fall 2014: Restored by Design, Chevalier Homme and Samuel Vartan
Three wildly different designers hit the runway on Thursday night.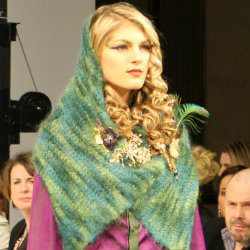 Jewels from another era, Poindexter chic and luxe women's wear: The designers brought their A-game to the runway on Thursday night at StyleWeek Northeast.
Up first was Restored by Design, featuring glamorous, old-world jewels by Martha Jackson. The designer, who recently opened a storefront in the Fox Point neighborhood of Providence, draped her angelic models in handmade jewels with flowery touches and vintage sparkle.
Chevalier Homme's line of menswear hit the runway next with geek-chic designs in fine cuts and funky prints. Designer Reginald Merome describes the Cheval Homme man as such: "The Cheval Homme male recycles, is aware of his carbon footprints, eats vegetarian, shops thrifts or consignment, buys organic and local exclusively simply because he is environmentally conscious."
The night of fashion closed with show-stopping designs by Samuel Vartan. The Boston-based designer, who won this year's Red on the Runway challenge with a vampish long-sleeve gown, wowed the crowd with edgy, body-baring pieces in moody colors. We could imagine glamorous women of all shapes rocking one of his garments, which exude both mystery and charm.
StyleWeek Northeast continues through January 25. Learn more or buy tickets at styleweeknortheast.com.