StyleWeek Northeast Fall 2014: Red on the Runway
Local designers competed in the fourth annual Red on the Runway, which benefited the American Heart Association.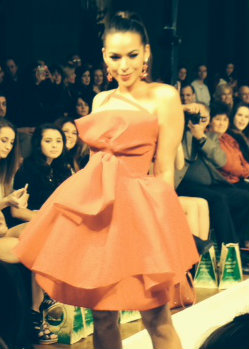 StyleWeek Northeast kicked off in a rosy way with Red on the Runway, the fashion show's fourth annual design competition that benefits the American Heart Association. The models, all touched by heart disease, included a doctor, local celeb Amy Diaz from the "Amazing Race," boxer Peter Manfredo Jr. from "The Contender" and Rhode Island Monthly's very own trendsetter-slash-publisher, John Palumbo. The models were paired with a StyleWeek designer and strutted down the runway toward a row of judges.
The men, styled by Marc Allen Fine Clothiers, hit the runway first:
Other notable looks included designs by Nick Pini and Jonathan Joseph Peters. Pini styled Tasca Automotive Group's lovely Jaime Tasca and Peters created a fun party dress for Amy Diaz.
The competition's winners, both in life and on the runway, were designer Samuel Vartan and Debra Koziol, a stunning woman and a survivor of sudden cardiac arrest. Koziol strutted down the runway with her adorable grandson, who had a few special words for StyleWeek founder Rosanna Ortiz Sinel at the close of the show:
The Models:
Timothy J. Brown
Sandra Coletta
Scott Connery
Amy Diaz
Brett Goudie, MD
Jessica Granatiero
Peter Manfredo Jr.
John Palumbo
Steven Pare
Jaime Tasca
Corey Ventetuolo, MD
Deb Koziol
The Designers:
Jonathan Joseph Peters
Nick Pini
Jess Abernethy
Amy Stetkiewicz
Kara Wickman
Samuel Vartan
StyleWeek Northeast continues through January 25. Learn more or buy tickets at styleweeknortheast.com.