StyleWeek Northeast Fall 2014: Carissa Lynne Frazier, Meghan Doyle and Shalyn Webber
The second night of StyleWeek Northeast Fall 2014 welcomed emerging designers for their first fashion presentations on the official runway.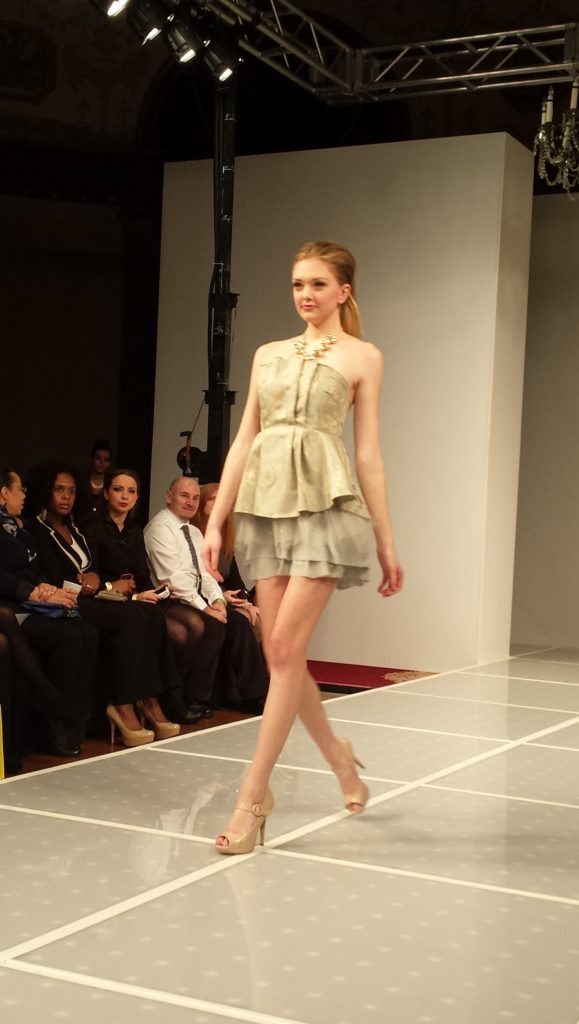 First up was Carissa Lynne Frazier, creator of Carissa Lynne Designs out of Fall River, Massachusetts. Her collection featured cocktail dresses with interesting shapes and bare midriffs using a variety of colors and textures. Satin and chiffon worked together beautifully in a frosty mint strapless little number with ruffles; an adorable peach long-sleeved dress coat with gold buttons was also crowd-pleaser. The runway heated up with a sassy black lace mini skirt paired with an emerald green midriff-baring top and another red faux fur coat paired with embellished faux leather pants. Frazier designed something to suit every woman's style.
Shalyn Webber wowed the audience with her ethereal designs straight out of a wintertime fairy tale. The designer graduated from the Massachusetts College of Art and Design (Mass Art) with a BFA in Fashion Design in 2011. She sent gowns and cocktail dresses in frost blue, white, grey and taupe down the runway on models styled with short spiky hair and teased beehives. The collection included long form-fitting gowns with exaggerated hips and cut outs and short pixie-like cocktail dresses paired with wool scarfs. One of the floor-skimming gowns reminded me of the Ice Queen and another frock would suit Cindy Lou Who from Dr. Seuss's How the Grinch Stole Christmas. Watch the video to see for yourself.
Meghan Doyle graduated in 2009 with a marketing degree from Roger Williams University, and she went on to study fashion at the School of Fashion Design in Boston. Her collection is perfect for the party girl who likes classically beautiful pieces with an edge. Favorites included an all-black jumpsuit with a metallic cummerbund-style belt and a hip-hugging red mini dress paired with a faux fur vest. Some outfits, like a purple pleather long sleeved, midriff-baring top and mini skirt are more clubby than catwalk, but the head-to-toe ebony ensembles mimic Audrey Hepburn's classic look, updated for today's modern woman.
StyleWeek Northeast continues through January 25. Learn more or buy tickets at styleweeknortheast.com.