StyleWeek is Back and Better Than Ever
Spring/summer 2014 collections by Pini, Chances R Designs and Gregory Paul graced the runway on opening night.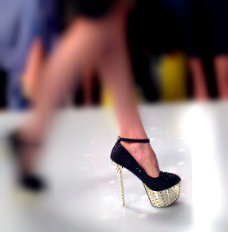 The region's most fashionable flocked to the Biltmore Hotel on Monday night for the opening showcase of StyleWeek Northeast. Local favorites Nick Pini and Toni Lyn Spaziano, plus the fabulous Boston-based designer Gregory Paul Hugill, sent the very best of their spring/summer 2014 collections down the runway. Most of the pieces are ready-to-wear but also boast fun details and rich fabrics that won't be found in high-end department stores.
Pini
Nick Pini says he's most inspired by "driving with the top down, palm trees in the sun, feeling like you're famous and living while you're young." Brimming with effortless pieces in whites and creams, his collection buzzes with youthful energy. Need some new duds for a winter getaway? The flowing, flirty designs scream swanky resort style. pini.co/
Chances R Designs
Toni Lyn Spaziano was busy this season. Her prolific collection, which featured twenty-two new pieces, spanned the fashion aesthetic, from leather and feathers to jewels and classic silhouettes. Her punky studded stilettos (above) were also a big hit. Despite the disparate fabrics and textures, everything Spaziano sent down the runway looked like it was made for a modern-day Audrey Hepburn — sky-high topknots included. chancesrdesigns.com
Gregory Paul
This newcomer to the Biltmore stage has been featured in other StyleWeek events, including a runway show this past March at the W Hotel in Boston. Gregory Paul Hugill creates masterful, lust-worthy designs from luxurious fabrics, a huge feat for a newbie to the fashion scene; Hugill graduated from Lasell College in 2011. His collection moved quickly down the runway and it was a rather short show — a big disappointment for new fans in the audience. We're aching (seriously, aching!) to see more of this talented designer in the very near future. gpwomenswear.com
Check back on RIDaily for more coverage of StyleWeek Northeast, which runs through Friday.
The Details: Through Aug. 30. Shows start at 7 p.m. $30-$40. The Providence Biltmore, 11 Dorrance St., Providence, styleweeknortheast.com.