Still Altogether Kooky
"The Addams Family" is back in a fun production at PPAC.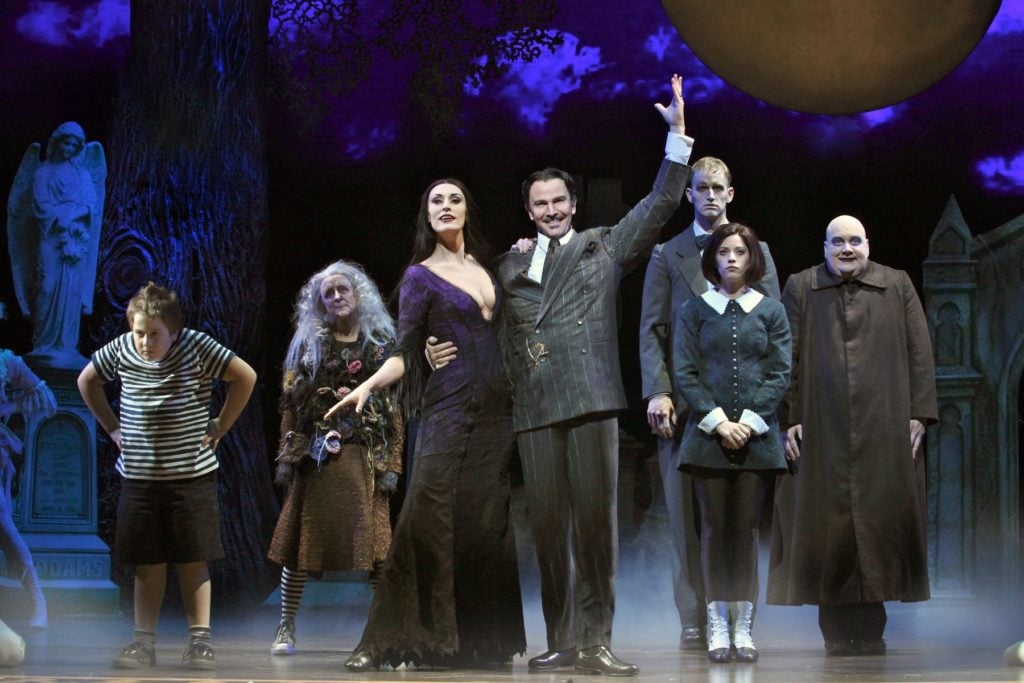 You know it's not going to be a typical musical when you're told to keep your guillotines and flame-throwers to yourself.
The musical production of "The Addams Family" now playing at PPAC as part of its Broadway Series is based on the macabre family created by cartoonist Charles Addams and popularized on television. Filled with surprises, witty lines, fun song-and-dance sequences, spooky sets and otherworldly costumes, the production shows that the Addams family is still altogether kooky.
The action opens with the Addams family emerging from the smoke at the cemetery, summoning their ancestors from the crypt and leading them through several dance sequences. Father Gomez Addams is still madly in love with his ravishing wife, Morticia (it's hard to stop looking at her cleavage), and despite the family's fascination with the death, the Addamses are a pretty happy extended family.
Things get complicated when Gomez learns from his daughter, Wednesday, that she has fallen in love with a normal boy named Lucas and wants to marry him. She asks her father to keep the secret from her mother — which Gomez is loath to do. He's caught between the two women he loves. And Wednesday's little brother, Puggsley, isn't any more pleased at the prospect that his sister might move on to torture somebody else.
When Lucas's parents come over to meet the family for dinner, all hell breaks loose. Mal and Alice Beineke are understandably freaked out by the Addamses, even though the family tries it's best to be "normal" during one of the funniest scenes in the musical. But it turns out that the Beinekes have secrets of their own.
The performance is a lot of fun and is filled with Tony Award-nominated actors. But it also has some more serious messages: that people shouldn't keep secrets from the ones they love and that "normal" is overrated.
"The Addams Family" runs through March 25. Tickets range from $70 to $43. For more information, go to ppacri.com or call 421-ARTS (2787).