Steelers Versus Patriots: A Wager
Pittsburgh Magazine and Rhode Island Monthly are betting the odds against each other, and one writer with a past in the Steel City finds it a tough call.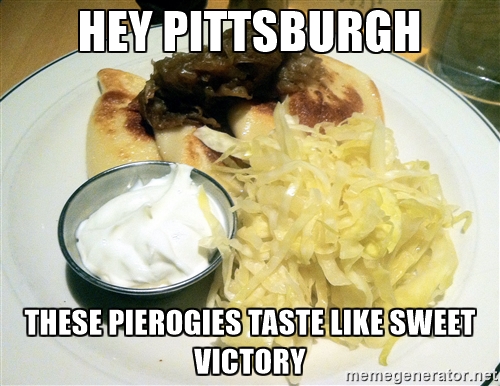 Steelers versus Patriots: For some reason, the idea of yellow and black clashing with red, white and blue pitches seemingly sane people into a furor worthy of Nordic berserkers.
For many of us Rhode Islanders, the choice is simple. The New England Patriots aren't just Boston's team, so many of us bleed with 'patriotic' fervor, worship the church of Belichick and Brady, and decry any limp claims of 'deflategate' that get thrown our way (no pun intended).
Sunday, the Steelers and the Pats meet once again, and I find myself resolute in who I am choosing to cheer on. I'm resolute because of a wager that Pittsburgh Magazine made with us, promising us a bottle of Wigle Whiskey and a dozen pierogies, if the Steelers lose. If the Pats lose, we send the folks o'er yon some 'Gansetts and a bushel of quahogs. I don't know about you, and maybe it's my 'burgh past talking, but pierogies versus quahogs, well, there's a clear winner in my book.
For me, Steelers versus Patriots is much more complex than deciding between good and evil. While I have no love for the Steelers, I did attend the University of Pittsburgh for four years before returning to my Rhode Island roots, giving me an outsider's appreciation for the city of bridges. From the freezing cold (-10 is warm) winters to 'yinz' to pierogies so loaded with cheese and potatoes they're ready to burst to pierogies that race around the Pirates' stadium (it's a glorious sight to behold), the Steel City has its charms.
Pittsburghers are friendly folks; they love telling you about their day and how their "laundry needs done" or all about that kielbasa and pierogi laden burger they had at Fatheads on the Southside. But if you put on a Patriots jersey, well, that's the clincher. I still have fond memories of being a wide-eyed freshman sporting my Brady jersey during the AFC finals, oblivious to the black and yellow blood coursing through the 'burgh's veins. Needless to say, I lost my innocence rather quickly. I couldn't understand, as a pretty much born and bred New Englander, why everyone hated the good-looking, soft-spoken Tom Brady. I mean, what's not to like?
I quickly overcame my learning curve and temporarily shoved my Brady jersey to the bottom of my drawers, only to emerge with close friends who weren't from the city, or back at home, in the safety of Gillette Stadium's shadow.
So I send my love to you, Pittsburgh, but in the end, all I want are some pierogies for a taste of my grand time spent in that great city of yours, and for this, I say, GO PATS!
Caption: The writer as an innocent freshman at the University of Pittsburgh.