The State of Solar Power in Rhode Island
Residential and commercial programs are sprouting up across the state. Will momentum slow under Trump's solar tariffs?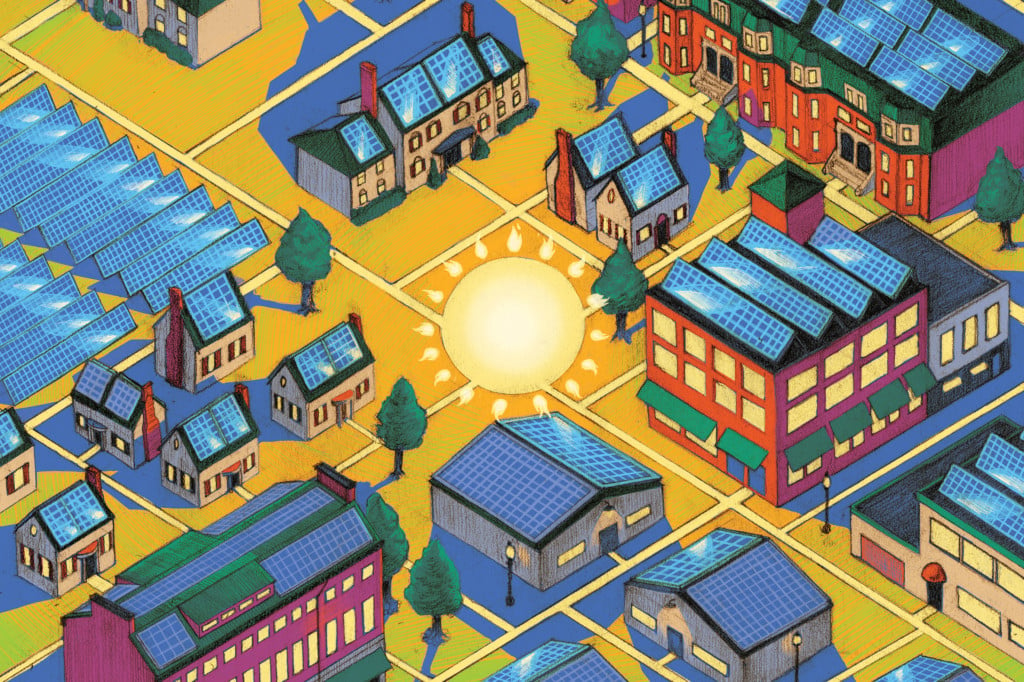 Before Robert Stewart and Hannah Morini put a new coat of paint on the clapboards of their 1890 farmhouse in South Kingstown, they installed solar panels on the roof. Some homeowners might balk at the mid-$20,000 cost of a solar installation — on top of the purchase price of a house — but Morini, who has worked in the renewable energy business since 2009, didn't hesitate.
"I signed a contract as soon as I could," Morini says. "My power bill gets reduced, I get a check from National Grid and I have a loan payment. Every month, I tally up my benefits and expense, and every month, I'm saving money. It's an easy thing we can do to help the environment, local businesses and save real money."
In the last six years, Rhode Island has been making it easier to go solar. The state has a goal: 1,000 megawatts and 20,000 clean energy jobs by 2020, set by Governor Gina Raimondo in March of 2017. It's a piece of Rhode Island's longstanding commitment to renewables. The state is home to the first offshore wind farm in the United States, and first to establish a public benefits fund for renewable energy — the Rhode Island Renewable Energy Fund — in 1997. Today, it offers forty-eight programs to boost renewable energy use, promote energy efficiency and help consumers purchase electric vehicles.
In 2016, officials calculated 15,305 clean energy jobs in the state. According to the Rhode Island Clean Energy Industry Report, the number of solar workers alone had grown by 16 percent in a twelve-month period, for a total of 1,700.
"In 2014, we had six approved solar installers and today we have forty-eight solar companies," says Carol Grant, Rhode Island's commissioner of the Office of Energy Resources. "The growth of really good jobs is an important part of this story. It's fast growing and attractive to people who have well established skills in other areas, ranging from engineering to installation. This is a set of jobs — and all clean energy jobs — that shows a trajectory that's promising."
And those flat black panels are beginning to pop up in fields and on rooftops everywhere. In Cranston, a developer is building a 50,000-panel solar array in the southwest corner of the city. Turning Point Energy is trying to site a forty-acre solar farm in Smithfield. Following the lead of East Providence, South Kingstown, in partnership with University of Rhode Island and Narragansett, is developing solar farms on Superfund sites in Peace Dale and West Kingston. State and federal policies have made it as attractive for a municipality as a homeowner to install solar. The upfront development costs are borne by the developer Kearsarge Solar, which owns the array; the consortium gets 25 percent of the energy produced, lowering the bill.
"The options for a closed landfill are limited," says Jon R. Schock, the town's public services director. "It's a win-win for the town, especially since we're not investing any capital dollars and it's a beneficial reuse."
Rhode Island is an "exciting place for solar," says Jamie Dickerson, a policy analyst with the Northeast Clean Energy Council. "In the last few years, there's been a number of landmark laws that solidified the foundation and make the future very exciting. Everyone in the Northeast is following Rhode Island very closely."
According to Solar Energy Industries Association figures, these have been boom times for the $28 billion industry. As the cost for installations fell by more than 70 percent since 2010, the number of gigawatts of installed solar capacity has grown to forty-nine. Solar accounted for 25 percent of all new capacity installed in 2017, generating enough electricity to power nine-and-a-half million homes.
The state has done everything officials can think of to make it cost-effective, with a combination of education, grants, financing packages and tax breaks for installations, and credits and payments from National Grid for the energy that solar produces. For example, the residential solar energy property tax exemption ensures that the installation of solar panels will not raise your property taxes. Most recently, the state passed a law creating a statewide solar permitting process, to streamline municipal electrical and building permits.
In 2015, the state launched Solarize Rhode Island to encourage homeowners and businesses to install small-scale solar. Communities chosen to participate use an approved installer to offer competitive pricing that heads downward as more people participate. By February, Solarize Rhode Island had resulted in signed solar contracts for 630 home and business owners in fifteen municipalities.
RI Commerce Corporation's Renewable Energy Fund, with $1.9 million for the first round of awards in 2018, gives grants to solar projects, large and small. Annie Ratanasim, the corporation's Renewable Energy Fund Program manager, says the grants, when combined with other incentives, can help homeowners "save up to 60 percent of the installation costs. There aren't a lot of states that have the rebate programs we have."
Businesses can also obtain financing under the Rhode Island Infrastructure Bank's Commercial Property Assessed Clean Energy (PACE) program. Launched in 2016, PACE uses private capital to provide all of the financing for clean energy projects, at a low cost for terms of up to twenty-five years. The monthly payment is a municipality assessment, which can be transferred to a new owner when the building is sold.
It's another way to encourage businesses in a new construction project to incorporate energy efficiency and clean energy into building design, says Jeffrey R. Diehl, the Rhode Island Infrastructure Bank's executive director and CEO. To date, the bank has shepherded five companies through the process, and has "a bunch more" in the pipeline.
"It's good for the environment and it significantly reduces operating costs over time, so it makes economic sense as well as environmental sense," he says.
Once installed, property owners can start reaping the benefits of a solar system in a couple of ways. National Grid's net metering policy allows any excess energy generated each month to be credited to the customer's next bill. Under another solar feed-in tariff program, National Grid pays residents between 22 and 34 cents per kilowatt-hour for their solar generation at long-term rates.
Kenneth Payne, chairman of Distributed Generation Board, which oversees the development and implementation of Rhode Island's Renewable Energy Growth Programs, says these programs are "a way to democratize the energy landscape; it makes energy generation available to lots of people. And as we grow, there's an incentive for learning how to [create programs] and how to do them better."
Consumers almost have too many choices, says Tim Roughan, National Grid's director of energy and environmental policy.
"We do have good programs, but we have to think through the interactions between them," he says. "Customers don't always understand what's out there. It makes it more complicated and can reduce them to inaction. Simplifying things for folks wouldn't be the worst thing in the world."
This forward momentum is expected to slow this year, in the wake of new tariffs on solar. Federal policies like the 30 percent residential commercial investment tax credit, which Congress extended in 2015, have goosed solar sales. But, in January, President Donald Trump slapped a 30 percent tariff on all imported photovoltaic cells and modules. The gambit, in response to petitions from two American solar manufacturers, is widely seen as a move that will do little to stimulate domestic manufacturing, since the tariff drops in each of the four years, before disappearing. At the same time, experts say that tariffs will be harmful to the burgeoning solar installation industry.
Douglas Sabetti, owner of Newport Solar, started stockpiling solar panels last year.
"Trump caused a lot of uncertainty," he says. "I took out my first business loan to buy solar panels before the tariff hit. In 2017, the market started to slow down in anticipation, and a lot of projects got put on hold."
By the end 2017, the state had reached a clean energy generation capacity of 244 megawatts — including 64 megawatts of solar — a little less than a quarter of the way to the ambitious 2020 goal.
"All of our energy has to come from somewhere," Morini says. "I'm really happy that mine comes from my roof."
Ellen Liberman is an award-winning journalist who comments on politics and reports on government affairs for more than two decades.