Spring Fever
Memories turn the pages of our lives in ways a calendar never will.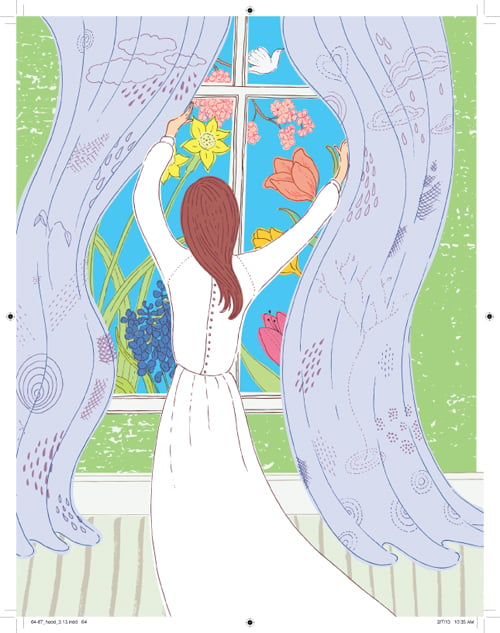 When I was a little girl, every year on the first day of spring my mother took me outside and together we recited, "Spring has sprung, the grass has riz; I wonder where the flowers is?"
A New England March usually didn't have any flowers yet. Often, Mom and I had to step over piles of snow for our spring ritual. Once or twice, the sun broke through the gray clouds and I can remember tilting my head upwards to meet it. But memory is a funny thing. We have a way of conflating time and place, of shaping events to suit us. Perhaps I never glimpsed the purple tips of crocuses, struggling to break through the hard ground of winter. Perhaps Easter never fell on the first day of spring, and my memory of standing shivering in the backyard in a black dress covered with outlandishly large sunflowers, asking through my chattering teeth: 
"…I wonder where the flowers is?" is faulty, rearranged, a trick of time.
But I believe it to be so. I believe that I ran back inside in my too-thin dress that long ago spring day, and my grandmother, Mama Rose, was pulling a lasagna from the oven and the heat warmed me as I passed. I believe I walked into our dining room, and it was crowded with people, there for Easter supper. My Great Aunt Etta with her delicate butter cookies topped with elegant silver balls and her pyramid of Italian honey cookies; my Great Aunt Annie lifting a large woven basket of wandi, the fried and sugared Italian cookies folded into bows; my father cutting the sweet bread he'd learned to make from Nonna, my great grandmother, and gently slipping the homemade ricotta cheese, its magic also passed down to him by Nonna, from its plastic container; my brother, Skip, sneaking prosciutto from the antipasto, popping marinated mushrooms made from the Helm restaurant's secret recipe into his mouth; and my cousins, also in spring dresses too flimsy for what really was still, despite the date, a winter day.
Or maybe when I was a child, Easter never occurred on the first day of spring. Maybe my memory has just made it so, has added a pot of miniature daffodils to the tableau, and mixed the scent of Great Uncle Rum's stogie with Great Uncle Carmine's cheap cologne. Certainly I stood in my barren backyard, year after year, looking for signs of spring. Brown frozen earth. Hard scraps of dirty snow. The fig tree still wrapped in burlap to help it survive winter. And me, peering through my glasses for a sign of spring.
To read more of this story please visit your nearest newsstand or click the link below.