Splitting Hairs
After radiation treatment for three brain tumors left her nearly bald, Amy Finn couldn't find a hair implant surgeon who would take her insurance. Until she met one doctor who said he'd do it for free.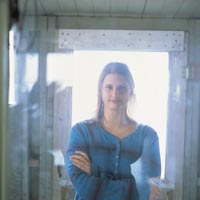 Patient: Amy Finn, 30, North Falmouth, Massachusetts.
Doctor: Robert Leonard, hair transplant surgeon, Leonard Hair Transplant Associates.
Amy: I had just turned twenty-four and knew something was wrong. I thought maybe it was diabetes because that runs in my family. I'd lost twenty pounds in a month, was dizzy all the time and had tunnel vision. I finally went to the doctor when I started seeing these bright spots — like Christmas lights. In the end, the doctors found three tumors on my brain. They told me it was a terminal illness, and I only had a one in three chance of surviving. Surgeons at Brigham and Women's took out 80 percent of the biggest tumor — it was about the size of a lemon — from my frontal lobe. They didn't want to touch the others because of where they were located, so I had thirty-two days of radiation and a year of chemo to treat those. It was the radiation that made me lose my hair. Three weeks into it, I was at my parents' eating spaghetti when I scratched my head and a huge clump of it fell into my plate. I had a breakdown that night. After that, I lost almost all of it. It eventually grew back, but I hated it. It was patchy, and I was bald in places on the top and left side. Wigs just aren't for me, so I wore bandannas all the time. Last spring, I started looking for doctors who could fix my hair. At first my insurance company told me it wasn't covered. And when they finally admitted to a mix-up and said they'd cover it, I couldn't find a doctor who would take insurance. After more searching, I found Dr. Leonard's number.
Leonard: Amy came to my office with her mother for a consultation at the end of July. She had a lot of thinning on the sides and on top where the scar from her surgery was, as well as significant loss due to radiation therapy. Right away, I felt strongly that I wanted to help her. She had been through so much at a young age, and this was clearly affecting her self image. I mostly restore patients' hair for cosmetic reasons, but the ability to help someone who has suffered from illness was one of the things that attracted me to medicine in the first place. Some people just don't have enough donor supply for the procedure. But Amy had an area in the back of her head with a lot of hair, so we could move those follicles to the balding areas. Most of my clients end up having two surgical sessions. The procedure costs between $4,500 and $8,000, depending on how large the bald area is.
Amy: I couldn't believe it when he not only said he'd take my insurance, but not to worry if it didn't cover the whole cost of my treatment. My mom and I are so emotional — it was hard to hold tears back.
Leonard: On October 13, 2006, Amy came to my Cranston office for the procedure.
Amy: I was excited to get it done — not scared at all. It didn't hurt, but even if it did I wouldn't have cared. During the entire treatment I sat up in a chair — it's a lot like a dentist's chair — watching Mystic River. I was there about four hours.
Leonard: First I shaved the donor area so there was just a half-inch band of hair remaining. After numbing the area with local anesthetic, I removed the strip of skin with the shaved hair follicles in it and put it aside in a saline solution. Then I numbed the area we were transplanting into on the top of Amy's head and made tiny incisions, inserting grafts of between one and three hair follicles into the slits. Usually, the transplanted follicles grow for a month to about a quarter inch and then fall out. Nothing grows for three to four months. After that, little nubs of permanent hair, which also grow about a quarter inch each month, appear.
Amy: I didn't see a change right away, but from the beginning people said it looked like I had more hair — even if I hadn't told them about the surgery. Now it's been about six months, and I'm starting to see an improvement myself. I can't wait to have my next surgery in a couple more months. I'm scheduled for three all together. I've got to be careful, though, and consider where the hair is coming from. I don't want to end up with no hair in the back! I still wear my bandannas to class. But now, if I go to a special event like a wedding, I'll be able to wear it up because I can fix it in a way that covers the patches. I really don't worry about the cancer coming back because it's been in remission for six years, and the doctors said after five you're usually safe. But this has helped me move on even more. After so many years of always covering my hair, it's an amazing feeling to finally feel okay about taking my bandanna off.
—As told to Jenna Pelletier
Edited by O'Rya Hyde-Keller