Speaking for the Dead
The New Bedford highway murders riveted Rhode Islanders for months in 1988 and 1989. Someone was killing young women and discarding their bodies by the side of the road, but no arrests were ever made. On the twentieth anniversary of this sensational cold case, a lead detective still lives with the most mysterious investigation of his career.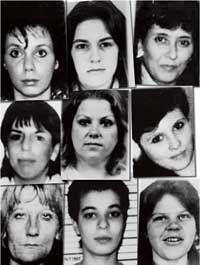 If it bleeds, it leads. For more than a year, one city bled as national news outlets from Dateline to Hard Copy to the New York Times covered the climbing body count that became known as the New Bedford highway murders. "In Search of a Killer," one headline blared. "Suspect on TV Says He's Not Serial Killer," announced another.
Between July 1988 and April 1989, it seemed that every month the remains of another young woman were discovered in the wooded areas of Southeastern Massachusetts, along Interstate 195, Route 140 and Route 6. Nine bodies were found in nine months, but time and the elements had washed away most traces of a suspect. Two other women were reported missing and presumed to be dead.
Identifying the victims was the first hurdle. Most had a transient lifestyle because of drug addiction. Between chemical binges, crashing at a friend's place and feeding their habit by prostituting, it wasn't that unusual for them to be MIA for a few days.
Deborah McConnell, twenty-five, was last seen in May 1988. Her body was found July 2, 1988, by Route 140 northbound, down an embankment and concealed in trees. Her body was nude, with a bra twisted around the neck.
Debra Medeiros, twenty-nine, was last seen in New Bedford in May or June, 1988. Her body was found July 3, 1988, near Route 140 in Freetown by a woman walking in the woods.
Nancy Paiva, thirty-six, was last seen July 7, 1988, walking home from Whispers Pub after an argument with her boyfriend. Her nude body was found on July 30, 1988, six miles west of New Bedford on I-195.
Deborah DeMello, thirty-five, was last seen July 11, 1988. Her nude body was found by a Public Works crew on November 8, 1988. She was concealed within trees, with clothing strewn in tree branches.
Dawn Mendes, twenty-five, was last seen on September 4, 1988. On November 29, 1988, search dogs found her nude body off I-195 near the Reed Road exit.
Rochelle Clifford Dopierala, twenty-eight, was last seen on April 27, 1988. Her body was found December 10, 1988, in a former gravel quarry turned illegal refuse dump a half-mile from the Reed Road exit off I-I95. The body was beneath a grove of trees, partially clothed and strangled.
Mary Rose Santos, twenty-six, was last seen on July 16, 1988. Her nude body was found on March 20, 1989, off the side of Route 88.
Robin Rhodes, twenty-eight, was last seen in April 1988 and her body was found March 28, 1989, off southbound Route 140.
Sandra Botelho, twenty-four, was last seen on August 11, 1988. Her nude remains were found folded into a fetal position on April 24, 1989, eight miles east of New Bedford along I-195 in Plymouth County. According to experts, a fetal position might suggest rape or that the killer staged the scene so the victim would appear vulnerable.
Christine Monteiro, nineteen, was last seen in May 1988. Her remains were never found.
Marilyn Roberts, thirty-four, was reported missing in April 1988. Her remains were never found.
It wasn't until a few bodies were discovered that authorities acknowledged the murders were likely related. After more were unearthed, at least two men became prime suspects: Anthony DeGrazia, a stonemason with a temper and a proclivity for prostitutes; and Ken Ponte, a lawyer with a history of drug problems who was acquainted with several victims. Given the seasonality of the disappearances, some people also speculated that the killer could be a transient who worked on a fishing vessel based in New Bedford.
Detective Rick Ferreira had just returned to the office after a day in court when he heard of DeGrazia's suicide by pills. He was found dead at his ex-girlfriend's parent's house. "Now we'll never get the opportunity to find out if he was the killer," Ferreira remembers thinking.
It was the summer of 1991. The detective had recently charged DeGrazia with attempted murder for choking a prostitute and suspected he might be the serial killer. DeGrazia was a muscular stonemason whom the sex workers called "Flat Nose" because his nose was wide and close to his face. The women warned one another to stay clear of him, saying he had raped and tried to choke several prostitutes. He allegedly threatened one with the words: "I'm going to do to you what I did to the others."
Rick Ferreira has the body of a linebacker and the heart of a social worker. With his cigar alto and "hot stuff" tattoo, you don't expect a softie. There's gravitas to his role as a homicide detective who speaks for the dead: When the deceased haven't received a proper burial by the courts, Ferreira's sleep is restless.
Now sixty-two, he retired from the New Bedford police department in 2006 and started his own business in Fairhaven, REF Investigative Services. Now he spends time on the other side of the law, primarily working criminal defense cases because he believes that not everyone who is charged with a crime is actually guilty. When strangers learn that he worked the highway killings, they have questions. Ferreira would rather not talk about the case but he answers their inquiries because he doesn't like to hurt anyone's feelings.
"Even people I arrested liked me," he says. "They felt obliged to give me information because I was nice to them and they could see I was genuinely concerned with getting to the bottom of the murders." But the first rule a homicide detective learns is that everybody lies. "The prostitutes were too helpful," Ferreira says. "They'll give you whatever you want — even if it's not true — be­cause they're looking for a favor down the road."
"We spent more time disproving people were guilty than proving people guilty," he says. "I wonder, 'Did I miss something ­– that was right in front of my face because I was chasing a false lead?'"
Ferreira worked the case on and off the clock. With little forensic evidence, he and his colleagues reconstructed victims' histories through family members and acquaintances who became their friends. Ferreira attended church services and candle light vigils with victims' families. He grew attached to ghosts as he mapped their descent into drugs and the acts they endured to buy heroin. As he unearthed childhoods without innocence, the detective understood why they numbed their minds.
"Twenty years later, it still keeps me up some nights," says Ferreira. "When I pass a highway where one of the girls was found, I'll say 'That's where we found so and so.' If I see a cross on the highway, I'll think 'But this isn't the spot.' I remember if I meet someone with the same first name as one of the girls. Up until two years ago, people still called me with tips. Whenever I see another investigator, we talk about it. I review the details because as time goes on you slip and I want to remember in the event that someone needs help on the case. I'd do anything to let the parents of the two missing girls bury their daughters. I don't believe you ever have closure but at least there's some closure in being able to bury someone."
The two missing women are related to former area cops and Ferreira wonders why those particular bodies were never found. "Were they buried?" he asks. "I wonder if the killer or killers determined that the police were not going to find these ones, that it was a way of getting back at law enforcement."
When Sam Sutter was elected Bristol County's district attorney in 2007, the region had more than sixty unsolved homicides gathering dust since the late 1970s. He created a cold case squad and vowed to investigate each one. Five have been solved since he took office. "The highway killings are an open wound for the people of Bristol County," Sutter has said. Eight victims were mothers; fourteen children were left behind. Sutter says his investigators are looking at all of the individuals who were considered suspects twenty years ago, as well as new suspects and the possibility that the murders were committed by more than one person in collusion.
Sutter cannot estimate how much the investigation is costing the department. "But time is money," he says. "And we've probably devoted several hundred hours to it." Many of the original highway investigators have since retired or moved away; others are in command positions that cannot be abandoned.
Raymond Veary was first assistant district attorney at the time of the case and is now a prosecutor in Sutter's office. William Delaney was a state police investigator assigned to the Bristol County DA's ­office; he is now a detective sergeant assigned to Sutter's office.
Sixty miles south of Boston, New Bedford sits at the confluence of the Acushnet River and Buzzard's Bay, a historic town of gas lantern street lamps, cobblestone streets and colonial homes where captains' wives once waited for their men to return from whaling expeditions. During the 1850s, the city's fortunes peaked by the demand for whale oil. Herman Melville, who set Moby Dick in New Bedford, wrote, "Nowhere in America will you find more patrician-like houses, parks and gardens more opulent, than in New Bedford." By the 1860s, the whaling industry was declining and textile mills were rising, but these days, New Bedford is rich in history only.
The first skeletal remains were found in July 1988 when a woman pulled off Route 140 to use the woods as a restroom. None of the victims were actually found in the town, yet the case became known as the New Bedford highway killings because the victims frequented Weld Square, an underbelly where drug runners muttered advertisements for brown and white bags of "Power" or "Master of Death." Crack had begun to infiltrate but heroin was endemic. At the time of the murders, a local clinic treated 400 heroin addicts a day, a statistic second in the state to Boston in daily volume. The prostitution on wheels that accompanied the drug trade was called the Weld Square Dance. (Several years ago, a proposal to include Weld Square on city maps was laughed out of city hall.)
Excising the bloodstains is an ongoing battle. In 1983, the national gaze was riveted by news of a sexual assault that went on for hours on a pool table in Big Dan's tavern while bystanders cheered several rapists. Four men were convicted of assault and the incident inspired the movie The Accused. The city was spotlighted again in 2006 when an eighteen-year-old man wounded three customers at a gay bar with a gun and a hatchet. Several months later, a man who had been barred from the Foxy Lady returned to the strip club and opened fire with a semiautomatic weapon, killing two people before being fatally shot.
In Massachusetts, legal responsibility for murder investigation belongs to the district attorney's office rather than the police. At the time of the killings, the DA was Ron Pina, a graduate of Providence College. Pina believed Ken Ponte was their best suspect. Ponte was a local boy who had received a pardon for a drug-possession arrest and then became a lawyer. But, Ferreira says, he retained a nose for cocaine. He had a relationship with one of the victims, Rochelle Dopierala, and served as a lawyer for three other victims. In the fall of 1988, Ponte closed his law practice and moved to Florida, which raised suspicions so soon after the killings appeared to stop, although some acquaintances said he'd talked about moving South for a year. His family had some property investments there.
In 1990, Ponte was indicted in Dopierala's death. After a grand jury deliberated for eighteen months, a special prosecutor determined they lacked the evidence to indict him. Pina had asked a judge for a court order to get samples of Ponte's hair and saliva, palm prints and other evidence. The judge refused the request, saying there was insufficient probable cause to link the lawyer to the crime.
Ponte has since returned to New Bedford. In May 2007, at the age of fifty-seven, he was arrested for shoplifting four cans of sardines and a block of cheese from the local Price Rite. A month earlier, according to news reports, an affidavit filed by his sister alleged that he'd threatened to kill his mother, his sister and himself in a fight over money.
"I don't think we ever had any evidence to show that Ponte killed any of those girls," says Ferreira. He believes the personal got political. "I think Pina really believed that Ponte was responsible, but Ponte's mother and Pina were neighbors and the two men hated each other. Ken was a drug addict who received a pardon and became an attorney, and he was an arrogant man. Some people you just can't be arrogant with cause they're gonna get you.
"Ponte was not the type of guy who would buy drugs on the street for himself, so he used these girls to get drugs for him. I don't think he would have hurt them because he needed those girls and I just don't think he's capable of murder. I'm not saying he wasn't abusive to the girls: When people take coke, they become very paranoid and lock everybody in their house and threaten them. But I don't know anyone who's ever said he tried to kill them."
The same month as the shoplifting incident, police used a backhoe to dig up the driveway and patio of Ponte's former home. The slab was poured around the time the women went missing (back then, investigators used cadaver-sniffing dogs to check the patio). The excavation was publicized and — according to a couple of police officers — ignited rage among some victims' family members who viewed it as a publicity stunt. Those authorities say the big dig wasn't fruitful. DA Sutter's office refrained from commenting on whether anything was found at the property.
It pains Ferreira to know that someone has gotten away with murder. He wishes he could have done more but doesn't blame himself for the outcome because certain aspects were beyond his control. Everyone had the silhouette of a suspect; the killer could have been any john who went to Weld Square. Gary Ridgway, the "Green River killer" who pled guilty to murdering forty-eight women in the Seattle area during the early eighties, chose prostitutes because they were easy to pick up without being noticed and be-cause he thought he could kill as many as he wanted without getting caught.
Ferreira was a key investigator along with Massachusetts state troopers Jose Gonsalves and Maryann Dill. More than thirty investigators worked the case at one time, from every state in New England, and agencies from the FBI to the DEA were involved. "If you're the FBI and I'm a state cop, it's going to be difficult to get along," says Ferreira. "I'm going to think I know more than you, naturally."
"There were some — I don't want to say egos — but jurisdictional issues that surfaced," says Robert St. Jean, a retired state trooper who served as chief investigator for the District Attorney's office. "These were seasoned investigators who all had their own theories."
Ferreira regrets that there wasn't enough time for him to personally interview every suspect and witness. "Another officer might have questioned someone and certain information wouldn't have clicked that might have registered with me because I knew so much about the case," he says. "That's what really bothers me."
For two years, the case hijacked his life. "I was often depressed," he admits. Nights when he made it home for dinner and his wife asked what he did at work, Ferreira would mumble 'Nothing.' It felt like nothing, just another Sisyphean day of pushing a boulder up a mountain, only to have it roll downhill again.
If DeGrazia was the highway murderer, Ferreira thinks his guilt might have been unveiled during the trial for attempted murder, after his arrest for choking a prostitute. Shortly before his suicide, news of the plan to drop the murder indictment against Ponte had been publicized, so DeGrazia knew the spotlight would shine on him. "I think he killed himself because it was the end of the line," says Ferreira. "He knew he was going to jail."
Ferreira has several reasons for suspecting DeGrazia was the highway killer. "He built stone walls, so he knew the back roads," he says. "We found evidence that DeGrazia went with some of the girls who were killed, and he had tried to choke prostitutes in the past. He had one personality when he was sober and of right mind but another one when he was drinking, and we knew he'd been through some physical abuse during his childhood." (According to rumor, DeGrazia's "flat nose" and misshapen arm may have been the result of childhood harm.) DeGrazia had hit his nadir, and the bottle, after a longtime girlfriend broke up with him; he was despondent when she fell for another man a month later.
Experts say that serial killers generally do not select people they know because the randomness is part of the thrill. However, it's not as if the Weld Square women were his friends. "If I act out when I've had a bad day, I'm probably going to pick on someone who is familiar and available," Ferreira reasons. "Those girls were easy prey; it's like taking apples and putting them in a certain spot for deer and returning ten days later with a gun.
"I'm not absolutely sure DeGrazia was the killer; I thought he was our best suspect. Police only need probable cause to arrest, but a good investigator wants more than that. We wanted to be sure that if we were going to charge someone, the assistant DA would be able to have that person found guilty in court. You're putting someone away for the rest of their life, you don't want any mistakes. Taking someone's freedom is very precious; I don't think half of law enforcement realizes how much power they have."
In 1995, DeGrazia's mother, Diane Souza, unsuccessfully sued Pina and his press secretary, Jim Martin, alleging that they caused or encouraged the media to link DeGrazia to the highway killings and knew, or should have known, that her son would take his own life as a result.
In late 2007, District Attorney Sutter took advantage of the state police lab's offer to re-examine forensic evidence from the case, which hadn't been looked at for five years. His office sent four pallets worth of evidence — enough boxes to fill a college dorm room — to a Massachusetts state crime lab for inspection. Evidence included grass, leaves, glass, bones, clothing, hair and fibers. In some states it's not uncommon to wait more than six months for DNA analysis on an active case, so cold cases aren't a high priority. However, Sutter is hopeful that lab results will be ready by the end of the year.
Twenty years ago, a quarter-size swatch was needed for sampling; today, the equivalent of a pin prick is sufficient. Every state now mandates DNA collection when a felony occurs, so the database of samples has multiplied in the past twenty years: The FBI has at least 16,000 DNA samples on file from other murder cases, which increases the odds of finding a DNA match.
The Justice Department and other agencies don't track cold case clearance rates, so it is impossible to speculate on the odds of solving this case based on precedent. Because most of the bodies were badly decayed, battered by elements and subject to contamination by animals, the chances of finding the perpetrator's DNA on the victims or their clothing are slim. But testimony may be all it takes. When murder cases go to court, the spoken word can hold more weight than science; in fact, DNA and other physical evidence solve only about 30 percent of cold cases. "Times change, people change," say veteran cold case detectives. Someone who was mute twenty years ago may find her voice and, in time, co-conspirators can be induced to turn against one another.
Robert St. Jean says he still believes that Ponte is guilty. "Kenny Ponte was a lawyer and now he's in the gutter," he says. "I hate to think that we caused that to happen but his lifestyle was such that he was part of that [drug] culture. However, our investigation was successful to a certain degree because the killing stopped."
Sutter is optimistic about solving the case but cautious about raising false hopes. "I've met with fifteen to twenty of the victims' family members and those meetings have made me even more resolved to do everything I can," he says. "Some brought memorabilia and it was very poignant; it was clear how much they loved the person and how much they wanted to find justice."
For Ferreira, like Captain Ahab in Moby Dick, the case is his white whale. Closure also eludes Bob Cardoza, the former New Bedford police officer whose daughter, Marilyn, was never found. He used to drive the streets of New Bedford for hours, his heart swelling when he'd see the back of a brunette around her height, only to realize it wasn't his daughter.
"This may bother me more than their families but I would really like to find those missing girls," says Ferreira. "The other families demonstrated their feelings about the investigation and the fact that those two families haven't voiced any anger tells me they're not happy. I saw Cardoza getting coffee the other day and he never brings it up. I think the relatives realize we tried our best. They don't want us to feel like they think we didn't do enough."