Spamalot at PPAC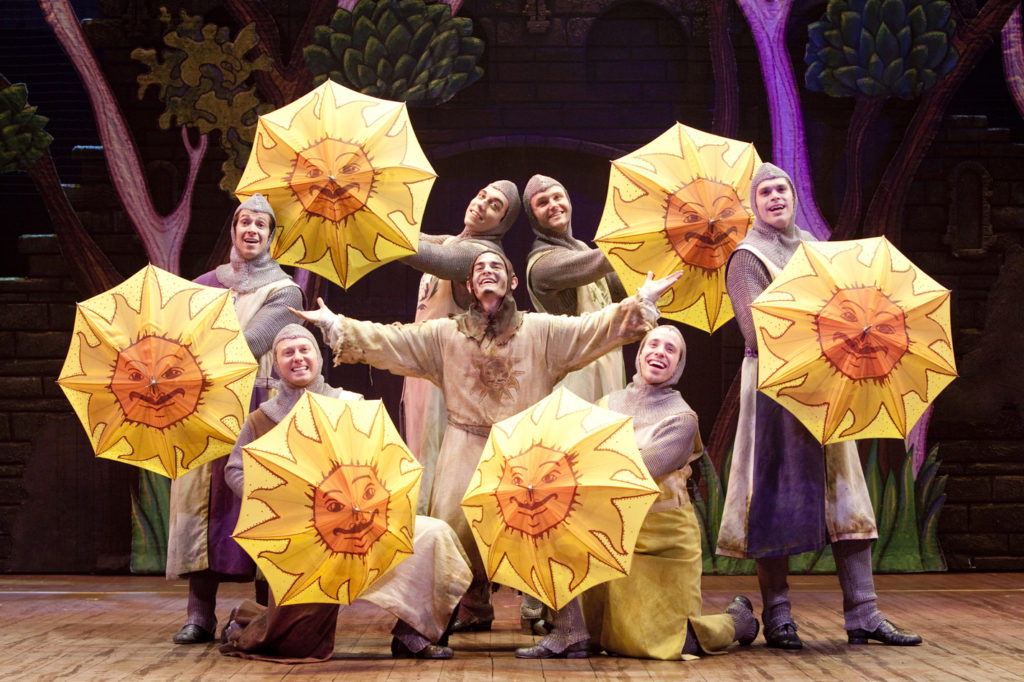 After years of mild nostalgic interest, I finally saw Spamalot at the Providence Performing Arts Center on Friday night. And while I've felt silly ever since, it wasn't because the production, although undeniably silly, was able to replicate that feeling in me.
Rather, I was chastened to discover Saturday morning, when I went to write a review from my home computer, that I couldn't for the life of me remember my username and password to get onto this site. That's what you get for letting Firefox remember all your e-periphera for you! (And for prolonged college high jinks that destroyed too many memory cells.)
So, here I am, back in the office and attempting to write a review for you, dear reader, on the morning after the touring production of this Monty Python adaptation has actually left town. Duh! The only reason I don't feel totally guilty is that, to be honest, I found the show a bit of a bore. So no need to feel cheated, all you review followers who hang on my every word and rush out to buy tickets at my recommendation! Or put another way, I'm sorry, mom, but no biggie. Don't think you'd have liked it anyway.
The show started with a flourish – it was fun to see the campy medieval costumes, loud almost-English accents and irreverent humor up there, larger than life on the PPAC stage. And the audience was giggling away. But two hours later, after each funny-but-familiar joke from Holy Grail, and some even-campier new ones, had been milked into a twenty-five minute skit, things around us had got considerably quieter.
It was, for me, an example of Broadway recycling at its worst. I have fun memories of the movie, especially from the aforementioned college days, when my sense of humor might have been enhanced by said memory-destroying substances. But Holy Grail had a running time of 87 minutes, and while watching it you'd be free to get up, use the loo, prod your crimson-eyed roommates in the side while saying "Ni!" and go find munchies in the kitchen.
Despite the involvement of Eric Idle and Mike Nichols in this 2005 stage adaptation (which mystifyingly won a Tony for Best Musical that year), it has, like its brethren Lion King and others, lost much in its stretched-out Broadway translation. Lion King was filled with eye-popping visual inventiveness that cushioned the blow of its almost-three-hour run time. Spamalot's shorter (with intermission, just under two and a half hours), but still too long, trapping you in theater seats where you feel self-conscious singing along to "Always Look On The Bright Side of Life" – the highlight of the interminable second half. And the eye-wink references to musical theater that form the bulk of the new jokes are ok, but don't remain faithful to the more subversive spirit of the original.
Despite some fine singing and dancing (the Lady of The Lake really brought it), and a sweet wedding proposal by an audience member that the cast worked into the final scene, by the end we mostly just felt sleepy. I never again want to hear a reference to the Knights Who Say Ni, which is too bad.