South Pacific at PPAC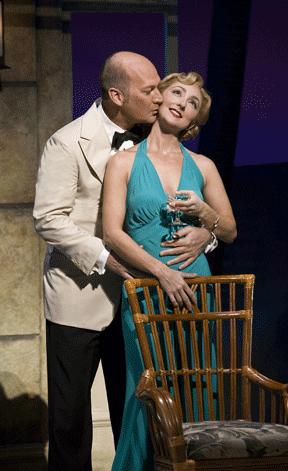 Yesterday was Dec. 7, the anniversary of Pearl Harbor and opening night at the Providence Performing Arts Center of the Lincoln Center revival of Rodgers and Hammerstein's South Pacific.
It was a coincidence that wasn't lost on many audience members at last night's captivating performance, the first of a heartbreakingly short run of this Pulitzer-Prize winning play, which explores issues of love, race and war on a World War II Pacific island and happens to boast one of the finest musical scores out there. If you see anything this season, see this accomplished revival of a classic that more than stands the tests of time and relevancy – and get your tickets now, since the play is here only until Dec. 12
The show's original Broadway run — which captured nine Tony awards and the hearts of a post-war nation — opened in the spring of 1949, less than eight years after America was propelled into the Second World War. Although its first audiences experienced the show through a wartime lens of more immediacy than we feel today, the story still speaks to us — particularly here in Providence, mere miles from the Seabee Museum and Memorial at the former Quonset Naval Base.
Part of what makes South Pacific so timeless is that it's less a story about war than it is a poignant tale of love and prejudice. From the very first scene, the hopeless romantic in each of us begins silently rooting for Emile de Becque (the amazing David Pittsinger) and Nellie Forbush (Carmen Cusack) to find happiness. The secondary pairing of Lieutenant Cable (played here by Anderson Davis, a beautiful man with a lovely set of pipes) and Liat (Sumie Maeda) is more easily dismissed as young lust than the connection between the wise Frenchman and his Arkansas nurse. The prejudicial fissures between East and West, old and young continue to multiply along racial lines. More subtle than the tensions at work between the native islanders and the American servicemen, even between Nellie and Emile's past, is the racism that the production highlights among the servicemen themselves. Black and white Seabees don't hang out together in this version of South Pacific; this is, after all, a musical that pre-dates the civil rights movement in America.
There's a fine ebb and flow between the actors here, and between the spoken and sung word. Banished are the awkward pauses and abrupt transitions that can dog musical theater. Everything in this production seems natural, easy, effortless. They don't call it Broadway for nothing, baby, and this touring production reminds us that regional theater, for all its joys, can all too often lack the polish that helps cast a spell.
The sheer depth of David Pittsinger's rich baritone was initially, for just a moment, offputting. It is just so cavernous. His is a voice made for opera, a vibration of sound you can feel rising through your body as it must through his. But midway through "Some Enchanted Evening," Pittsinger had me rapt. While his timbre might be spot on for opera, it also ideal for this score.
Carmen Cusack, as the beautiful and naïve all-American foil to Pittsinger's knowing Frenchman, is equally brilliant. Immediately likable, Cusack emits a sweetness to which you can't help but be drawn. Because she is so endearing and genuine, I felt almost guilty when she revealed her racial prejudices.
The only disappointing moment from last night was that Timothy Gulan (Luther Billis) did not get the standing ovation he deserved. Gulan's fun portrayal of Billis — the outwardly brash, constantly scheming Seabee who keeps hidden such things as a knack for sewing pleats and a sentimental streak — deserves an extra tip of the hat.
Of course the choreography and set designs are spectacular, as is the cache of men (and women) in uniform. South Pacific is simply gorgeous — and just try to keep yourself from humming the iconic score the next day.
Without a doubt, the finest production I have seen in Rhode Island or Boston. I hope everyone else gets to experience it too.
Tickets are $41–$68.