Sound Bites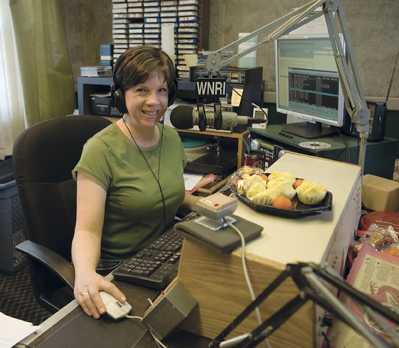 WEDNESDAY MORNING AT NINE O'CLOCK, as the day begins, I'm glued to my computer.
I'm not working. Well, let's say that I am not giving work my undivided attention. Instead, I'm listening online to Andrew Garrison Shotts — cookbook author and owner of Garrison Confections in Providence — describe how to make chocolate truffles, on Jen's Dish, a weekly, hour-long radio show about all things food, beaming out from a little no-frills studio in Woonsocket.
In its first nine months on the air (WNRI 1380 AM), the program has reached into every corner of Rhode Island's food universe, from markets to farms, restaurants to home kitchens. The Jen behind the microphone is Jennifer Huntley-Corbin, whose resume includes actress, restaurant cook, produce wholesaler, radio talk show host, producer, entrepreneur — and mother of two (Emma, age nine, and Zöe, age two).
Before putting together her first show in September 2006, Jen didn't know her way around a radio studio, but she definitely knew her way around a kitchen. Born in New York City to parents who were adventurous eaters and travelers, Jen learned to love cooking at a young age. When she was a teenager, the family moved to Nashua, New Hampshire, where Jen's mother ran a cafe in a local arts center, and Jen worked in the kitchen, making soups and quiches.
She caught the stage bug early, at age eight, and later graduated from University of New Hampshire with a degree in theater and a string of restaurant jobs on her resume. "Acting was my passion," Jen says, "and food just happened to be my job." In between infrequent acting gigs, on the East Coast and in Los Angeles, she always returned to restaurants — as a cook, baker and occasional waitress.
In the middle of her honeymoon in Paris, Jen had an epiphany. "My husband, Jim, and I were at the Basilica of Sacré-Coeur," she remembers, "and I saw a man interviewing someone for a television show. Afterwards Jim and I went for a cup of coffee, and I told him, 'This is what I want to do!' I wanted to be on television."
And so she was, almost. They moved to Exeter, New Hampshire, where Jen was happy to land a job with a local television station in the production department. When the station moved into a new studio, one with a kitchen setup that nobody seemed to be using, she made a proposal to host a half-hour live food show featuring a different restaurant chef in each episode. She actually filmed ten shows, but the station decided not to fit them into the broadcast schedule, and that was the end of her television career.
With each successive job, Jen moved farther away from acting, and closer to the food world. In Manchester, she worked for the Office of Economic Initiatives and helped start an incubator kitchen for small businesses; then, in Columbus, Ohio, she worked for a produce wholesaler.
Three years ago, the Corbins decided to return to the Northeast, and relocated to Blackstone. One day Jen picked up the Valley Breeze, northern Rhode Island's weekly newspaper. "I saw this ad that said something like, 'Do you want your own radio show?' I knew nothing about radio, but I called Roger [Bouchard, WNRI general manager] right away, and told him I'd like to do a food show, highlighting local products, seasonal foods and chefs," she remembers, adding, "It was a no-brainer! I knew instantly that I wanted to do this."
This turns out to be more than a just a weekly date in front of the microphone. In effect, Jen runs her own small business. Jen's Dish rents an hour of air time on WNRI, and she needs to sign up enough advertisers to pay for the show. And, of course, she produces, edits, books the talent and selects the music, too. "I had never done any of this before, but I knew I had a good idea for something different," she says confidently, "because other talk shows in the area were all hosted by men, and all about reviewing restaurants. I thought a lot about who would be listening to my show. Would it be little old French-Canadian ladies in Woon-socket? I hoped so, but because the show was going to air in the morning, after kids have gone to school, I wanted my target audience to be moms, too."
Everyone at the station helped Jen get her radio legs, teaching her how to run the board, manage call-ins, and create on-air commercials for her sponsors. The part that came most easily was the talking: "I love my show, I am passionate, and I do like to talk a lot!"
For her first show, Jen interviewed Stu Nunnery, director of the Rhode Island Center for Agricultural Promotion and Education and the Rhode Island Farmways program. Since then, many of the state's best-known food folks have journeyed to the little radio studio in Woonsocket, including Derek Wagner (Nicks on Broadway), Matt and Kate Jennings (Farmstead and La Laiterie), Cindy Salvato (Federal Hill Walking Tour), Rich Nassaney (Rich's Sweet Heat), Mark Gasbarro (Gasbarro's wine shop), Allison Jaswell (Jaswell's Farm), and authors Nancy Verde Barr and Linda Beaulieu.
In March, Jen snagged an interview with Ruth Reichl, editor-in-chief of Gourmet, who was in Providence for the Arts and Business Council's Encore Awards. A scheduled ten-minute interview turned into twenty minutes, as the conversation ranged from what it's like to run the nation's oldest food magazine (a constant challenge to keep it fresh) to what she likes about Providence (the city's dining scene hasn't been taken over by big chain restaurants, the way New York's has) to her favorite local restaurant (she loves Al Forno, among others) to who does the cooking at home (she does; she loves to cook the basics, like roast chicken and potatoes).
During an on-air segment about Kashmiri cuisine and the influences of geography, immigration and religion on Indian regional cooking, Sanjiv Dhar, executive chef and owner of Rasoi, praised Jen's knowledge of the intricacies of Indian cuisine. "I'm very proud of your knowledge of Indian cooking," he said, with obvious delight. "It's important to me that someone who is knowledgeable interview me, so I really get to talk about our cuisine."
Jen's Dish also has featured segments with the Boston Vegetarian Society, Rhode Island Vegan Awareness and Kids First RI, plus local companies like Willow Tree, New England Wine School, Pastry Gourmet, White Electric Coffee and Newport Storm. During February school vacation week, a special kids' show featured Jen's daughter, Emma, and her friend Arran, interviewing David Gracer about eating bugs, and a segment about Chinese New Year and jazz with Woonsocket restaurateur John Chan.
The show's format continues to evolve, but generally centers around two guests, live in the studio. In addition, Jen takes listeners on "Foodie Field Trips" to ethnic markets and farms, discusses the latest cooking gadgets, and shares recipes. Throughout, the conversation is peppered with cooking and food-shopping tips. Jen invites call-ins, and at the end of each show, she announces upcoming events of interest to food folks.
On a Wednesday morning a couple of months ago, I squeezed into a corner of the tiny studio to watch Jen's Dish come together. One sign that she has settled in to the on-air life is that she's developed her own "pre-game ritual." "I play certain songs ("New York, New York," by Ryan Adams and the soundtrack from Rent, among others) full-blast in the car on the way here. I never put the show in order until I get to the studio and I'm watching the clock tick down, listening to the show that's on before me. I like the pressure."
Before the show, Jen greeted each of her guests in the small waiting area. In the first segment of the show, professional organizer Kathleen Madden shared some tips for creating more efficient kitchen pantry storage. Then, Jen welcomed the Pezillo family (mom Millie, dad John, and son John Jr.), producers of Millie's dry soup mixes — a perfect pantry item, and a neat tie-in with the day's theme. A few minutes into the interview, when everyone was relaxed and the official story of Millie's had been told, Jen asked the parents, "What's it like to work with your son?" Everyone laughed as Millie explained their strategy: "His office is at one end of the building, and ours is at the other end!"
Jen's goal is to build the audience for the show (which, if you're outside the local listening area, broadcasts live online at www.wnri.com), but she also admits that she wants to be known. Not famous, she clarifies, but she definitely wants to be a part of the food community.
Jen's Dish has brought its host full-circle, through dozens of jobs in half a dozen cities, back to New England and back to food. "I finally stopped avoiding what was right in front of me," she explains, "I've always loved food and cooking, as well as being a performer. I honestly never thought I would find a job that combined the two. I feel so incredibly lucky to have found a home at WNRI. Now I want to make a living doing what I love."
A very tasty goal, indeed.
Jen's Dish broadcasts live, Wednesdays 9:05– 10 a.m.,WNRI 1380 AM or via live feed at www.wnri.com. To contact Lydia Walshin directly, email lydia@ ninecooks. com.