Soil Sisters
Female farmers may be a scarce commodity, but these women are bucking the trend, raising crops and livestock and living a job they love.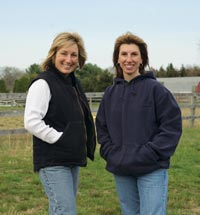 Farming isn't for wimps. It's always been a tough, demanding, male-dominated business, although that demo is changing. Today, most new farmers are female, and they own one third of the state's organic farms. Their harvest is vegetables and fruits. It's also grass-fed beef, microgreens and organic eggs, cilantro, tomatillos and other niche staples that allow savvy use of small plots and provide an edge in the local market. These women farmers are passionate about what they do, and while none of them expects to get rich doing it (although it would be nice), they have found that even a newbie can make a life that's self-sufficient and challenging, one that comes with a sense of contributing to the community.
---
One True Love
Nicole Vitello, 37 l Manic Organic, Tiverton
Nicole Vitello's career as the dynamo of Manic Organic farm could give an observer mental whip lash. "Let me put it this way," says Nicole. "Sometimes I go into a tractor dealership, and the guys who work there look at me as if I'm just some dumb girl. Other times they're so surprised to see a woman shopping for a tractor that they can't do enough for me."
Raised in East Greenwich, Nicole earned college degrees in international development, French and pre-law. Later, she worked in Senegal, where she saw "all sorts of noxious chemical products dumped on African farmers by multinational companies." That converted her to organic farming. Returning to the States, she interned with an organic farmer in New York, then came home to Rhode Island for her solo venture.
Within eight years Nicole had grown Manic Organic from a half-acre in Portsmouth to ten acres and greenhouses in Tiverton. She sold at the Aquidneck Growers' Market, supplied ten restaurants, ran a 150-member CSA and tired of people asking why she went to college if she was going to end up farming.
High season saw her clearing fields on her funky red tractor, planting 5,000 lettuces weekly, supervising field hands, rushing from farm to restaurants to markets, dealing with CSA distribution and crazy weather. She had no health insurance or benefits, and the job became, in her word, insane, perversely underscoring Manic Organic's motto: "So fresh it will drive you crazy!" Nicole always knew that farming was "hard, dirty work against all odds, ˆˆwant it any other way.
But farming relentlessly presented tough situations, and formerly interesting challenges morphed into obstacles. Nicole couldn't afford land; she'd always leased. After building her business in Portsmouth, she raised her sights. In 2006, she rented greenhouses and expanded acreage in Tiverton, but then she discovered poor drainage turned one large field into a lake whenever it rained, rendering half of it useless. "For every two steps forward, I seemed to take one step back," she says. After a summer of setbacks from extreme weather and a diminishing bottom line, self-doubt set in: "Did I do the right thing?" she asked herself. The omnipresent question helped her decide in late 2007 to take a year off from full-time farming. She told her CSA members, "We were never able to invest enough time or capital into infrastructure…and in our current economic climate, I find myself worse off after year nine than after year five."
Ironically, Manic Organic is one of the most enduring organic farms in the state. While farming full-time, Nicole established a loyal customer base and accounts with high-end restaurants that relied on her excellent produce. She created goodwill in many directions. Her employees were inspired by her upbeat attitude, focused energy and effective multitasking. And Nicole, a superb networker, connected with many of the locals—clients, farmers, fieldworkers, marketers, chefs, land trusts, economic development folks—because she's always believed in the power of community. "Rhode Island," she says, "is a small state, and we take care of our own."
But a blind optimist she's not. Nicole's business acumen forced her, finally, to face reality. Recently, she took a job with Equal Exchange, a fair-trade company. She's kept the farm, but in 2008 cultivates only two acres, and sells only at the Sakonnet Growers' Market. She misses the camaraderie, she admits, but she hopes to regroup and learn to run Manic Organic more profitably in coming years. Because in the end, she says, "I don't want to do anything else."
---

Animal Attraction
Heather Place, 39 l Fenner Hill Farm, Hope Valley
Heather Place always knew that art and farming could co-exist. A Warwick native who studied at Parsons School of Design in New York and Rhode Island College, Heather and her husband, Lou Perrotti, bought the five acres with a nineteenth-century barn and quirky old house just before they married in 2004. "You know how some people dream of living by water? I always saw myself in a rural setting, surrounded by animals," she says.
The property had been neglected for decades. Heather's artist's eye and steady determination (along with Lou's heavy lifting after work and on weekends) soon transformed a chaotic junkyard into an island of tranquility. In January of 2005, they welcomed Tom, a Shetland ram. Aggressive, and crowned with sharp, curling horns, Tom had been exiled from the Roger Williams Park Zoo, where Lou is a conservator. One month after Tom's arrival at Fenner Hill, he was joined by four ewes. Now Heather has a flock of about twenty Shetland and black-belly Barbados sheep, and Tom has calmed down a lot. "He just needed an outlet for his hormones," Heather says.
The flock produces wool and meat. Sheep peacefully graze the stone-walled pastures; such serenity belies their frequent feistiness. "People are amazed that I shear them myself," Heather says. Though slim and delicate, she manages the sheep deftly, securing them on a metal grooming table to remove fleece swiftly despite the animals' energetic protests. Tom is the hardest to tackle because he's the biggest. "The others, because I've been handling them since they were babies, know to chill," she says. It takes about a half hour for each struggling beast. In her case, stamina compensates for whatever strength she lacks. Once the sheep are shorn, their fleece is spun into blankets sold through Rhody Warm, the state-wide wool collaborative, and processed into yarn that Heather retails herself.
Born in late winter, meat lambs are usually slaughtered by late fall. Heather had to move from a romantic vision of farm life to the reality of raising animals for food. She grieved for the first lamb sent to the butcher. But then, she says, "You learn that livestock are different from pets. You can't relate to them the same way. You have to accept that they're going to die. Bringing animals to slaughter is sad, but it's also a fact of how we eat. I watched the butcher do it and I said prayers the whole way through…thank you, lamb, for the gift of meat and food. Eating meat from animals you've raised caringly is all about connection."

Heather also grows vegetables, pesticide-free, in a garden near the barn. She sells produce—rhubarb, lettuce, herbs, cucumbers, peppers, eggplants, cabbages, tomatoes, squash, raspberries, whatever else is ripe (along with eggs from her chickens)—from a market cart stationed at the end of the farm's long driveway. Her artistic talent is apparent in the fragrant lavender bundles, dried-flower autumn wreaths and evergreen Christmas wreaths she creates and sells.
Heather feels confident about handling sheep; she's learned how to deal with lambing and caring for the animals. She hopes some other breeds—possibly Tunis, Dorset, Suffolk, Border Leicestershire—will soon join her flock, expanding the wooly horizons. Reflecting on the intensity of her life, Heather says, "I think of it like I'm just finishing my undergraduate training. Now I know what I want to stick with and where I want to refine my knowledge."
---

A Spiritual Life
Judy Carvalho, mid-60s l Maplewood Farm, Portsmouth
In Judy Carvalho's family, girls didn't work on the farm. "I had to learn about it after my father's death," says the Newport native.
That came in 1988. Judy, who had previously taken vows as a Sister of Saint Joseph, was living in western Massachusetts. A parochial school principal for fourteen years, she was on the verge of taking a sabbatical.
Then her father died suddenly of a heart attack in early September. A hundred acres of potatoes were still in the ground at Maplewood Farm in Portsmouth, the property he owned and where a crew was on hire to harvest. Judy, who admits, "I would never have chosen farming," stepped in without missing a beat. The situation was, she says, "a little overwhelming for me."
Twenty years ago, as a single, forty-something woman without farming experience, Judy found it difficult to manage field crews of men who eyed her skeptically, "waiting for me to fail." She was a conspicuous minority at agricultural meetings, where she'd be the only woman potato farmer in the room. Fortunately, she found support from her male counterparts in the area, who advised about potato cultivation and encouraged her to continue. Soon, "before I realized what was happening, I was ordering for the next year," she says.
Over time, Judy has reinvented Maplewood. She's downsized it from 200 to thirty-seven acres, of which only twenty are cultivated. Most of the acreage is devoted to several varieties of potatoes, but she's developed a robust secondary crop in ornamental sunflowers, which are harvested all summer for cut flowers. She's brought her twenty-eight-year-old nephew, Stephen Anderson, into the business; his specialties are flowers and herbs, started in the on-site greenhouses. Produce is sold at the farm, at the Aquidneck Growers' Market, and in Providence at various farmers' markets.
Maplewood Farm gained its name from shade trees on the property. Now, most are gone. On a summer day, what you see as you arrive are open fields, those up front filled with rich golden sunflowers. The drive rises to a crest; the nineteenth-century house where Judy's father was born overlooks land blanketed with the white, yellow and lavender blossoms of potato plants. Like Judy, who runs her farm with an air of serene detachment, the old house seems a sturdy guardian of the past and a gentle observer of the present.
Throughout her farming career, Judy has had the philosophical support of the church and her religious order. "They appreciate the value of the earth," she says. If she became a farmer as the accidental rescuer of her father's business, she has found the work to be aligned with her spiritual vocation. "It's a much more contemplative life than the life I'd been living." As an educator, she had been immersed in the community of the schools she served. "I enjoyed twenty-three years of working with children," she says somewhat wistfully. For a while, when things were slow, Judy tutored children in Portsmouth, but eventually gave it up because the demands of the farm didn't give her the time.
Farming has allowed Judy to develop another kind of spiritual practice. "You spend a lot of time by yourself, with the land," she says. "I considered myself a patient person when it came to working with children, but I learned that working with nature was a whole different adjustment. There's a dependency on nature; you patiently wait for the rain to come, then you patiently wait for the rain to stop. It's a whole different kind of patience."
---

Sentimental Journey
Nina Luchka, 46, and Kim Coulter, 47 l Stoney Hill Cattle, Charlestown
People often assume it's a man who runs Stoney Hill Cattle, says Kim Coulter. "Salesmen say, 'I'll talk to your husband.' The general perception is the male is the one to go to. But this is our farm," she gestures toward her sister, Nina Luchka, "and Bill is fine with that."
Kim's husband, Bill Coulter, works construction during the day and is the farm's mechanic, heavy lifter and all-around hand. "He builds good fences," Nina says. Bill knew before he married Kim that the sisters, who inherited the farm when their father died in 1996, were passionate about Stoney Hill's 200 acres, and ultimately responsible for decisions about its future. They grew up here, and a wealth of experiences—seeing their grandfather and father farm, riding horses on pristine trails, helping with all the animals—solidified their determination to keep it a farm forever. The property has been intact since the late-nineteenth century, and will remain so, they say; to divide or diminish it would feel self-destructive. Wildlife roams freely, and hunting is forbidden because of potential harm to livestock.
The farm raises hogs, cattle and Thanksgiving turkeys. Eggs come from eighty free-range Rhode Island Reds. All animals are hormone- and antibiotic-free and products are sold at the University of Rhode Island Farmers' Market and at the farm. The sisters dream of ways to expand. Nina wants to raise dairy goats. Kim itches to try agritourism. Nina would like to sponsor a camp where underprivileged kids can develop positive relationships with animals they nurture.
Although the sisters both hold other jobs—Nina is a bank manager, Kim works for the Cooperative Extension office at the University of Rhode Island—they always have coffee together (often before sunrise) and tend the animals before leaving for work. The division of responsibilities is intuitive, and if conflicts arise, "we talk it out and meet in the middle. It goes back to our parents; they always made us work it out," says Kim. Bottom line: "If you see what hasn't been done, you just do it."
The sisters' rapport transcends business. Nina says, "Kim is my best friend; I know what she thinks and feels." Communication is often silent: "We just throw each other a look." Nina is down the road from Kim in their grandparents' former house. Kim, Bill and their son, Josh, live in a home they recently built, overlooking a hayfield and rolling hills. Their mother also lives on the property, across the street from Nina, in the house where her daughters were raised. Though obviously close-knit, they also respect the others' privacy. While tending the farm requires teamwork, certain tasks provide alone time. "When you're out there, mowing or brush-cutting," says Kim, "it's a whole different world. It's therapy. This place is a piece of our father for us. It lets us be closer to him, and gives us a sense of peace."
Kim and Nina look forward to when they can entirely devote themselves to Stoney Acres. They could have sold their land and gained financial security, "but if that were gone, then what would we have?" asks Kim. "This place is full of memories. We laugh, we love, we disagree and we're always together. Our father never wanted to see this place chopped into house lots, and we're not going to let him down. Our riches are in the sentimental value of this place."
---

Family Matters
Jackie Kocab, 24; Auburn Cole, 33; Katie Kocab, 25; Suzette Kocab, 60 l Cedar Edge Farm, Johnston and Richmond
In June, it's easy to find the Cedar Edge Farm booth at the University of Rhode Island Farmers' Market. Crammed with baskets of organic strawberries, the table beneath the white awning is a ruby mosaic. One-hundred-and-sixteen quarts sell briskly; customers who don't arrive early are often disappointed. In midsummer, ripe watermelons and creamy orange cantaloupes dominate the stand. They, too, disappear rapidly.
The farmers—sisters Jackie and Katie Kocab, mother Suzette Kocab, daughter-in-law Auburn Cole—give out recipes, as well as samples of uncommon produce, such as golden super-sweet watermelons and the mustardy Asian greens mizuna and mibuna. Freebies usually clinch the sale. Other unusual vegetables are slender pink and purple Japanese eggplants, daikon radishes, Asian cucumbers, bright lights chard and green-and-yellow zephyr squash. There's a coterie of followers, including upscale Providence restaurant chefs who visit the Kennedy Plaza market, where the women sell on Fridays. The good vibes go both ways. "Some people are so forthright about their joy," Auburn observes of a devoted customer's unbridled passion for zucchini.
So are the farmers. Auburn fondly recalls her grandfather's large garden in New Hampshire. "I learned there's nothing better than what you produce with your own hands," she says. When she met Tom Kocab from North Kingstown, she was both overwhelmed by his garden-loving family and impressed by their energetic solidarity. After college, Tom and his brother, Ted, bought the 2.5-acre Cedar Edge Farm in Wyoming, a village in Richmond.
At first, Katie and Jackie grew the vegetables, herbs, flowers and melons. When Auburn came to live at Cedar Edge in 2003, she joined in while also teaching school. Like her mother-in-law, Suzette, who teaches for the Wakefield school system, she had summers off, giving her more time to farm than the brothers, who are both engineers. The women grew flowers for Auburn and Tom's wedding; cut and potted flowers soon became regulars. Unusual types of familiar plants—"blue mouse ears" hosta, burgundy coreopsis—along with organic vegetable seedlings have become staples. "These perennials catch people's eyes, and they aren't in everyone's yard."
Cedar Edge produce had always been pesticide-free, but the dream was to get organic certification. In 2006, the group rented Dimeo's, a neglected farm thirty-four miles north. Under the Kocab-Cole stewardship, this Johnston landmark was certified organic in 2007. Auburn, Tom and their eight-month-old daughter, Ellie, live there. She left teaching to farm full time, and that's where the women grow everything, cultivating about ten acres of the large property in vegetables, fruit and cover crops. The Wyoming fields are resting, to rejuvenate after years of use.
Farming as a family feels natural. Every two weeks there are business meetings, Tom, Ted and father, Ted, included. Suzette says, "The main time we have disagreements is when everybody is really tired. That's when you need to take a breath." Her daughters add that Suzette taught her kids to resolve conflicts "by putting us in the same room and telling us not to come out until we were friends."
One day, they hope, the whole family will farm full time. The women know that dedication to small-scale organic farming is a complex endeavor. "In Johnston our neighbors seem both fascinated and nostalgic about what we do," Auburn says. "But then," Katie adds, "people see you off the farm in your grungies, and ask, 'What do you do for a living? Why are you so dirty?' "
"Once they find out, though," says Jackie, "they thank us. They know what's involved in getting produce to market."
---
Making Hay
Lou-Ann Healey-Rippin, 54 l Healey's Farm, North Kingstown
On a brilliant summer day, Lou-Ann Healey-Rippin loops her royal blue New Holland tractor around the edge of the front eight acres of her farm in North Kingstown. Enveloped by a cloud of hay dust and tractor exhaust, she's been baling hay, raked into concentric windrows, for two hours. When she stops to check the counter on the green John Deere baler, it registers ninety neatly bound rectangles of clover-timothy-orchard grass mixture, each weighing about sixty pounds. This is a fifth of what needs to be gathered, and now it's four o'clock. She's got to move; a farmer must literally make hay while the sun shines. "On a baler, you're looking backwards or down. You can't lose your focus," Lou-Ann says, remounting to finish the task before dark. The tractor roars into motion, and she drives firmly side-saddle, lurching from the machinery's vibrations, steering carefully forward and always looking back to ensure the baler picks up all the hay.
The hay feeds the horses, llama, goats, emus, pigs and rabbits that attract visitors to the farmstand. Lou-Ann also raises flowers, herbs and vegetables, most notably two uncommon types of sweet corn: silver king and Lancelot. They're fragile, but the superb quality justifies the gamble. Corn arrives in July; by then, tomatoes, kohlrabi, broccoli, okra, pumpkins, squashes, peppers, lettuces and herbs are either ripe or nearly so. She creates hanging flower baskets, wreaths of flowers and herbs, and decorative pots of flowers, herbs and herb-vegetable mixes, started in her greenhouse in February. They are among her earliest offerings. Lou-Ann is also the market master who oversees the University of Rhode Island Farmers' Market. She sells there as well as at the Goddard State Park and Marina Park markets.
She does almost everything herself, from selling and cultivating to plowing and harvesting, as well as operating and maintaining machinery. Her husband, Scott Rippin, helps when he gets home from his job at Electric Boat, and sometimes she hires field hands. Essentially, though, Lou-Ann is a one-woman show. The work has taken a toll; surgeries for carpal tunnel from repetitive motion tasks, compression fractures in her feet from constant standing and heavy lifting, and several lost months when she was treated for three different tick-borne diseases that struck her simultaneously. Nonetheless, Lou-Ann says, "I don't really see myself doing something else. To put this much effort into the job, you really have to love it."
Farming's in her blood. Her Irish-immigrant grandfather grew cranberries in Warwick, where the airport now sprawls. Her father bought the current property in 1950; first a dairy farm, it went to cattle, then ponies, then vegetables. When he died in 2002, Lou-Ann, who'd farmed alongside him, inherited the forty-three acres. Her father had gradually transferred responsibilities to Lou-Ann. The magnitude of the job suddenly hit home: "I couldn't tell anyone how scared I was," she confesses. She learned that she could do it, "but if I think about it the night before, it's frightening."
Thirty years ago, when Lou-Ann delivered produce to retailers, a woman farmer was rare. "It was really hard to get people to notice me," she recalls. But John Healey made it clear to customers that disrespecting his daughter wasn't an option: "You got a problem with that?" he'd ask. But even now she encounters some, like an electrician she hired to install lighting in a barn, who say, "Let me talk to your husband." Then Lou-Ann looks at them straight and says, "Wait a minute. I'm the one signing the check here. You're working for me."