Soil Sisters Are Digging In At Sidewalk Ends Farm
Four young friends are making a living off the land.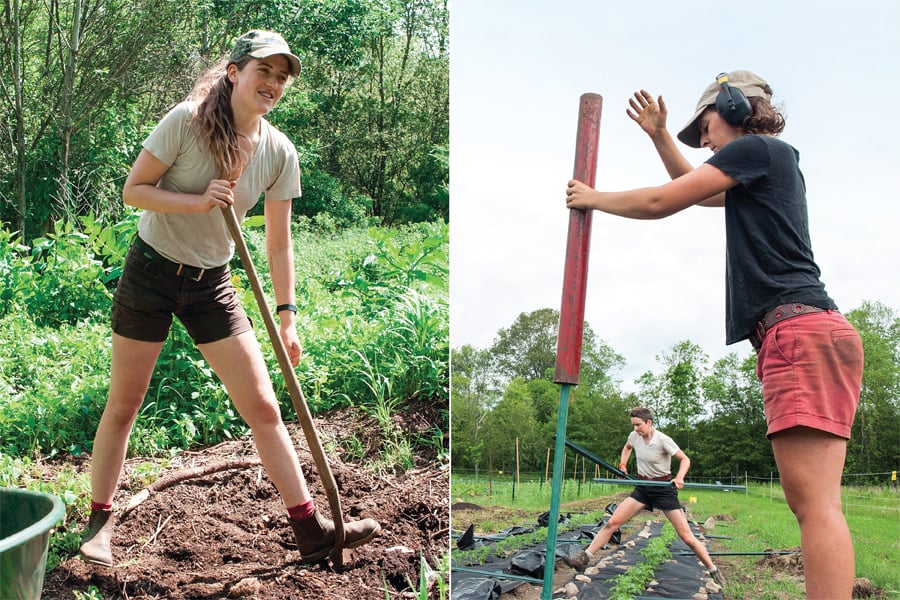 Down a driveway lined with wild, winding weeds, past a dark, wet pile of mulch and a few thin rows prepared for planting, past a low-set farmhouse on the left and a long, sagging shed on the right, crest a knoll, squeeze through a gap between rusty fences and arrive at a breathtaking view.
Below, a field bordered on the right by forest, with a fenced-off rectangle in its center. Above, a rich, blue sky filled with clouds that churn across the sun. A half-cylindrical hoop house of bright white plastic hunches in high grass just outside the fence on the left. Brown and green rows run through the fenced-off rectangle, fifteen feet across and 200 feet long, each a gradient of blossom, dirt and weed. A modest acre of land in Seekonk, Massachusetts.
On Thursdays, you'll find Laura, Tess, Sarah and Fay — the cast of Sidewalk Ends Farm — scattered along these rows, hoes in hand, tilling, planting, harvesting and, of course, chatting. The girls are in their mid-twenties, excited and lively under the early spring sun. They joke with each other as they prepare a row to be planted on a chilly, bright morning in late April.
"Is it time for lunch yet?" Laura asks.
"Here comes the cry baby," someone replies.
"We each have something we cry about; for Laura it's lunch, for me it's cold," Tess says, just within earshot of her sister, Laura.
"No, you're just the cry baby," Laura retorts.
"I'm the baby," Tess explains. "I'm a year younger than the rest of them."
Laura and Tess Brown-Lavoie went to Brown University and New York University, respectively. Tess and Laura grew up with Fay Strongin outside of Boston, and Fay and Sarah Turkus met at Haverford College, where they were part of a vegetarian co-op. Working side by side on this land in rural New England, they have to redefine their conceptions of ideal living and working conditions. Now, the four girls are not only friends and business partners, they are farmers.
Laura sums up the group dynamic. "Fay's the idiot laborer, Sarah's the end-of-the-day crier, I'm the lunch crier, and you're the baby."
"I'm the idiot laborer," Fay agrees, looking up from her squatted position by a row of soil, "because I'm going to grad school in the fall. So I gave up my duties, and now I just do what they tell me to do," she explains.
Sidewalk Ends Farm traces its origins back to the spring of 2011, when the four friends started urban farming in a 5,000-square-foot plot in Providence's congested Armory district. Since then, they've grown their farming business and moved to the roomier, more rural spot in Seekonk. They sell their produce — kale, chard, peas, tomatoes, spinach, potatoes, garlic, turnips, herbs, as well as brilliant, chemical-free flowers — spring, summer and fall at the Armory Farmers Market, to several local restaurants, and through a CSA in the West End. Although they no longer use their urban plot in Providence for growing in bulk, it's still the face of Sidewalk Ends in the city, and serves as the pickup point for CSA customers.
On the farm, planning and certain duties are split among the girls. Laura is the resident record-keeper. She keeps a journal, in which she writes down the field map, the weather each day, the dates of each planting and the outcomes of each crop. Sarah manages the website and the CSA. Tess does infrastructure.
Today, the girls are preparing beds for planting. They split up into groups of two, one group at each end of a row, and then move toward the middle together, shoving their tools into the hard crust of dirt and dead vegetation that formed under frost during the winter. Stroke by stroke they loosen it, uncovering soft, moist soil as they go.
Sarah, Tess and Fay use hoes. Laura wields a broad fork, which breaks up and aerates the soil. "This was the first tool we bought," Tess says. "It was $200. We bought it together. I think it's cute that we all pitched in."
She grins. "Now we pay $1,000 for deer fencing."
Sidewalk Ends Farm started as an experiment, born out of a project the girls undertook the summer after Fay, Sarah and Laura graduated in 2010. Fay had done farming internships in college, and she wanted to continue. Sarah had little experience, but was interested in learning more.
Meanwhile, Laura had gotten into farming during some time she took off from Brown.
"I wanted to work on my French, but it was hard to justify paying Brown tuition to study at a different school. So I promised my mom if I took a semester off, I would leave the grid financially. I worked on a farm in France for two months," she says.
"I didn't go there with any clue that I would like farming. Even while I was there, I didn't realize how it was affecting me," she adds. "It wasn't until I was back at school that I realized I had discovered a lifestyle that was a better fit for me, physically and spiritually."
While at NYU, Tess worked at Eagle Street Rooftop Farm on the edge of the East River in Brooklyn. She enjoyed it and learned a lot, but she says there was something surreal about looking up while farming and seeing the Manhattan skyline.
"It gave me a weird feeling. Everything you do has to be kind of shiny. You're marketing yourself," she explains. "I'm not the kind of farmer who's like 'I don't want to see anyone,' but, that said, I'm not going to put on a show," she adds, flashing a smile.
With farming in their past and a summer before them, Tess and Laura were ready when Fay and Sarah called in the spring of 2010 to ask if they wanted to start a farm for the family of a college friend. The friend's parents had a restaurant in Maine that they wanted to make farm-to-table, but they needed a farm to supply them. Tess and Laura said yes.
The farm's city plot on the West Side, with resident chickens. Zazie Patch, eight, lives next to the farm's city plot and helps out.Laura runs the CSA's Tuesday afternoon pick-up. CSA members collect their produce.
Fay and Sarah started growing seedlings in their apartment at Haverford in the spring, in preparation for the summer to come.
"It was a relief," Fay says. "We had found a job, so that contributed a lot to how much fun we had our second semester senior year."
They moved to Maine after graduation with their seedlings to meet Laura and Tess and start their first venture.
"We didn't know anything about planting out a farm," Laura says. "We read Rodale's Encyclopedia of Organic Gardening. It was trial and error."
Most of the summer they camped out. "We slept in tents. We took naps in ditches," she says. "It felt kind of literary." She weaves Steinbeck into the conversation and talks about her own writing; she was a literary arts major at Brown.
"I think my agricultural literature is yet to come," she adds with a laugh.
Hooked on the lifestyle, despite — or perhaps because of — the trying summer, Laura and Fay decided to move to Rhode Island to begin their own farm in the fall. Laura knew some local farmers who said there was an opportunity to sell produce in Providence.
"We biked around the city and posted notes on vacant lots," Laura says.
They found a plot in the Armory district and opted to experiment with an urban farm. Tess was still at NYU, Sarah was working as an apprentice at Weavers Way Farm in Pennsylvania, and Laura was apprenticing at City Farm in Providence, which left Fay to prepare the lot, mulch the soil, plant the first crops, harvest them and bring the crop to market. Laura helped out after work.
"That year was so crazy," Fay says. "We didn't put any boundaries on our work life, because neither of us wanted to be the first to say let's take a break."
"It was a crazy, messed up time," Laura says. "It's hard to start a farm and have an apprenticeship."
But, to Laura, the very long days were worth it. "It turns out I really like working for myself," she says.
Being your own boss can mean working even when you don't want to, when you're hungry, and your hands are rough and red with cold. Of course, there is a silver lining — which may be why Sidewalk Ends Farm exists.
"One of my favorite things about working in shitty weather is that you have the most amazing cup of coffee and dry socks after. Like, you've never known what coffee tastes like," Tess says. "Even finishing this bed today and going in to get lunch will feel so good."
Sarah preps the rows to plant. Tess harvests kale, part of this week's CSA delivery. The farmers built the Seekonk greenhouse.
The girls move toward each other along the row at an increasing rate, spurred by hunger and the anticipation of getting out of the bone-chilling wind. After about twenty minutes, their separate conversations merge into one. Having worked steadily all morning, the two teams are within fifteen feet of each other now. The gap closes quickly, until the girls are all standing side by side, deciding where to eat the lunches they brought from home in Tupperware and Mason jars.
They climb the hill toward the farmhouse; the girls lease the farmland from a retired couple who live there. "Grab a bucket," Tess says as she makes her way to the white plastic hoop house, still being built, that will eventually shelter plants in the off-season.
Inside, it's a jungle. A lush mat of grass and weeds has grown up, undisturbed all winter. Warm moisture sticks to Fay, Sarah and Laura as they find seats on overturned buckets. Tess crawls in, slides out of her jacket, then peels off a wooly gray pullover, revealing a bright turquoise T-shirt. Fay, in large black-framed glasses, wears a neon orange cap that complements the muted colors of the rest of her clothing. Sarah's in jeans with reinforced panels. Then there's Laura, whose brunette crop peeks out from under a tricolored flannel baseball cap. Her pastel yellow jeans, fabulously impractical, are smeared with streaks of mud. While the girls may not be actively concerned with their image, they are poster children for the young farmers movement.
Like the girls' outfits, Sidewalk Ends Farm's branding is a perfect blend of rustic and modern and has occurred more or less naturally.
"I think our farm has a public persona," Fay says.
This may be due to the stylish, minimalist website Sarah designed for the farm and to the physical presence of their urban plot on a lot in the Armory district but, mainly, it stems from the farmers themselves. They are young, educated artists and activists who exude the wholesome, cool vibe that comes from pursuing what you love, and getting a good tan while you're at it.
"We have a secret bar a few times a year, so that's a little yuppie," Tess says of their popup fundraisers, "but we try to have our outreach be pretty broad."
"At first, we felt weird about having only our friends in our CSA, because it didn't feel real," Fay adds.
Ilan Upfal, a high school student, volunteers at Sidewalk Ends and other farms throughout the summer. Laura bags kale for CSA delivery.
CSA, or Community Supported Agriculture, is the program that many small farms run to ensure all their produce is sold and to raise the funds they need to plant early in the season. A customer who signs up for a CSA pays a set amount at the beginning of a season (in this case, $350 to $450), and then receives a freshly harvested basket of produce each week throughout that season. In their first year of operation — 2012 — Sidewalk Ends served fourteen people in their CSA program. To supply these few customers they had to partner with another farm, as their urban lot has only a few forty-foot beds. The next year, Fay, Tess and Laura moved into a house near the farm.
"We would work together and come home and our friendships still survived," Laura says.
"The first two years we were part-time," Fay explains, which may explain why their friendships held despite living and working the farm together.
The girls still do "winter work" in the months when it is too cold to grow much produce. Sarah taught an after-school program this past season, and Laura was a nanny in addition to taking up odd jobs. Tess and Sarah run a group called Young Farmer Network together, planning events for farmers in the area. Tess also serves on the Rhode Island Food Policy Council, the New England Farmers Union Board of Directors and the National Young Farmers Coalition Advisory Committee.
"In 2013 we farmed a quarter-acre in Johnston," Laura says. "The goal was to work thirty-five hours a week. We had two properties, and a fair amount more food."
They grew their CSA to twenty people that year. Then, in 2014, they decided to expand further. They found their current property in Seekonk and kept their urban lot for experimental crops and projects. Laura and Sarah became full-time farmers, while Tess and Fay stayed on part-time.
Moving from urban to rural farming meant they could produce more food — their CSA included forty people last season, and grew to fifty this year — but brought a slew of challenges and decisions to make.
To prepare the beds by hand or to use a mechanical tiller? To water with buckets or to invest in sprinklers? And what about the deer and insects that eat anything growing above ground out here? There are fewer critters to deal with in the city. Also, mulching by hand on this scale becomes a hassle. Investing in a tractor and a deer fence began to seem like a good idea.
"Four brains equals four philosophies we have to put together to make a decision," Sarah says.
After lunch, the girls discuss afternoon duties.
Tess and Fay will go to the greenhouse in which they rent space during the winter to pick up seedlings for planting out the row they just prepared. Laura and Sarah will try to figure out why their 1955 Ford tractor, which they purchased off Craigslist this winter, isn't turning correctly.
Next week, Laura and Sarah are borrowing a mechanical tiller from another farm and a group of high school students from the Met School will tour the Providence plot. It's been a long winter. Spring came late, and the young farmers need to get these plants in the ground. The girls take weekends off when they can, but on Monday morning it's back to work, planning the growing and market schedule, watering and organizing for the CSA. In the pale early daylight, they pick up where they left off.
Sidewalk Ends Farm (sidewalkendsfarm.com) produce is available at the Armory Park Farmers Market on Thursdays throughout the season.