Smithfield is Still Rhode Island's Apple Valley
Once rife with orchards, the rural side of town has shrunk exponentially. But it's still our favorite place for apples, cider doughnuts and holiday pies.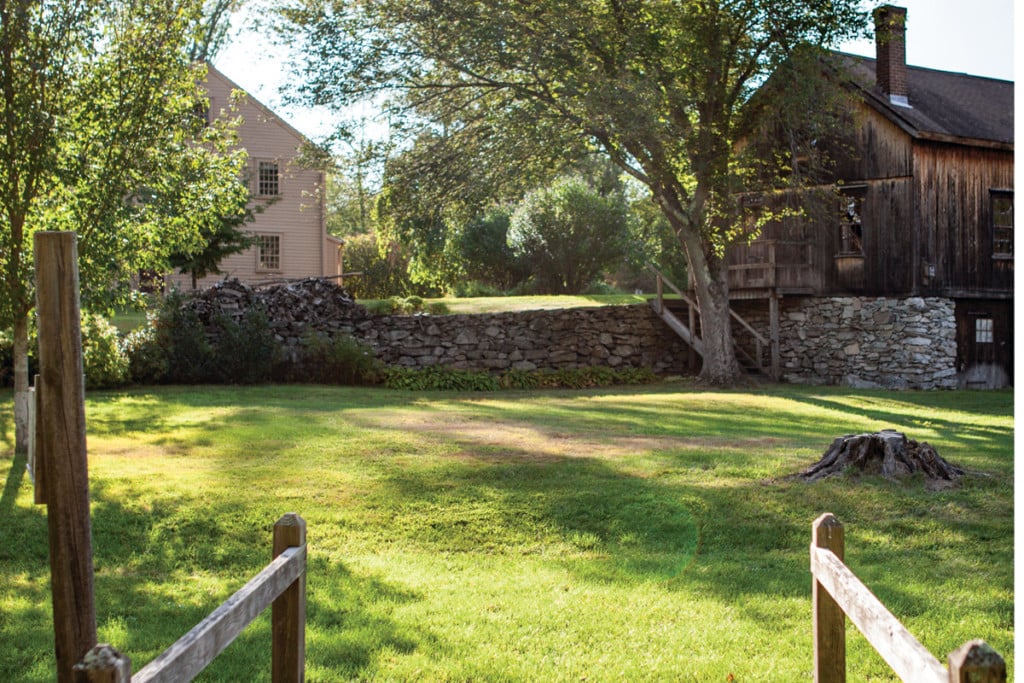 Suburbs creep in from North Providence around the little village of Greenville in Smithfield. Businesses cluster near Route 295, feeding off the passing traffic. And where buildings haven't sprung up, there are quiet woods. It's hard to believe that, at one time, most of this town was clear, rolling farmland, and the town's reigning crop was the most iconic of all New England produce: the humble apple.
Driving through Smithfield, you can still see some orchards, the oldest being Jaswell's Farm.
Gnarled and bent, bark rough and dark, the apple trees at Jaswell's look ancient. Sentinels of the past, they stand guard over the 118-year-old farm, protecting the long tradition of New England apple growing that stretches back to Colonial times.
The Pilgrims introduced the first apple trees into the area, bringing cuttings and seeds from Europe. As colonists drifted from Massachusetts into Rhode Island, they took their favorite fruit with them. Roger Williams himself was "eaten" by an apple tree: The Rhode Island Historical Society proudly displays the macabre root that intertwined itself with his remains. Despite apple trees' occasional nibbling on notable persons, early settlers kept a few on hand to make cider, feed livestock and provide some much needed nutrition.
But it wasn't until the 1860s that a truly commercial apple industry emerged in Rhode Island. And with its fertile soil and numerous orchards, Smithfield was the focal point of this agricultural explosion.
And that's when Jaswell's emerged on the scene.
"The farm itself was started in 1899," says co-owner Allison Jaswell. "My great grandfather was a relatively successful farmer. He bartered, he had animals and he was pretty much self-sustaining."
We're in the farm stand, a large building that, in the fall, is stocked with apple cider, doughnuts and produce. Outside, acres of orchards are soaking up rainfall.
But this seemingly bucolic farm was founded on a lie — or maybe it was more of a little fib: The eponymous creator was not a Jaswell at all. Nicola Gesualdi emigrated from Italy in the 1890s and redubbed himself Nicholas Jaswell to better fit into Smithfield's rural Yankee community.
As the former Gesualdi settled into his farm, Smithfield entered a golden age of apple growing. The early twentieth century would see nine major orchards sprout up in the town, earning it the nickname of Apple Valley.
"When my great-grandfather retired, he handed it over to his son, Joe," explains Allison. "But Joe was profoundly deaf; he couldn't speak or hear. He was a great grower, but in that time, people were a lot less understanding. He actually had to take my dad, Richard, out of school when he was sixteen to be his interpreter."
As if on cue, her father, Richard, walks in and starts recounting some of the farm and family's earlier history. His confident movement belies his eighty-one years. He jokes and laughs about growing up on the farm and talks about caring for his parents.
"Both my parents were deaf mutes, so I pretty much raised them," he says.
Despite challenging circumstances, he didn't feel compelled to abandon the family business. He changed the farm's business model, switching from wholesale to retail. As the livestock died off, he didn't replace them. More and more, he tried to entice families and individuals into buying his goods independently, and his efforts largely paid off.
"I hate to compliment my dad in front of him," Allison jokes, "but he really showed a lot of foresight. They definitely saw the writing on the wall."
Jaswell's Farm flourished with the other local orchards, and Apple Valley became something of a statewide attraction in the spring.
"At one point, this was Apple Blossom Trail," Allison says. "When you came down Powell and Swan Street, there were eight or nine orchards within this area. So, when people would come out from, I laugh when I say this, but from 'the city,' they would drive through to see the apple blossoms."
In conjunction with the trail, every spring there would be an Apple Blossom Festival. Local farmers gathered together to eat, drink and celebrate.
"One of the highlights of the festival was the beauty pageant. At the time, I was too young to be a part of it, but every year they'd choose an Apple Blossom Queen," Allison says.
But the reign of the Apple Blossom Queens soon came to a close.
One by one, the farms went out of business, until, of the eight farms along Apple Blossom Trail, only two remained.
"Little by little, the farms started to go: Matteo went, Poliseno went, everyone went except Jimmy Steere and myself," explains Richard. "I think the seven-day work week was the biggest thing for a lot of the kids. It was too much for them. And the land was worth a few bucks."
The difficulty of farming and the value of the land for housing developments drove many to sell their properties and leave rural life behind. And the difficulties of owning a family business may have contributed too.
"Family business isn't like a typical business," says Allison. "There are a lot of dynamics that go into it. You don't get to leave it at work. You have to take it home. Quite often, when you see historical ownership, they don't typically survive past the second generation.
"My brother handles a lot of the business. He does all of the bull work. If I were to lose him tomorrow, would I continue the business? Those are some of the things I think about."
Allison's mom jokes from behind the farm stand counter, "If you ever sell it when I'm gone, I'm gonna come back and haunt you."
In the age of industrial farming, when produce can be quickly and cheaply imported from around the world, it seems hard to believe a small family-run farm like Jaswell's can survive. But it does, in part because of a changing attitude towards food.
"In Rhode Island, we find that there's a huge push to support local farms," says Allison. "And, we're fortunate to be a part of that. We've been operating this farm for eighteen years, and watching the change over the past fifteen years has been great."
After four generations, will the farm be able to make it to a fifth?
"Between my brother, Chris, and me, we've got five boys, so we're hopeful it will continue," says Allison.
As many of Smithfield's orchards have faded away, replaced by housing and businesses, it seems Jaswell's is still going strong. A tradition that took root in Smithfield's soil more than a century ago lives on.