Slow Flowers in Little Compton
Farmer florist Mary Kate Kinnane explains the beauty of locally grown blooms.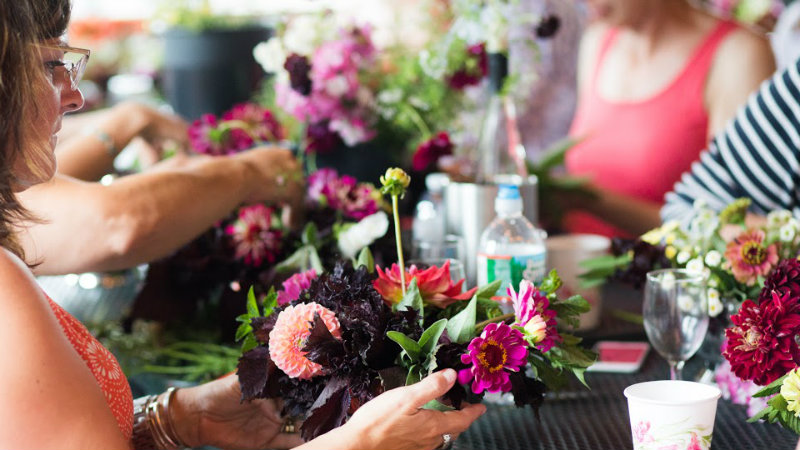 It's a fact: Supermarket red roses and daisies — why are the seed heads always neon green? — wither next to billowy cosmos, dahlias, purple lupine, sunny shasta daisies and peonies grown in local soil.
They're prettier, that's for sure. They often smell nicer, too, and they last longer in the vase. But (the best part) locally grown flowers are better for the environment. Nearly 80 percent of American-bought flowers are grown in greenhouses in Ecuador or Colombia, often with the aid of vicious pesticides banned in the United States, then shipped 5,000 miles via plane. That's a huge carbon footprint for a decorative — though, let's be real, totally necessary — accessory with a short lifespan. Most American farmers don't stand a chance against the big business of cheap, hardy imports: Since 1992, nearly 60 percent of U.S. flower producers have gone out of business.
But the slow flower and farm-to-vase movements are gaining speed, especially in small communities that value local products. We caught up with Mary Kate Kinnane of the Local Bouquet, a flower farm and floral design firm based in Little Compton, to chat more about the shift from supermarket bouquets to blooms grown in our own backyard.
Tell us a little bit about yourself. How did you become a farmer florist?
I started the Local Bouquet three years ago, but before owning my own company, I went to school for education. During the summer, I worked for a big floral designer in Rhode Island and only worked weddings. I got to go to some of the big venues here across the state and that gave me the fast-forward education about producing weddings of that scale.
I also come from a horticultural background. My parents own a landscaping business in Little Compton. I was interested in the floral horticulture side of it, learning the names, seasons and growing patterns of local flowers.
How much are you growing yourself?
I grow about one-fourth of what I'm using in our designs. We have farm in Little Compton; it used to be dairy farm. Right now, I'm harvesting from about a third of an acre, both perennials and annuals.
We're starting small and also taking some risks before we go full throttle and grow a lot more. We're learning as we're going. We also have relationships with local farms, and we make sure what we're growing fills the holes of what I'm having trouble finding or what the brides are asking for.
Who do you work with locally?
We work with a flower farmer in Portsmouth, Anna Jane Kocon of Little State Flower Company. She's in her twenties, and she's just awesome. She has so much knowledge; she's got that scientific education behind her but also has wedding industry knowledge. She grows a huge portion of what we're using.
I also work with Eva's Garden in South Dartmouth. She grows edible flowers, and she just started selling to the wedding industry. It's nice because if I'm working with cake flowers, I don't have to worry if the plant is poisonous. It's all edible, all organic.
What's your favorite part about working with local farmers?
I love sourcing from farmers because you don't just go and buy at wholesale and go home. You go with your clippers and learn about their farms…. There's so much character in our work. I really love that part of the business.
What about during the off-season?
In summer, we're able to source 100 percent from farms around here, but in spring and fall, we source from California and Florida. I'm really behind this idea of American-grown and creating a story behind each bloom. The American flower farmer has taken a huge hit over the last few decades. We support keeping the money here in the United States and in our community.
What flowers are you using right now?
A lot of people would recognize the zinnia, but we're using a different variety: the Queen Red Lime, two tones of pink and green. Dahlias are in right now, too — the Cafe Au Laits are just beautiful. We're also using lots of cosmos, snap dragons — this is a great time of year for flowers. Wild roses are huge, too. We love to clip those and let them do their thing. I tend to lean towards different varieties of roses, rather than the Stop and Shop roses you see everywhere.
Tell us about your floral design workshops.
I realized that people wanted flowers in their daily life, and as great as the wedding industry is, I wanted to connect with people on a daily basis and share the knowledge I've learned about the field-to-vase movement.
I find that when I give people the local ingredients and show them how I've foraged in my backyard, they're so inspired to go and do it themselves. It's been one of the best ways of advertising for my company. We're in talks with Carolyn's Sakonnet Vineyards [in Little Compton] to line up workshops for the next seven months. We have a floral crown workshop coming up [in September], as well as workshops on autumn centerpieces and succulent gardens. We're also planning a Valentine's Day date night class.
What's one tip every amateur florist should know?
Look at the unexpected elements in your backyard. For a recent bouquet, I used cherry tomatoes that were still green and on the vine and those were stunning. For another, I used the sweet pea — a pretty invasive plant here — and used its tendrils.
You don't need to rely only on your cutting garden; look at weird places on your property, your stone walls. It's a great way to add texture and shape, and a great talking point. That's what cool about florals. For the most part, when it's natural and coming from your backyard, you can't make mistakes. It's all gorgeous.
To learn more about the Local Bouquet, visit thelocalbouquet.com.