Sleek Minimalism in Providence
Call it fate, serendipity or whatever — the owners only stopped by to see the old carriage house on a whim. Of course, for a couple who consider rehabbing older homes a sort of hobby, that was, without a doubt, enough to seal their future.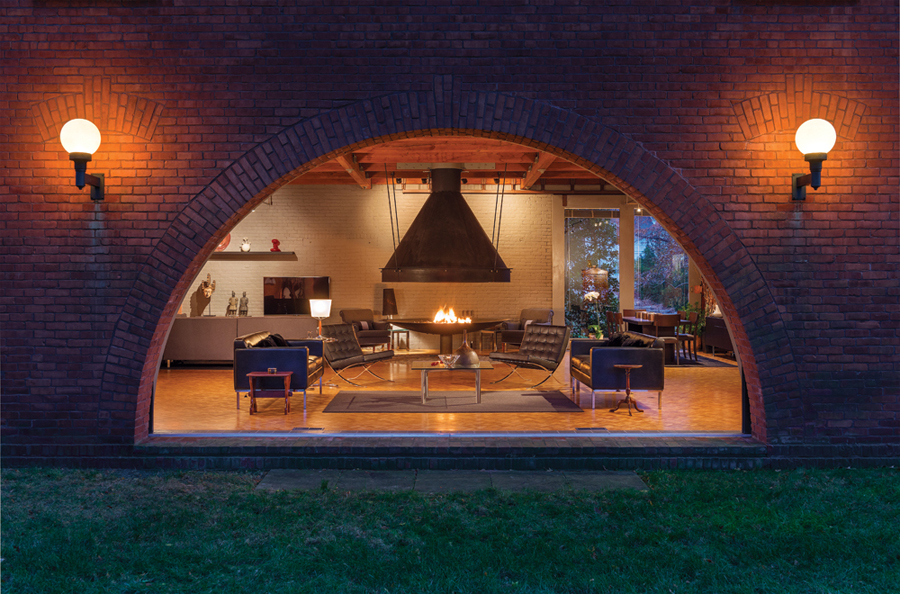 This Providence building once reverberated with horses and carriage wheels. We're envisioning harnesses well oiled and brasses gleaming. Stephen O. Metcalf, who built the place in 1902, wasn't a man — judging by his ancestry — to have settled for less.
But, heck, new owners Mark Kaloudis, senior product manager at West Kingston's Schneider Electric (company headquarters are outside of Paris), and Rick Champagne, AVP and human resources manager at Boston's Liberty Mutual, would make him proud. In slightly more than a year, the men have skillfully molded the lofty rooms to their lifestyle with a minimalist aesthetic that suits the architecture. Modestly, they remind us, their home was grand to begin with and they give credit to a former owner, the late engineer Allen F. Day, who moved his family into the carriage house in the '50s and was determined to make it livable.

To change the room's mood, the owners need only switch the color of remote controlled LED lights. No strangers in design, Ian Thompson and the owners have collaborated on three previous kitchen projects.
Parquet floors, another of Day's bequests, and brick walls are a classic foil to modern furnishings. We could plunk down on the kitchen sofa (above) — beneath Rooney Mara's portrait by local artist Marc D'Ambra aka Reason — and be content for hours. Having the haute bar within reach wouldn't hurt. The bar's custom stainless steel counter, backsplash and sink are so expertly welded (by All State Fabricators, Cranston) there's not a seam to behold.
And how design-savvy was this? To conceal the lackluster frame of the kitchen's existing glass sliders and update the look, the couple constructed an interior arched wall. When opened, the doorframes slip behind and out of view. Step through and you're on the stone patio in a generous green yard.
Obviously, "kitchen" is too mundane a term for this glorious multipurpose room that just happens to include an abundance of chef-loving features. Dream galleys of this quality require serious scheming. Frequent travelers, Kaloudis and Champagne drew inspiration from their trips around the world. The room's existing layout was scrapped for a more efficient version and every detail, minor or not, was scrutinized. Consider the degree of their planning: "All the cabinets, counters, hardware, grout lines are linear and aligned vertically and horizontally," Kaloudis explains.
Custom wenge cabinets,designed by the couple and constructed by Ian Thompson of Providence's Thompson Woodworking and Design, couldn't be more contemporary and that goes for the snowy quartz island that waterfalls to the floor, too. The acid-etched mirror on the vertical cab above the ovens was chosen because "it has a beautiful luster without being too shiny or reflective," Kaloudis says. To maintain the mirror's clean look, the men abandoned the idea of a handle and instead installed motorized lifts inside to automatically raise the door at a push.
Stainless steel appliances and hardware purposely speak to the gleaming bar across the way and note there's no bulky hood blocking sightlines. Instead, the couple chose a sleek induction cooktop and down drafter. Small appliances roll obediently into their own hideaways, leaving slick work surfaces free. With fridge and freezer doing a disappearing act behind matching panels and no unnecessary ornamentation, the mood is as sophisticated as a cocktail. Of course, the functionality — multiple warming drawers, concealed dual dishwashers and a built-in coffee system — couldn't be better for a couple who dine out almost every night. "I'm a decent baker, but we don't cook much," Kaloudis admits. "When we do, friends are surprised at how good it is."
Wouldn't Allen Day be delighted to know the living room fireplace he constructed — from an industrial furnace, no less — is still blazing? To maximize the mighty glow, the owners forged their dining area nearby. Above the console hangs an engaging painting of the Providence skyline by the couple's friend, Rhode Island artist Jay MacKay. And no dinky centerpiece for this table; those are hefty stainless steel Hackman bowls on parade.
Obviously made for entertaining, the freshly charged 5,100-square-foot carriage house has seen several fund-raising galas since the pair moved in. As many as 150 guests flow up and down the main hall that's bookcased by this room at one end and the kitchen at the other. Following Day's example, the men rent out the coachman's cottage — the building's smaller front ell — but to maintain the idea of separation, they've bricked over a connecting door.
The owners swapped the existing spiral staircase to the second floor for a steel-railed version. A portion of a built-in shelving unit in the master bedroom also found its way to the dumpster. In its stead, between the original beams, the duo slid a bed they designed and constructed. Their monumental skylight — hello stars! — hovers above a trap door. Back in the day, hay stored up here was tossed to horses below.
The master bath (right) also incorporates a beam as homage to the past, but that's the only antique. A TV imbedded in the mirror, a fabulous rimless glass shower and a Toto commode, which lights up and raises its lid when someone approaches, are life-enhancers and further prove how brilliant these owners are at blending old and new.