Sky Boxes
City dwellers are used to having their heads in the clouds, so it's no surprise their private hideaways are finessed terraces and sunny roof decks.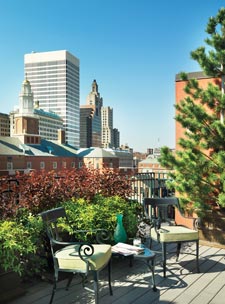 There's something magical about a garden-like idyll that soars above traffic. If you're like us, you've spent years craning your neck to get a better peek. This summer, though, we toured a handful, and what did we find? You don't need a gargantuan space to enjoy Mother Nature. Here's the lowdown on some lofty lairs that lack for nothing but green grass. End result? No mowing. How sweet is that?

Living on the Edge
What's not to like about a stylish Providence penthouse with dual terraces? The lower level (this page), central to the main living areas, is home to a kitchen garden. Here, the wife, a dedicated plant lover, cultivates herbs along with anything else that strikes her fancy—rhubarb, strawberries, tomatoes—in generous planters. A mix of sweet-scented honeysuckle, clematis and euonymus drapes the perimeters and softens views for people inside looking out.
The upper terrace (previous page) is used in patio-like fashion for idling and entertaining. Think morning coffee or sunset cocktails. Thanks to the ingenuity of Providence garden guru Kevin Brannon of Lotus Landscape, the scene brims with color and texture all season. "Imagine how inhospitable the site would be minus plants," conjectures Brannon. "Now there's a real sense of earth complete with bees and birds nesting in trees."
Fiberglass, metal-infused containers (buffed with wax to soften the inevitable rust) sport a meticulously manicured marriage of purple leaf viburnum and low-growing forsythia. The former is judiciously pruned to hide the parking lot and smudge the iron railings. Carefully choreographed pines frame city vistas phenomenal by day and night.
Final touch? Providence interior designer Nancy Taylor chose resilient fabric that riffs on the color of the stucco walls and plants to dress up the furniture. A long cry from what it used to be—a dusty haunt with a few scrawny bushes and a karaoke machine, recall the present owners—today's mile-high oasis is nothing less than a polished paradise.
Crow's Nest
What are friends for? Newport Gustave White associate broker Michelle Drum decorated this Newport hideaway, hardly bigger than the proverbial postage stamp, for her pals, the owners.
A blissful spot for harbor watching and star gazing, the small sanctuary takes readily to colorful fabrics, playful accessories and classic wicker, both old and new. "The furniture actually makes the space look larger," explains Drum, who has sharpened her design eye with years of staging.
Of course, passersby probably would never guess the formal 1832 Greek Revival house, built by Savannah sea captain Henry Castoff, holds such a relaxed treasure. And that makes this surprise, perched atop the three-story structure, even more appealing. Sure, the home's eighteen-inch-thick stone walls are fabulous, the antique woodwork is striking and the arched windows charming. But the welcoming rooftop is as close to heaven as you can get.
Urban Sprawl
Less creative types than Tripp Evans and Ed Cabral might not have visualized the possibilities. But having taken an artful approach to the interior of their Pearl Street Loft, it's no surprise the innovative duo turned the same amount of attention to designing an outdoor haven. Recruiting Susan and Daniel Lee of Archadeck of Rhode Island for help, Evans, who chairs Wheaton College's art and art history department, and Cabral, a senior sales director for The Providence Journal, devised a livable space that also suits the old building's industrial aesthetic. It's a feat (considering the magnitude of the crane involved) that might have deterred less stalwart nerves.
To protect the integrity of the rooftop's rubber membrane, Archadeck carpenter Mike Fournier built a series of four-by-four-foot sections off-site. Like Legos, the pieces were then hoisted, slung over the building's side and assembled. Presto! A stunning low-maintenance Ipe deck that expanded usable square footage in just days. The complementary railings are composed of heavy-duty corrugated metal (actually bridge tray molds for concrete) and galvanized pipe framed with Ipe for continuity.
Cleverly divided into three areas, the deck provides plenty of room for dining, sunning and parties. An eye-catching bed of river rocks—"a design feature suggested by a savvy engineer to help push human weight to the perimeters," explains Evans—interjects a dash of Zen. And plenty of festive plants and flowers, keyed to play off a bright orange and yellow advertisement plastered on a neighboring warehouse, add warmth. Trees are also included, among them a weeping willow, apple, spruce and boxwood. "In three years," Evans says, "they get too big, so we hand them off to friends and import new ones."
There's more too: A well-used bonus for the owners, this convivial deck is also a tony treat for guests, who need only open the door from their room to step out into the garden.