Shrek: The Musical Delivers Belly Laughs at PPAC
If you think Shrek: The Musical is just for kids, you're mistaken. The show, on stage at PPAC through Jan. 8, includes more adult-appropriate humor than any other childrens' theatrical production I've seen. These are the type of laughs that go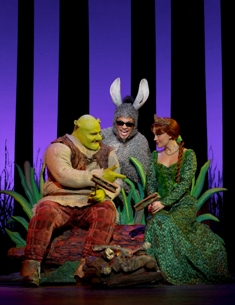 If you think Shrek: The Musical is just for kids, you're mistaken. The show, on stage at PPAC through Jan. 8, includes more adult-appropriate humor than any other childrens' theatrical production I've seen. These are the type of laughs that go over every child's head, but will leave grown-ups giggling in their seats.
At the start of the play, Shrek (played by Lukas Poost) is shown as a seven-year-old ogre who has been released into the real world to find his own way by his parents, who are ready to start the party once he leaves. Likewise, Fiona (the adult version is played by Liz Shivener), who is also seven years old, is driven out of her home by her parents to live alone in a tall tower until a prince comes to her rescue.
Shrek goes on to live by himself in a hut in the swamp, while Fiona patiently waits twenty years for her rescuer in the lonely tower. She reads fairy tale after fairy tale, imagining what it will be like to be whisked away by a handsome prince.
Meanwhile, more than a dozen fairy tale misfits (Pinocchio, the Sugar Plum Fairy, the Wicked Witch, Peter Pan, the Ugly Duckling, Fairy Godmother, Shoemaker's Elf, a tranny granny big bad wolf, the three bears and the three little pigs, who are actually quite gigantic) have been banished from the Kingdom of Doloc for their quirks. They show up on Shrek's doorstep in the swamp, begging for his help. Shrek wants his privacy back, so he agrees to embark on a journey to plead their cases to the evil ruler Lord Farquaad.
At the start of his journey, Shrek meets the talking Donkey, played by Andre Jordan, whose energetic impersonation is a dead ringer for Eddie Murphy's portrayal of the same character in the 2001 DreamWorks film. In a singing ballad, "Don't let Me Go," the Donkey convinces Shrek that they "go together like doughnuts and diabetes."
At the same time, Lord Farquaad (Go ahead, sound it out…) is torturing the gingerbread man for information about Princess Fiona's whereabouts. Gingy's high-pitched voice and mannerisms are some of the funniest parts of the play. Farquaad is required to marry a princess in order to become king, and instead of going to find Fiona himself, he conducts a lottery to force one of the kingdom's citizens to rescue her from the tower.
Lord Farquaad is a diminutive man. He lives in a huge castle with gigantic towers, yet he stands only 3.5 feet tall (he is played by actor Merritt David Janes, who is on his knees for most of the production.). There is a great story here—so pay attention or you'll miss it—in which Farquaad reveals who his father is (hint: he lives with six other small men in a tiny home).
When Shrek and Donkey arrive at the gargantuan castle, Shrek jokes that Farquaad must be "compensating for something," a joke that continues throughout the play. Once they meet Farquaad, the ruler is impressed by Shrek's size and appearance, and he agrees to give Shrek the deed to the swamp if he rescues Princess Fiona and brings her back, so that he can marry her and become king.
And so, the new journey begins. Shrek and Donkey must cross a moat of lava and defeat a fire-breathing dragon in order to rescue Fiona. Although the entire set is magical, it's the dragon—a twenty-five-foot iridescent purple puppet that flies across the stage—that is the most visually impressive element of the musical. An unlikely relationship that develops between the dragon and Donkey will leave adult audience members thinking, "Oh no, they didn't!"
Shrek rescues Fiona, who thinks that the husky character is her one true love. A helmet conceals his hideous identity. He takes it off to reveal that he is an ogre and she gasps in disgust. Shrek explains that it was his duty to rescue her and bring her back to Lord Farquaad. Feigning disappointment that Farquaad failed to rescue her himself, Fiona is relieved that her prince is not the ogre. Yet Fiona also has a secret. She cannot allow anyone to see her after the sun sets. As evening falls, she abruptly runs away to hide in a dark cave until the sun rises again.
While the trio makes their way back to Doloc, Shrek and Fiona grow quite fond of each other, bonding over their similar pasts…and flatulence. Just as their romantic relationship begins to develop, a misunderstanding occurs the next evening, and all of a sudden Fiona is eager to marry Lord Farquaad. When the tiny ruler appears by horseback to take her back to the palace, she eagerly climbs onto his horse, convincing the man that they should marry before sunset that same day. Shrek lets her go and returns to the swamp grumpy and bitter, and the Donkey wants nothing to do with him because of his cowardly actions.
The musical carries many positive messages, such as, loving a person for his or her inner beauty and learning that it's okay to be different. In the song "Freak Flag," all of the fairy tale misfits sing about their differences and determine that it's great to be unique. Meanwhile, Fiona learns that looks shouldn't matter when it comes to love. Once she realizes that, she takes on "love's true form" and lives happily ever after.
The musical is a must-see for both kids and adults. But take note, you must pay attention throughout the entire play or you'll miss some of the funniest one-liners; one-liners that are buried deep in the play unbeknownst to the youngsters.
Shrek will run through Jan. 8. Tickets are $40-$67. Providence Performing Arts Center, 220 Weybosset St., Providence, 421-ARTS (2787), ppacri.org. Citizens Bank Family Night for Shrek The Musical is Wednesday, January 4, 2012 at 7P. With the purchase of a regularly-priced ticket, receive a kid's ticket of equal value FREE plus a pre-show event. Available for selected seating locations only. To purchase, visit or contact the PPAC Box Office.