Show Time
Part scavenger hunt, part marathon and the rest circus, The Brimfield Antiques and Collectibles Show is chock full of treasures and more thrilling than the big top. Best of all—no waiting involved—the remarkable week-long event is kicking off another colorful season this month.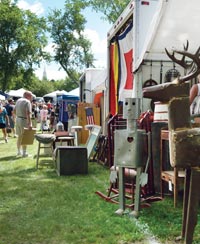 Held three times a year in what used to be the drowsy village of Brimfield, Massachusetts, this humongous week-long tag sale consists of some twenty-three individual shows known as fields, each with a name and each jammed with hundreds of dealers. This month's show runs Tuesday, May 13 to Sunday, May 18. Opening days for the fields are staggered, allowing showgoers to plan their visits accordingly.
Legions of trucks and vans spill everything from textiles, hotel silver and 1950s porch furniture to celluloid buttons and trundle beds. Whether your passion is cranberry glass or bowling memorabilia, you're certain to score. Trust us, no one departs empty handed. And, hear this: According to Bob Wyss, author of Brimfield Rush (Commonwealth Editions, 2005), there are jewels—as in snag a painting by an obscure artist, sell it, make a fortune— amidst the jumble. So contagious is the Brimfield bug, you'll need to visit more than once. Still, there are a few caveats. Should you spy something you like, grab it. Hesitate, and it's gone. And not to mimic your father: If the deal sounds too good to be true…

On Your Mark
Opening times for the fields also vary. At some, dealers are not permitted to unload until customers are allowed entry. "The bell sounds, and it's a crazy, fun scramble because people know this is fresh stuff being unpacked," explains Richard DeMaio, owner of the Wickford Antique Centre. DeMaio mans a booth every year at one of the oldest and most popular shows, May's Antique Market (maysbrimfield.com), which opens on Thursday at 9 am. Last summer at May's, we were wild for a pair of Heywood Wakefield rattan chairs—a steal at $275—and a chic $795 iron sphinx urn.
Jamestown designer and stylist Lynda Sutton, who also makes an annual pilgrimage or two, lists Hertan's as her top field. "They've got the best primitive country items like firkins, blanket chests and garden furniture," she says. A recent sampling of favorite fields includes:
May's Antique Market • Thursday 9 a.m., maysbrimfield.com
With thirty-one years under its belt, May's is quintessential Brimfield. In addition to its wild opening, the field limits pre-show selling among dealers. Result? A fair shot for shoppers to unearth once-in-a-lifetime take-homes from more than 600 dealers. If you're a folk-art aficionado, this is a good bet.
Hertan's • Wednesday noon, Thursday–Sunday 6 a.m., hertansbrimfield.com
A favorite with both seasoned visitors and first-timers, there's no telling what could turn up under the shady trees. After you scope the furniture (Victorian wicker is but one type) and collectibles, check out the booths featuring discounted clothing and shoes.
New England Motel • Wednesday 6 a.m., antiques-brimfield.com
Expect a fair amount of cheery Fiesta ware, garden statuary and painted furniture. Sterling, china and crystal are also in the mix.
Heart-O-The-Mart • Wednesday 9 a.m., brimfield-hotm.com
Some 500 dealers translate into generous amounts of textiles. Plus, you'll discover Deco pieces, decoys and cast-iron collectibles as well as fun fifties stuff and art. Hudson River School and American Impressionism sound good? Then look no further.
Central Park • Tuesday 6 a.m., brimfieldcentralpark.com
More and more textiles and clothing from the past, including women's vintage hats (trendy for that summer wedding you're attending). Note the furniture and antique hardware keeping company with Indian rugs, pottery, porcelain and books.
Midway • Tuesday 7 a.m., brimfieldantiquescenter.com
Samurai swords? What's not to love about a stop brimming with Russian and Asian antiques? The amazing selection also incorporates nautical items.
The Strategy

Brimfield is not for sissies. Crowds are large, competition is fierce, and stamina (acres of antiques and collectibles gobble up both sides of Route 20) is a must. Here's how best to meet the challenge:
Save the dates. Show dates are determined far in advance. For 2008: May 13 to 18, July 8 to 13 and September 2 to 7.
Do your homework. The more you know about the items you're hunting, the better equipped you are to haggle. Take antique rugs, for instance: Signs of wear are inevitable, but holes won't do. Neither will cracks or nicks in pottery or glass. Perfectionists beware of items where the cost of restoration could outweigh the value. Kovels' price guide and website (kovels.com) make fine teachers.
Chart your course. Some fields charge a $5 entrance fee, but most are free. Grab a "Brimfield Pocket Guide" (also free) at the gate. The guide contains a map, show schedule and dealer directory. Dealers are listed by category—say "decoys" or "dolls"—to help you hone in. You can also conduct your search and locate lodging (reservations need to be made months in advance) from home: brimfieldshow.com, brimfieldexchange.com.
Dress for the occasion. Wear comfortable shoes, layers (allowing you to peel when temperatures rise) and a hat. Brimfield is a scorcher on a hot day. Tote along a water bottle. If you've forgotten sunglasses, investigate the selection of past specs (dating from the 1770s to the 1980s) at Vintage Eyeware in Central Park.
Bring cash. Most dealers accept checks and credit cards, but the green stuff (there are several ATMs, but lines can be long) works better for smaller buys, especially if you intend to barter, which when done politely, is acceptable and expected.
Refuel. Don't bother to pack lunch. In addition to traditional wieners and burgers, the food court—set at the heart of the activity—features a deliciously diverse medley of lobster rolls, sausage and peppers, vegetarian wraps, southern barbecue, nachos, johnnycakes, baklava and more. JB's, the outdoor cafe at Hertan's, is also a regular haunt. Popular nearby restaurants include Piccadilly Pub and Rovezzi's, both in Sturbridge.
Park here. Despite the hordes and the inevitable traffic, there are ample parking lots as locals also rent out their yards. Rates range from $5 to $10 for the day. Arrive early for the choicest spots.
Load up. Shopping carts can be rented for a small fee. There are also porters to help you transport large items. Look for them (and listen to them hollering) in the crowd. Or check out Bob's Porting Service (413-250-3379). Packing, crating and delivery services are also on hand.