Shop Local, Shop Happy
Skip the extended sales this week and check out local holiday markets for gifts for everyone on your list.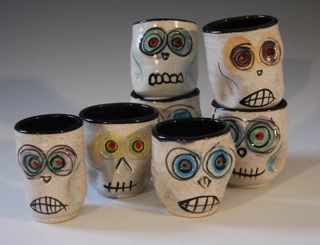 Pre-Black Friday. Black Friday. Cyber Monday. Cyber Week. Last chance. Sale extended.
Sheesh. I think I'll pass on all the scary holiday sales for some real "last chance" gifts, made one-of-a-kind by local artisans and sold in a stress-free market atmosphere. There might be lots of people around, but I can (almost) guarantee you won't be battling the masses to get your hands on a piece of pottery or hand-woven scarf. Here are some of our picks for this weekend:
When: The opening reception will be held on Dec. 1, with refreshments and live music from 5–9 p.m. The sale will continue on Dec. 2–4 and Dec. 9–11, Fridays noon–8 p.m., Saturdays 10 a.m.–8 p.m. and Sundays 10 a.m.–6 p.m.
Where: The Pawtucket Armory Center for the Arts, 172 Exchange St., Pawtucket.
What makes it great: Admission is free, but visitors are urged to bring a canned good to benefit the Rhode Island Community Food Bank. The event also boasts a charitable silent auction, with proceeds benefitting the Pawtucket Armory Arts Center LLC and We Share Hope, a Rhode Island-based group that provides food to organizations that support the needy.
More info: Free admission, no sales tax. Click the photo of Liz Howland's scarves for a slideshow of some of the participating artists.
When: Dec. 3 from 10 a.m.–5 p.m.
Where: Rhode Island Convention Center, 1 Sabin St., Providence.
What makes it great: Some of the nation's leading artists were educated at RISD. Who knows, you might pick up a piece by the next Nicole Miller, Dale Chihuly or Kevin Zucker.
More info: Adults $7, students and children admitted free. Ticket sales will benefit the RISD scholarship program.
When: Dec. 3–4 from 10 a.m.–5 p.m.
Where: Courthouse Center, 3481 Kingstown Rd., W. Kingston.
What makes it great: Aside from great local arts and crafts, this sale also boasts live music (pianist Robin Spielberg on Saturday, Musica Dolce on Sunday) and tasty soups, sandwiches and baked goods at the Artisan Cafe.
More info: General public $3, CCA members $2. Ticket sales will benefit programming at the Courthouse Center for the Arts.
If you caved and went out Thursday night after stuffing a bird (and stuffing yourself), you might not be able to handle another crowd of shoppers, even if they are cheerful. In that case, check out Craftland on Westminster Street in Downcity Providence. (Parking won't even be a stress ­­–– it's free for two hours!) Craftland started off as a seasonal pop-up shop, but went year-round in 2009. They're open every day, and are conveniently located near several other great gift shops like Homestyle, Symposium Books, OneWay Gallery and Queen of Hearts/Modern Love.