Shop For Antique and Vintage Finds in Worcester
Places like the Crompton Collective are filled with great deals.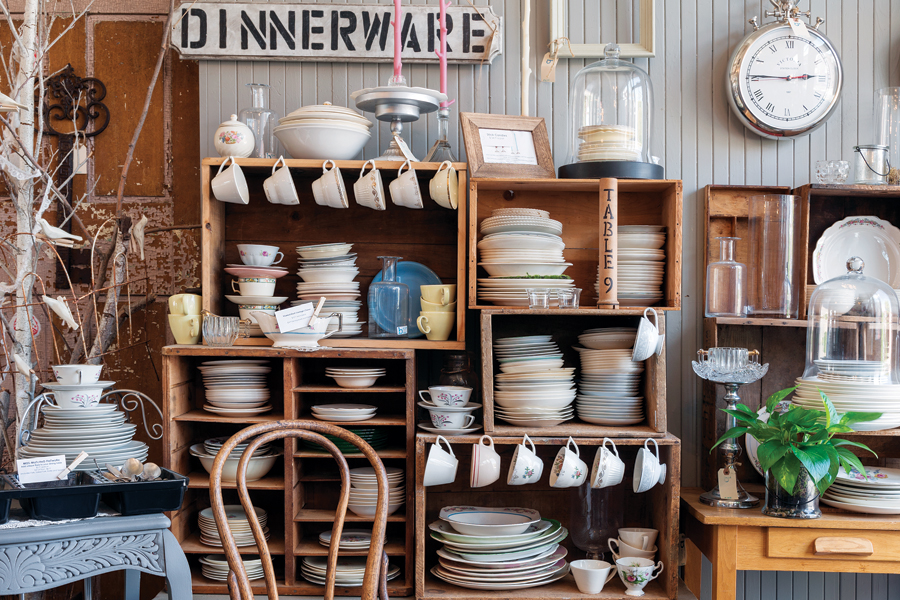 When we got wind of fresh hunting grounds fifty minutes northwest of Providence, we were out the door faster than you can say Fiestaware. Worcester, as it turns out, has a plethora of riches. We zeroed in on Crompton Collective, "a curated boutique marketplace," according to owner Amy Lynn Chase, housed in a historic mill. Ninety-two vendors peddling everything from antiques to artisan crafts kept us occupied most of the day. But — guess what? — New England's third-largest city also has a fantastic museum, worthwhile historic buildings and scores of upscale eateries, not to mention (shoppers get thirsty too) an award-winning brewery.
Clockwise from left: Cozy Nook; Found Things; The Beautiful Object

Cozy Nook
We'd no sooner entered the 9,000-square-foot emporium than we stumbled upon CN's generous stash — a combo of vintage and antique treasures. The dealer's slogan reads "Reminding you not to take life or decorating too seriously," which would have won us over even if we hadn't spotted the rattan chair and kerosene lanterns. Crompton Collective, 138 Green St., 508-753-7303, cromptoncollective.com.
Found Things
A perfect haunt to find a gift or a decorative accessory like a cute iron rack for dishtowels, a wooden box (definitely a proper nest for keys) or an artful glass dome to safeguard a memento. Crompton Collective.
The Beautiful Object
All kinds of fun stuff like retro metal chairs and bright blue wicker is revealed when we rummage. Even though we have no use for the salvaged house parts, we pass on them reluctantly. Crompton Collective.

Clockwise from top left: Games become art objects at Juniper Vintage where a giant flag serves as backdrop. Antique Soul's orderly display of bottles reminds us similar items look best grouped.

Juniper Vintage
In a place this size, there's plenty to see. Nevertheless, Juniper Vintage's eclectic blend stands out. We coveted it all from the vintage board games and watery-colored mason jars to the bright pillows and pennants. Crompton Collective.
Antique Soul
We hear big items like wooden lockers and small objects, say, a table-size Buddha, come in and go out of here at a fast clip. Legions of antique bottles on this day were just the tip of the don't-miss iceberg. Crompton Collective.

At Vintage Peddlers, paintings and signage share the limelight.

Vintage Peddlers
Loath to overload the car, we steered away from the interesting furniture and focused on the old signs and art. Crompton Collective.
Hundred Acre Design
Their one-of-a-kind furnishings — feed sack-upholstered benches among them — take recycling to new heights. The most practical — a handsome kitchen table with vintage industrial steel legs and a custom butcher block top — cost around $1,000. Figuring it will last forever, that seems reasonable. Crompton Collective.

Covetable and shopping bag-sized items spill over at pretty Birch Alley.

Birch Alley
Shop stylish and affordable home-related wares mere steps from Crompton Collective. To make it even more irresistible, the inventory is displayed (the owner is an interior designer) in a decorative fashion. Tureens of hardware (cabinet knobs, iron hooks and numbers) hob knob with stacks of vintage china. 19 Harrison St., 508-753-1434.

A cheery sunset-colored tea pot from Alexis Grace exudes sculptural appeal.

Alexis Grace Consignment
The top level is crammed with clothes and fashion accessories, but the bottom level holds plenty for collector types. Retro table lamps (most with their original shades) abound. It's a hunt and peck destination. Take your time or you'll miss the prize. 7 Harrison St., 508-799-4700, alexisgraceconsignment.com.
The Antique and Auction Centre at Worcester
After Crompton Collective, the Centre's antique and vintage offerings — from a handful of dealers — might seem lean. But as brake-for-every-sale pros will tell you, jewels turn up in hidden corners. Stock, we understand, changes regularly. 13 Hope Ave., 508-753-3055.
Seed to Stem
Maybe you ran across them at Brimfield? An inspired combo of artful things — many nature-related. In addition to the houseplants (some of the rare tropical variety), there are skillfully fashioned terrariums, shells, skulls and taxidermy. 174 Shrewsbury St., 508-890-0933, seedtostembotanicals.com.
---
Where to Refuel
Since it's in the same building, there's every reason to visit Birch Tree Bread Company twice — once for coffee and fabulous energy-giving cookies (try a white chocolate/cranberry model for $1.75); later for lunch. Of course, a loaf of their scrumptious bread would be the ideal souvenir to tote home. 138 Green St., 774-243-6944, birchtreebreadcompany.com.
Right across the street, Smokestack Urban Barbecue has the whole deal: ribs to pulled pork as well as fried pickles ($6.99). 139 Green St., 508-363-1111, bbqstack.com.
If pizza is your prime choice (we're talking the sort with upscale options like funghi mushrooms and pistachio pesto, around $9 to $16), take a short drive to Volturno. Its generous menu also features house-made pasta dishes.72 Shrewsbury St., 508-756-8658, volturnopizza.com.
But remember to save room for cupcakes at Sweet next door. More lounge than bakeshop, airy Sweet sports a bar. Why not a margarita with your dreamy margarita cupcake? 72 Shrewsbury St., 508-373-2248, sweetworcester.com.
Well-touted Wormtown Brewery is a close neighbor. 72 Shrewsbury St., 774-239-1555, wormtownbrewery.com.
---
Sights to See
The stellar Worcester Art Museum contains centuries of art — some 40,000 objects in all. Roman mosaics, Asian and pre-Columbian sculpture, American and European paintings, prints and drawings right up to modern day. 55 Salisbury St., 508-799-4406, worcesterart.org.
Architecture buffs will appreciate several of the city's old municipal buildings but Union Station is the dazzler. Constructed in 1911 for the Boston and Albany Railroad and meticulously restored in 1999, it's the prettiest building in town. 2 Washington Sq., greatamericanstations.com.
In nearby Boylston (ten miles northeast of Worcester) Tower Hill Botanic Garden — more than 130 acres — is also visit-worthy. 11 French Dr., 508-869-6111, towerhillbg.org.hts to see