Shifting Gears
A rundown garage undergoes a traffic-stopping transformation. In its new life it's a chic cottage characterized by an enviable open floor plan and modern aesthetic.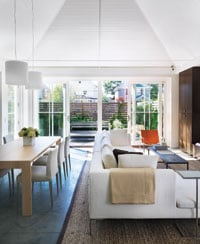 Heaven knows lesser mortals would have run from the dilapidated garage/carriage house. But Providence interior architect Kirby Goff was hunting for just such a design. "I've always been fascinated by a long rectangle," she explains. "I wanted to recreate that Malibu house feel: a minimal, unpretentious facade. Then, you walk in and discover a great space." And as luck would have it, the down-at-the-heels building, originally part of a grander Providence property on an adjoining avenue, also came with a generous lot. Even better, the front room was south-facing. "It was all miraculous," remembers Goff, who wisely snapped it up and launched her makeover.
Full Speed Ahead
To render her nest livable (read: running water and modern plumbing), the architect devised a brilliant and affordable solution: an eight-foot-by-twenty-four-foot addition that runs down the building's length, making possible a bath, guest bath, fridge and kitchen sink. And since floors are concrete, there's no discerning where past and present diverge. Only today's ceiling heights—seventeen feet in the living room (preceding page), eight and a half feet in the kitchen—might give it away. But even this looks purposeful: "The lower ceiling makes the kitchen seem cozier," says
Goff. And in case you're wondering, that's the original beadboard—cleverly flipped to its smooth side—paneling the living room ceiling. Steel reinforcement rods (local engineer Loren Yoder insisted) weren't something Goff anticipated. Yet, when her fine-tuned furniture plan fell exactly within the rod's configuration, "it felt like Kismet," she says with a laugh.
Map Quest
'My home's layout is based on how I move through my day," explains Goff. "I go from bed to treadmill, bath, dressing room and then out." In other words, when Goff emerges from her private lair at the building's farthest end, through glass doors, into the public area, she's on her way for the day. Such ingenious choreography also accounts for no clutter. "Everything has its place. It's very cathartic," Goff says. "I just have to remember to put it back." Tiverton-based Highland Builders handled the heavy construction, while Messier Construction, also in Tiverton, saw to the custom cabinets, including the sleek ebony-stained oak composition that Goff designed for the living room.
A fave painting (Goff frequently rotates the canvas, paying no regard to the horizon) by Cape Cod artist Anne Packard graces the minimalist mantle, which is actually a bolted and sheetrocked angle iron. The blue vases hail from a Toronto gallery. The orange leather chair is by Martin Visser from Suite, New York. The streamlined steel and limestone coffee table is from Lars Bolander. "I don't believe in buying things just to fill a space. That philosophy hurts my bones," says Goff. "I'd rather look at each piece and celebrate it." Topping her list of treasures? The stunning sofa (Goff swaps the pale linen slipcover for a brown suede version in cold weather) and dining chairs (preceding page) by Italian designer Antonio Citterio for B & B Italia.
Drive Through
An open design fosters easy entertaining. Guests seated at the dining table (a 1999 design by Jasper Morrison for Cappellini) or the counter (Bertoia stools from Knoll) stay within conversation range of the cook. Snowy carrera marble countertops and no curtains on the oversized windows, or doors, elevate the airy ambience. Radiant heat warms the polished concrete floors. As part of the transformation, Goff also forged a
loft-office from which she can look down on the action. Her ever-burgeoning library is stowed up here, thus no messy bookshelves anywhere else to detract from the simplicity. And since every project is really a work in progress, she has recently popped up the roof and added three new office dormers—a move that rockets the garage-turned-jewel to a resounding 1,450 square feet. That's more than half the American average size, and for Goff and cat, Emma, plenty big enough.
Rest Stop
Bolted to the wall, an oak headboard with nightstands, designed by Goff, gives her Room & Board bed a refined demeanor. Glass doors open to reveal the garden and planters filled with prim boxwood, a strategy that leaves the tiny bedroom feeling twice as large. Goff recruited landscape architect Sharon Mooney to help maximize the urban surroundings. With so much glass, what goes on outside is as important as what's happening indoors.
Glimpses of green blur the line between in and out and also spark the calm palette Goff uses throughout, including in her bath. A marble vanity top
nods to the kitchen marble and denotes elegance. Toiletries, no matter how pretty, are verboten; carefully contrived storage keeps everything from towels to toothpaste hidden. A lean sconce by Thomas O'Brien for Visual Comfort boosts light. And across the hall (not shown) is the dressing room. To enforce strict closet order, Goff customized as built-ins a series of IKEA components. Result? A tidy wardrobe to lessen the angst of finding the right thing to wear on those busiest of mornings.