She Will Survive
Hearing a diagnosis of cancer once is bad enough. Living to hear it a second time is a nightmare. But Anne Fleet fought back, with the help of one doctor who was convinced she'd make it through.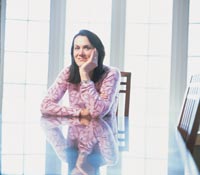 Patient: Anne Fleet, 45, Barrington.
Doctor: Skip Granai, gynecological oncologist, director of the Program in Women's Oncology, Women and Infants' Hospital, Brown Medical School.
Anne: It was 1989 and I was twenty-seven, a single mother working as a nurse. A routine pap smear came back abnormal. It was cervical cancer, a greater than 5 millimeter invasion, and the treatment required a radical hysterectomy. It was devastating; I had one child and I always wanted six! My gynecologist sent me to Dr. Granai. I asked him, 'Can I have another child first before I do all this?' He said, 'You need to protect what you have now.'
Granai: Anne wanted to delay the surgery so she could have a child, but from a medical perspective, my number one priority was to save Anne's life. The hard reality is that cancer is lethal if not treated. A radical hysterectomy is done very occasionally, but it is how you treat cervical cancer. In a radical hysterectomy, much more than the uterus is removed. The surrounding tissue is removed all the way to the pelvis, which can disrupt the bladder and ureters. Part of the vagina is removed, as well as the pelvic lymph nodes. If you rate the surgery on a severity scale of one to ten for major surgery, a regular hysterectomy may be a three, and a radical hysterectomy might be an eight.
Anne: The medical part, the having cancer, the surgery, it wasn't the hardest part. The challenge was knowing I wouldn't have any more children. I'm in the middle of eight kids. I always thought I'd have that type of thing. I met Jim, now my husband, a year after my surgery. Things started getting serious, so I told him we had to talk. I broke the news that I wasn't able to have kids. In his true spirit, he was like, "What? That's it? I thought you were going to break up with me!" We were married in 1991 and later sought information on how we could find a gestational carrier who would have biological children for us. I was able to keep my ovaries and harvest my eggs since I didn't require radiation.
Granai: Anne has great courage. It's not secondary to her; it's a wonderful part of her nature.
Anne: In 1994 my husband and I consulted a physician in Boston, who was pretty negative. He didn't think he'd be able to harvest my eggs due to scar tissue from the surgery. But he didn't even look at me! So we went to a reproductive clinic in Philadelphia that specializes in harvesting eggs. Then, we found a gestational carrier in the Springfield, Massachusetts, area through an agency, used in vitro fertilization with my eggs and my husband's sperm, and had a child. Our son was born in 1998. A year later we had a daughter.
Granai: It was not ever expected that she would be able to have children. She'd come in for her yearly checkups and suddenly she was bringing in these beautiful kids. She was somewhat of a pioneer in having her eggs harvested and using in vitro fertilization in that way. When you see somebody who is going through so much, who is still smiling, and who has a supportive husband, and then realizes her dream of having a family, it's inspirational.
Anne: I've seen Dr. Granai for the last eighteen years. I've had ovarian cysts and other medical problems, including major surgery a few years ago when my appendix ruptured. Sometimes I was tired of all the checkups, but Dr. Granai would say, 'Yes, but you're still alive because of this care.' Then, last summer I felt a lump in my breast. I had always been very flat-chested and figured it was a cyst. It turned out to be invasive ductal carcinoma, grade two, stage one. I went in to talk with Dr. Granai. It wasn't his specialty, but I showed him the pathology report. I wanted to know what he thought. We talked a little bit, and for the first time in all my years with him, I cried.
Granai: When she had the second cancer diagnosis, once again she was smiling, strong and then very sad. I was flattered that she wanted my opinion. I didn't have the answers, but I was able to connect her medically with people who did. I have this constant feeling about Anne that she'll do well.
Anne: My doctors recommended a double mastectomy with reconstruction. I don't like to be in the limelight or want people to think I am on a soap box, but I know people need to hear there is hope. You can survive breast cancer. You can still have kids after cervical cancer. It was the hardest thing for me to go through, but it's worth it.
—As told to Lisa Palmer
Edited by O'Rya Hyde-Keller