Shakespeare in South Providence
How one student broke out of his shell to become a rising star on Providence's youth stage.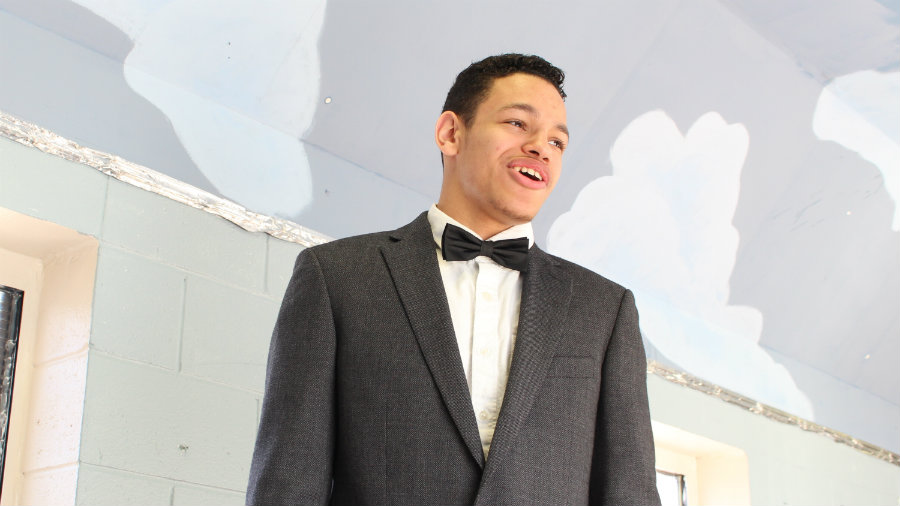 In a cinderblock hallway, brightened by pale blue paint and a sky scene overhead, tenth grader Steven Rosario takes a breath.
Within seconds, the quirky teenager — wearing a suit and bow tie for the occasion — transforms into an effervescent Proteus from Shakespeare's The Two Gentlemen of Verona. At Trinity Academy of the Performing Arts (TAPA), a charter school on Providence's West End, a spontaneous scene like this — within view of peers, teachers and administrators — is not out of the ordinary.
Back in February, Rosario placed first in the English-Speaking Union's annual Shakespeare Competition, held at the Providence Athenaeum. Armed with the Proteus monologue and Shakespeare's Sonnet Twenty-Nine, Rosario competed against fifteen local teens from across the state. Each competitor won contests at their individual high schools, both private and public, earlier in the school year.
"Third place was announced, second place was announced, then they said my name and he runs over to me and gives me this hug!" Rosario says, the "he" being his TAPA teacher and mentor, Daniel Lee White, who helped him choose and practice his performance pieces and will join him in New York City next week for the national Shakespeare Competition.
"Mr. White's like, 'I hate all of you equally; I'm not your friend, I'm your teacher.' So I was like, 'Oh! Take a picture, take a picture!' So many emotions rushed through my body and my mind. I couldn't stop smiling. It was a really good feeling — a new feeling."
Rosario, who grew up on the South Side of Providence and is the oldest of four, says he liked to draw and play with action figures as a kid. He mostly kept to himself at school, but when he didn't, he got into trouble. "It was the sort of environment where nobody cared, so I was able to get away with a lot of what I did," he says.
His mom enrolled him in therapy at the South Providence Neighborhood Ministries, where he learned to manage his emotions. He often found that playing make-believe or expressing himself through Yu-Gi-Oh card games was easier than verbalizing how he felt.
"Before I met Mr. White, I would've said I started acting in the seventh grade with Shakespeare in the City," says Rosario. "Now that Mr. White is my teacher, I'll say I started acting when I was five. Acting is make-believe. Becoming a different person — a different character."
Rosario enrolled at TAPA in seventh grade, beginning as a film major but eventually switching to theater. He remembers one classmate, a former dance major, saying, "In dance, I learn about dance. But in theater, I learn about life."
White, who has taught at the school for nearly two years and runs Bring Your Own Improv in Warwick, says that's the goal of the program.
"With some of these students, like Steven, the clear passion for theater is there," he says. "But for others, it's just taking the introvert energy so they can express themselves, so we try to 'life lesson' in there, as well. Maybe you don't end up on the stage, but where can you use this? It's a lot about self-confidence."
Rosario, who received a scholarship to attend classes at Trinity Repertory Company this summer, remembers a time when he translated, analyzed and performed "To Be or Not To Be" in Spanish. He's Dominican and he's fluent in Spanish, but the assignment was harder to perform than he expected. He performed to a certain spot and ended there. "Mr. White never likes to showcase any of his students unless they're ready," he says.
But Rosario is ready for New York. White recites a line at random from Rosario's monologue or sonnet, and he picks it up from there. He practices on runs and in the shower — wherever he has the free time, he says. "Practice until you can't get it…wrong?"
Rosario looks at White.
White says, "Don't practice the mantra, just practice the piece."
Five Facts about Steven Rosario, Rhode Island's 2016 Shakespeare Competition Winner
Favorite Playwright: Tennessee Williams
Favorite Role: Devin from Prospect High: Brooklyn
Pre-Show Ritual: "My step-grandmother gave me this bracelet. Every time I perform, I give the bracelet to someone. They keep it during the performance and give it back to me the next day."
Best place to practice lines: "I record my lines and listen to them on runs."
Plans for the future: "If I can't make it as an actor, I want to be a doctor, a basketball player or in the culinary arts. Those are the top four." ("That's a helluva backup plan," adds White.)
To learn more about TAPA, visit tapaprovidence.org.