Shacking Up
The beach cottage lives on in Matunuck.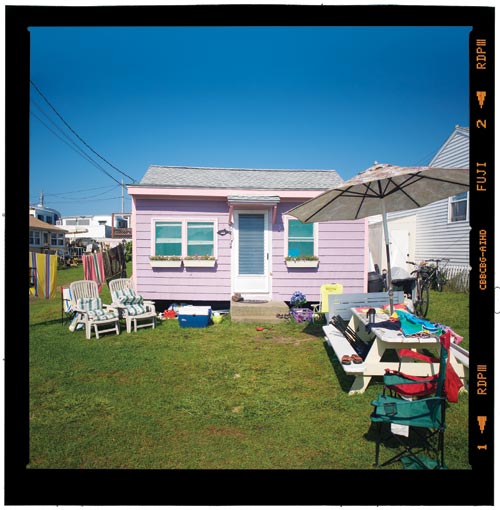 Once a staple of middle-class summers, seasonal beach houses have mostly been elbowed off the state's million-dollar coastline. At Carpenter's Beach Meadow, they'll survive as long as Mary Carpenter herself, the ninety-one-year-old farm girl who has run her father's campground all her life.
South County's original neighborhood of shacks and trailers was born the day, in 1935, when a woman walked up to Arthur B. Carpenter and asked if she could pitch a tent in his hayfield.
The tents have given way to more permanent structures, with outdoor showers and unlocked doors. Open May 15 to October 15, Carpenter's attracts people from Cranston and Florida, New York and Connecticut, who make the pilgrimage every summer to soak up the sun, hit the beach and relax with friends they've known for decades.
Mary Carpenter, last of six siblings, will turn ninety-two in August. Chances are she'll spend this birthday as she did the last: with a big cake, surrounded by her summer friends. She'll watch the kids play and note the ocean's relentless erosion of her land, which forced her to take down the clubhouse in 2008. Residents meet around picnic tables now. She says she's left the land to her nephews and nieces; she guesses they will want to sell. That leaves the future uncertain for the 288 families who own structures here but only lease the land beneath them.
"Just being here has helped with my family 100 percent. My kids made friends here they still see. My grandkids talk about it all winter in school. Everybody watches for everybody else's children."
– Arthur Caraman
"Leasing year to year is risky. But you ask anyone how much they would sell for, they'd tell you there's no money. How would we replace the memories?"
– Frank Tassoni
"Waves flooded our trailer last winter. They're supposed to put a sea wall in. I hope they do, then I'll buy a park model."
– Walter Denoncour
"We've been coming since 1978. Last year, a ninety-year-old woman beat me out in a football throwing contest. I love how the generations interact here."
– Linda Denoncour