See RI's Top Youth Slam Poets in Action
On Thursday, ProvSlam Youth performs at Donigian Park before they head to Brave New Voices in Atlanta.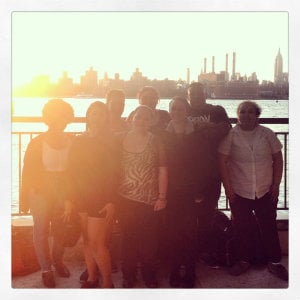 They're headed to Hotlanta next week, but the state's top youth slam poets need a proper send-off first.
This Thursday, July 9, from 4:30 to 6:30 p.m., ProvSlam Youth will host a free performance at Donigian Park on Valley Street in Providence. The performers — Seth Larbi, Naomy Gutierrez, Evander St. Pierre, Michelle Pouliot and Gabbie Tavares — were selected to represent Providence at Brave New Voices, the international poetry slam festival that lures youth teams from all over the world. ProvSlam Youth, the division of Providence Poetry Slam for poets nineteen and younger, has participated in the festival for the last decade.
Muggs Fogarty, ProvSlam Youth's head coach, says this year's team features writers from Providence, Pawtucket, Barrington and Coventry. "It's super, super interesting," she says. "We have two poets who are veteran slammers and have been in the game for a long time. Then we have brand new folks who wandered in and weren't necessarily steeped in poetry slam or poetry. Every single person has a unique voice and they're all completely different. They're all bringing their own thing. The team is coming with a lot of varying material."
Here's a performance by ProvSlam Youth's Evander St. Pierre:
Every third Thursday from September to February, Providence Poetry Slam hosts youth slams at AS220. The winners of each event are funneled into a grand slam in February, during which the top five are selected to compete at Brave New Voices. Following the grand slam, the youth poets hone their material on Friday afternoons with Fogarty and coach Charlotte Abotsi.
"We meet for three or four hours after school and start writing and sharing poems and listening to poems and editing the drafts they come up with," Fogarty says. "We also do some collaborative writing, which is interesting — all these very, very different people coming together to speak on things collaboratively. We always meet as a whole group; there's a lot of peer editing."
In addition to this Thursday's show, ProvSlam Youth will host a post-Brave New Voices outdoor event on July 22 at Riverside Park in Olneyville. Youth playwrights from the Manton Avenue Project will also perform.
To help offset costs for the trip, ProvSlam Youth is running an Indiegogo fundraising campaign. "We do it every single year and a majority of the funds go to immediate travel expenses," Fogarty says. "When we hit our goal, it not only means we're able to go on the trip and buy food and plane tickets and register for expenses, but we also have a cushion going into the following year. So it's an important campaign for the longevity of our program."
To donate, click here, or visit provslam.org/youth for more information.