See Rhode Island's State Donkey at the Democratic National Convention
The fiberglass mules are part of the "Donkeys Around Town" scavenger hunt, and each one represents a DNC delegation for the fifty states, plus DC and six U.S. territories.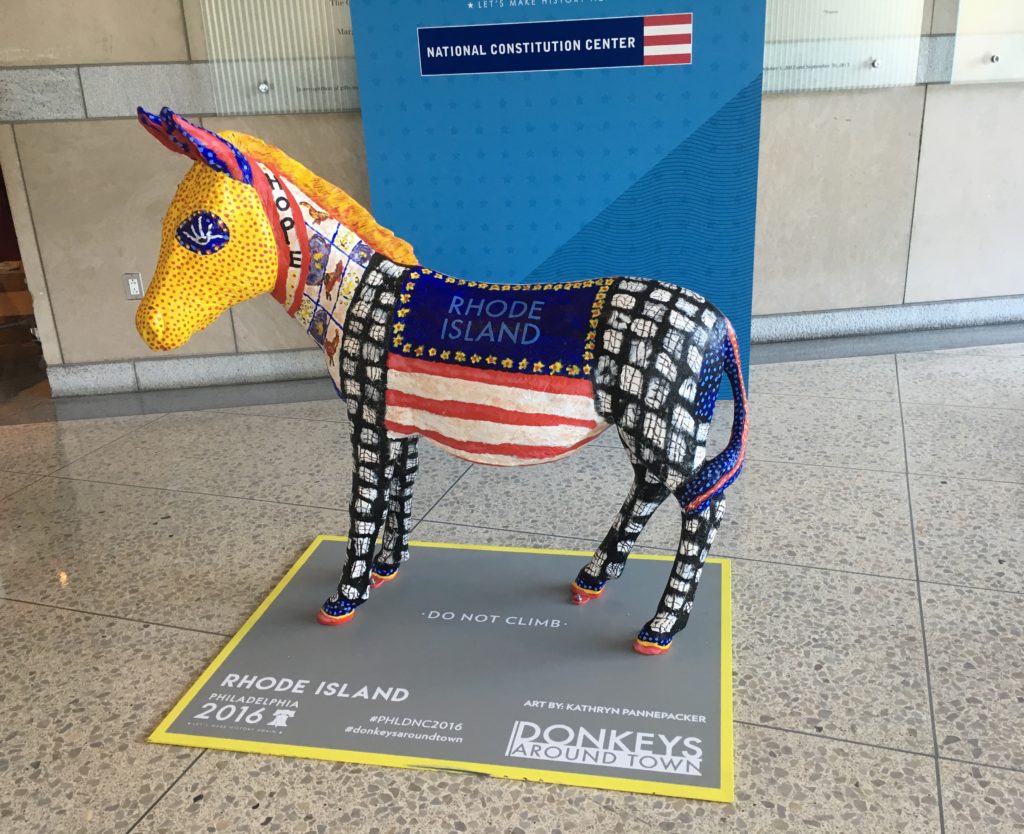 As scandal shakes the Democratic National Convention, a more lighthearted form of donkey hunting is also going on in Philadelphia this week.
The DNC host committee has invited visitors to take part in its "Donkeys Around Town" scavenger hunt featuring artist-painted donkeys installed at locations throughout the city. Using a smartphone app and the hashtag #dncdonkey, participants can win prizes such as cheesesteaks and hotel stays for finding the fifty-seven donkeys.
Each fiberglass mule represents a DNC delegation — one for each of the fifty states, plus DC and six U.S. territories. The animal has been a symbol of the Democratic Party since the 1800s.
Philadelphia-based artist Kathryn Pannepacker covered Rhode Island's donkey with violets (the state flower), Rhode Island Red chickens and anchors from the state flag. She also gave it a bright yellow head "so it would stand out."
All of the artists worked on their donkeys in a warehouse over ten days in June. "It was like a little art colony," says Pannepacker.
She hasn't spent much time in the state, but did a lot of research before deciding what to paint.
"I really appreciate how Rhode Island has been a symbol of hope, and a voice of independence and freedom," she says.
The donkey is now on display in the lobby of the National Constitution Center, not far from the Liberty Bell and Independence Hall.
Although the DNC ends Thursday, the donkeys will remain on display through Sept. 9, according to a spokesperson for ArtJawn, a partner in the project. The delegates will then have the option to bring their — 250-pound — donkeys home.
"Should Rhode Island want the donkey, I would be honored," Pannepacker says.
For more information, go to artjawn.com.