See Peter Green's Photo Series of Nesting Baby Eagles
Peter Green's photo series captures six months of life from when a bald eagle pair began nesting near Providence this spring to when their two fledglings took flight in the fall.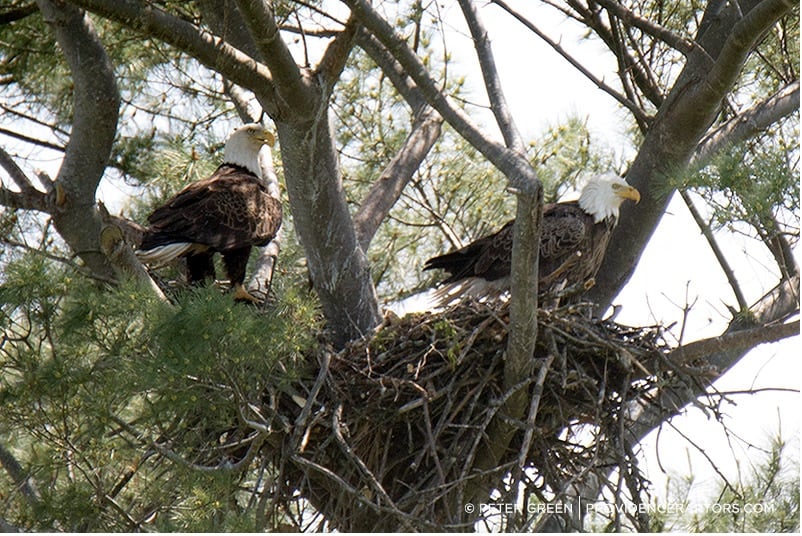 The November issue of Rhode Island Monthly magazine features an extensive story on bird-watching in the Ocean State, detailing its popularity with locals who enjoy observing different species of birds from the purple martin to red-tailed hawks and the Snowy Owl. Writer Mary Grady spent time with local photographer Peter Green to learn about how the graphic designer became interested in bird-watching. A few weeks after the story came out, Green released his latest series. Check it out below.
Renowned local photographer Peter Green of Providence Raptors has been keeping a secret for months. He carefully documented a pair of bald eagles that were nesting near Providence from March through September 2015, and now that the babies have taken flight and the family has abandoned the nest, Green is ready to share the photo series in full. "Part of me is like, why not keep it a secret forever?" he says. "The first question everyone asks is, 'Where is it?' " He will not share the answer to that question and asks others, if they know, to please keep the location a secret as well.
But the photo series is majestic to see, and we learn a lot about eagle offspring just by observing their progress from nestlings to fledglings in pictures. In March 2015, Green saw a pair of eagles had adopted an existing hawk nest as their own. He checked it in April and saw an adult begin sitting on the nest. He then got in touch with the private landowners to describe his work as a photographer, and was granted permission to document the nesting season. "There were almost three months of sitting and doing nothing," he says. "By the end of May, nothing had hatched, and suddenly a little head popped up."
Green has a professional camera with a powerful zoom lens. "I don't use a tripod, and that also helps respect the eagles," he says. "I'd hide between trees and lean on trees for support, and they weren't spooked away. They just kept doing their thing."
The photographer stresses the importance of keeping the location undisclosed so that no harm would ever come to the adults or eggs, and later, the babies. "They are very skittish, especially when they want to protect the nest. If they feel threatened, they might stay and risk it, or decide to leave the babies and then they will die," Green says. Now that the birds have soared away, Green has released the series so we can appreciate its beauty in full. "These days, with Facebook and cell phones, everyone wants to share everything immediately," he says. "It's so much better to see the final series in full rather than sharing it along the way."
There are two offspring and this is the size they were on June 20.
By August, they were beginning to look like adults and venturing out of the nest.
This is a parent delivering fresh fish to the nestlings.
The parent still kept watch from a nearby perch as the offspring grew.
To see more photos and get the full story on the series, go to providenceraptors.com.