See and Be Seen
Raising funds and having fun in the name of bike safety.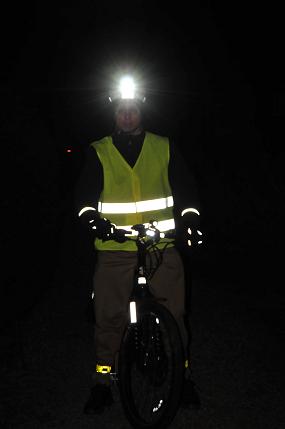 It's not just the City by the Sea's summertime socialites who want to see and be seen. This Wednesday evening, Newport's cycling enthusiasts will wheel their way to Bike Newport Night, a fundraising event that aims to raise money for safety equipment — including reflective tape, safety vests, helmets and bicycle lights — for Newport's night cycling workers.
"Lighting up our night cyclists is a major priority," Bike Newport Director Bari George says in a press release. "So many of our workers depend on bicycles for transportation. We want to support them in their commute and help them to be safe with equipment and information. The answer is 'See and be seen.' And with the help of our bike shops, employers and volunteers, we can make big improvements."
Using funds raised at Bike Newport Night, volunteers will purchase and install safety gear for low-income, bicycle-dependent workers throughout Newport. But for those who can afford it, area bike shops will showcase equipment at the event to encourage all cyclists — hobbyists or transportationalists — to use appropriate gear for night rides. Though this event focuses on night gear and safety, the not-for-profit Bike Newport, founded in 2011, aims to improve, encourage and facilitate bicycling in general.
According to the release, Father Ray Malm of St. Joseph's Parish — who made an appearance in our January issue in the feature, "Sister Act" — is a Bike Newport supporter who knows firsthand the importance of safety equipment. "A few years ago I had a biking accident," he says. "If I did not have on a helmet I would not be writing this today. The helmet saved my life."
The volunteers behind Bike Newport Night aim to save lives while throwing a good party, too. Dozens of raffle and silent auction prizes are up for grabs, including a Cannondale Quick 6 bike worth $510, merchandise from Life is Good, Pleasant Surprise and Wag Nation, gift cards for Brick Alley Pub, Michael Hayes, the Bike Stop Cafe and much more. Plus, SpeakEasy Bar and Grill will provide tempting treats and Anthony Road will keep pedal-pushing toes tapping all night long.
The Details: March 20. 6–9 p.m. $10 donation at the door. SpeakEasy Bar and Grill, 250 Thames St., Newport. Call 619-4900 or visit bikenewportri.org for more information.