How Secure is Your Vote in Rhode Island?
In 2017, we're up against voter fraud, election fraud and election error.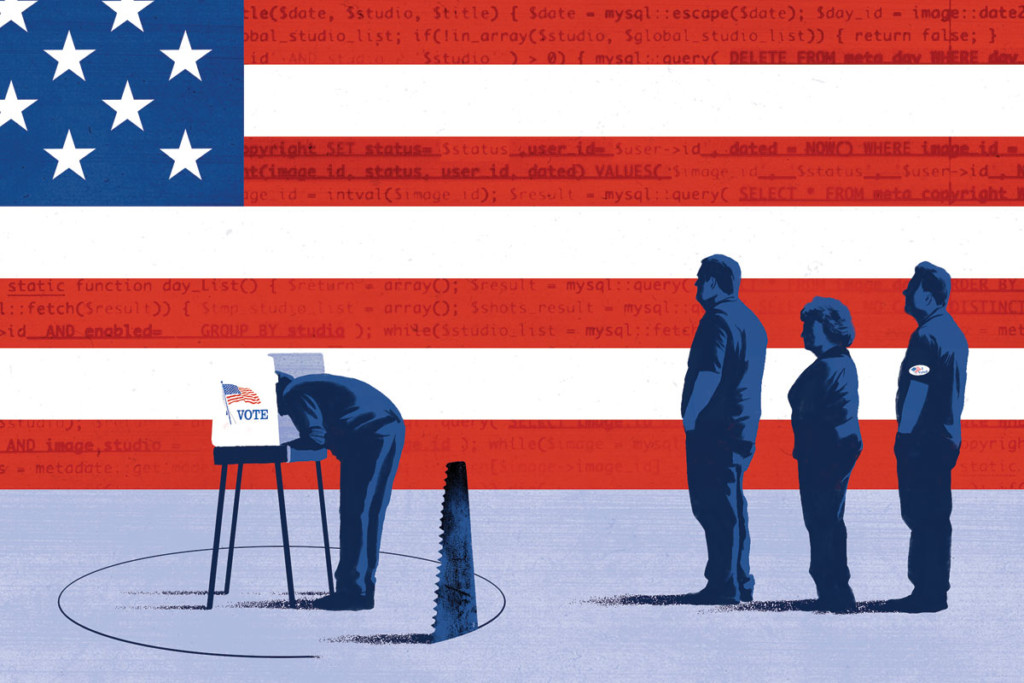 George Caleb Bingham was a painter and politician, and in 1852, he joined his vocations in "The County Election." The sprawling tableau depicts voting in a small Missouri town as it once was. Atop the courthouse steps, a voter swears on the Bible that he has not yet cast a vote and calls out his choice to the clerks in the back, recording the tally. A relic of pre-Revolutionary War polling, the voice vote was gradually overtaken by paper ballots in the United States' decentralized system throughout the nineteenth century. The concept of the private vote didn't take hold until about 1892.
"The County Election" also depicts voting as it still is: a process that can be intentionally subverted by — in the words of one early voting machine inventor — "rascaldom." Amid the throngs awaiting their turn, a political operative hoists a barely conscious voter to his feet. In the foreground, an African American ladles out more electoral enthusiasm to a gentleman enraptured by the pleasures of civic duty. Over time, trading votes for cheap whiskey was replaced by ballot stuffing, poll taxes, literacy tests and strict voter ID laws. In the modern era, cyber security experts fear rascaldom by computer.
Douglas W. Jones, an associate professor of computer science at the University of Iowa who specializes in the use of computers in voting, says the search for an incorruptible voting mechanism has always ended in disappointment.
"People keep trying, and each time a new technology is introduced it looks really good at first and then the flaws begin to come out," Jones says. "It just takes time for people to find the vulnerabilities. Folks are always looking for ways to corrupt the system."
In 2016, President Donald J. Trump, unable to reconcile himself to his popular vote loss, claimed, with no proof, that millions of "illegals" had voted. More sobering is the news that, in the run-up to the 2016 election, Russian government hackers attempted to gain access to a wide variety of computer networks associated with electoral infrastructure: the United States Election Assistance Commission, which tests and certifies voting machines; digital service providers that maintain electronic poll books and voter registration databases; and the election systems in thirty-nine states.
Secretary of State Nellie Gorbea says Rhode Island's elections are secure — and if foreign actors tried to breach the state's system, she has not been informed.
"I've been improving the security of our systems since my first day," she says. "By the time of [last] fall's election, we had excellent security."
In 2016, Rhode Island modernized its voting hardware. Voters have been feeding paper ballots into optical scanners since 1997, when then-Secretary of State Jim Langevin replaced lever-style machines. Twenty years later, as those cutting-edge machines were on the verge of breakdown, the state will spend $9.28 million to maintain and lease 590 new machines over eight years, with an option to buy.
The election result, Gorbea says, is protected by four layers of security. At the end of the evening when a machine is closed, a double-encrypted, unofficial total is wirelessly transferred to the Board of Elections. In addition, thumb and back-up drives in the custody of an election official store the data for each precinct. Canvassers match the election night tapes to the results sent to the state Board of Elections to ensure they match. "We have moments that flag questionable votes, and we have paper ballots. That's why I sleep well at night," Gorbea says. "We can check the machine tallies versus number of votes cast."
In addition, the state has been cleaning up its bloated voter rolls. In the early 2000s, the cities' and towns' thirty-nine separate databases of voters — some still in spreadsheets — were replaced by a centralized, computerized voter registration system, which helped to flag duplicate registrations within the state.
In 2015, Rhode Island joined the Electronic Registration Information Center (ERIC). ERIC, with twenty member states and the District of Columbia, cross-matches data sets, such as voter registration and DMV records, to clean the rolls of voters who are deceased, moved within the state or to another ERIC state. So far, the program has cut down the number of deceased voters from 1,500 to 250, and 4,100 duplicates to 3,200.
And last June, Rhode Island became the ninth state to automatically register or update voter registration address information in any interaction with the Department of Motor Vehicles, allowing the Secretary of State and local Board of Canvassers to better catch and eliminate in-state duplicate registrations.
<!–nextpage–>
The state maintains a system that is labor intensive and technologically designed to make it difficult for anyone to make bulk changes. Every change to the voter registration database relies on a person approving it at the local level, Gorbea says.
Yet, the discussion of the integrity of the voting system has been garbled, with threats to an honest result conflated or mis-assessed. Voter fraud is committed by a single individual, who may vote twice, vote when ineligible or impersonate another. Election fraud is an institutional corruption of the process committed by operatives trying to influence the outcome. Election errors are clerical or machine-made failures without an interest in the victor.
Voter fraud has received the majority of the attention. In May, Trump established a Commission on Election Integrity to ferret out alleged voter fraud. But many states, including Rhode Island — wary of the controversial commission's demands for voters' personal information, including the last four digits of their social security numbers — refused to turn over any data that wasn't already publicly available.
A routine election audit in Cranston uncovered six who might have voted illegally: two non-citizens, three who might have double-voted and one alleged imposter. The city referred its findings to the Attorney General's office, but officials determined that the evidence was insufficient to meet the standard of proof and closed the investigation.
Those six votes represented .00016 percent of the 36,796 Cranston votes cast in the presidential election. Nonetheless, Mayor Alan Fung says it indicated a need for "a tightening of some of the laws for stricter voter ID, real-time e-voting technologies, as well as tightening up the early voting process. We did this out of our responsibility to fair and transparent elections."
In July, two-time gubernatorial candidate Kenneth Block, whose quest to establish the Moderate party faltered in 2015, touted a study he conducted with "significant funding" from the Government Accountability Institute on the problem of duplicate voting. The GAI is a research organization funded by the conservative mega-donor Mercer family and founded by right-wing ideologue and former Trump adviser, Steve Bannon. In the 2016 election, Bannon was registered to vote in two states.
Block's analysis of the voter rolls of twenty-one states — including Rhode Island — found 7,271 "highly likely" cases of inter-state duplicate voting, 1,200 cases of "likely" inter-state duplicate voting and 15,000 voters with non-residential addresses.
Block, who presented his research to the federal commission, counters "the conventional wisdom that there is no voter fraud," as well as the assumption that it is confined to "urban" areas.
"This is more of a Palm Beach problem," he says. "These are individuals with privilege, who appear to be casting ballots where they own properties."
Nonetheless, Lawrence Norden, deputy director of the Brennan Center for Justice's Democracy Program, says voter fraud remains "an infinitesimal problem."
"The voter fraud issue has been studied extensively, and the consensus is that it is occasional and very rare," he says. Trump's claim of large-scale voter fraud prompted "a big push back from election officials from both parties. We need to follow the facts and avoid the hysterical language."
Cyber security and voter advocacy experts are much more rattled by the prospect of hackers exploiting the vulnerabilities in electoral computer systems to change the results, disrupt voting or undermine our confidence in the system. States have faced a growing number of cyber attacks by criminals, state-sponsored proxies and hacktivists. In 2017 alone, state databases in Washington, Florida, Illinois, Idaho, Alabama, Michigan and Ohio were breached. The FBI is investigating the disclosure of up to 7.5 million voter records in a March cyber attack on Kennesaw State University's Center for Election Systems. At the August DEF-CON conference, hackers penetrated voting machines and a voter registration database with ease.
Francesca Spidalieri, a senior fellow with the Pell Center at Salve Regina University and the author of a 2015 report on the cyber security of some state data systems, says states are not doing enough to defend their networks. Moreover, there are no regulations governing voting machines. The software is proprietary; manufacturers don't disclose their technology. And hackers don't have to upend the entire system to do real damage.
"If they disrupt one or two systems, it would cause disruptions across the country, so it could happen next time. That's what they've learned," Spidalieri says. "Now that our enemies know we are so vulnerable, others will attempt to do the same."
Less is known about the rate of election error, except that it does occur. Officials can forget to gather the count from individual voting machines, voter registrations can contain clerical errors, machine counts can be wrong.
"Anything that can be done by nefarious individuals can be done by accident by honest people who make honest mistakes," Jones says. "Sometimes those mistakes can add up to extraordinary messes."
Last November, North Kingstown voters appeared to roundly reject a referendum to set aside $2 million for a community septic loan program — 8,471 to five. But a three-hour recount ensued after residents complained on social media that they had supported the measure. Officials discovered that 13,500 had actually cast ballots on Question 9, but that changes to the ballot after the machines had been calibrated caused the optical scanner to mis-read the bubble. The referendum passed, with more than 67 percent approving it.
Last legislative session, the General Assembly passed a bill requiring the Board of Elections to establish a post-election audit program and to audit election results within seven days.
"The concept is we vote on paper because paper is a failsafe if something happens to the machine," says John Marion of Common Cause Rhode Island, which drafted the bill. "However we don't take advantage of that fact by examining the paper to make sure the machine correctly totaled the votes. We test on the front end, but we don't test them when the election is over."
"The County Election" painting was not an academic exercise. Bingham was depicting his own election to the Missouri legislature in 1846. He won by three votes. But his Democratic rival, E.D. Sappington, a wealthy landowner, had the results overturned by the Democratic legislature. Bingham was not discouraged. Two years later, he ran against Sappington and won. He didn't lose faith in the electoral process. Neither should we.
Editor's note: This story has been updated to correct voting figures in Cranston from 2016.