Season to Taste
Heady herbs are summer treats we should have close enough to pick fresh at a moment's notice.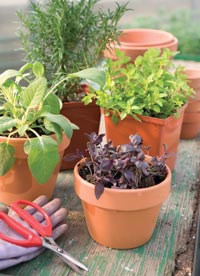 As old as the proverbial hills, herbs influence everything from favorite cuisines to premier toiletries. And without trying to replicate Sturbridge, you can grow your own. n Simply incorporate a few in the flower border, tuck a handful in the vegetable garden or fill a container for the deck. Requirements vary according to the herb but not much. In general, these are easy-care, big-reward plants. Give them sun and well-drained, moderately fertile soil. Purchased in the four- or six-inch pot size (dill, chives and cilantro also leap rapidly from seed), they're well on their way. n To plant: Gently nudge the herb out of its pot and set it into its new home. Pat the soil all around and water. Come winter, mulch the tougher perennials with leaves and make room for fragile types inside. Here are some culinary classics to help you launch a gratifying collection of your own:
Basil (Ocimum basilicum)
What to know: Annual. Possibly the most coveted herb. Schartner's Farms in Exeter sells about thirty flats per week during May and June. Basil needs fertile, well-drained soil and sun. Cut foliage right before flowers appear, leaving five to six leaves above ground to encourage regrowth. Basil comes in endless flavors.
How to use: Fresh—particularly teamed with summer-ripe tomatoes. Leaves can be frozen in plastic bags. "We make pesto with or without cheese in a processor or with a mortar and pestle and freeze it in recycled plastic containers," explains Catherine Mardosa of Red Planet Vegetables in Providence.
Etcetera: Basil used as a rinse is said to make hair lustrous.
Chives (Allium schoenoprasum)
What to know: Perennial. A member of the onion and garlic family, chives, if allowed to go to seed, will reseed with abandon in sun or part shade. Plant clumps of about five bulbs seven or eight inches apart in a well-drained spot.
How to use: Interject fresh leaves into everything from soup to spreads. Impress guests by looping chives around a bundle of sliced carrots. Scatter flowers in salads.
Etcetera: Chives are super companion plants, preventing blackspot on roses and mildew on squash. Terri Dunn, author of 100 Favorite Herbs (MetroBooks, 1998), suggests potting chives in fall, letting them stay outdoors through several frosts, then bringing them in to resprout on a windowsill.
Cilantro/Coriander (Coriandrum sativum)
What to know: Annual. According to Katie Miller at Scratch Farm in Cranston, cilantro can be sown as early as April. Repeat sowings as needed. Keep mulched and weeded until well established.
How to use: In Latin and Asian dishes. Aromatic leaves, which can be harvested in about four to five weeks, are known as cilantro, while the edible seeds, gathered when the plant is dried, are called coriander.
Etcetera: Decorative foliage makes fast-growing cilantro great for containers. Mardosa overwinters hers in the south-facing window of her unheated hall. Dried cilantro also makes excellent potpourri.
Dill (Anethum graveolens)
What to know: Annual. Leggy dill grows quickly from seed planted early in spring and self-sows. Resow a couple of weeks later to keep up the supply. To avoid the common flop-over problem, look for a shorter variety like fernleaf (twelve to eighteen inches compared to the usual two to three feet).
How to use: Feathery leaves (perfect minced in hollandaise) and seeds are edible. When canning pickles, stick a whole head in the jar.
Etcetera: Florists use dill in arrangements. Bees like dill, as do cabbages, but not carrots if you're companion planting.
Lavender (Lavandula angustifolia)
What to know: Perennial. Bushy English lavender is the star of a host of species and cultivars. The herb does best when the soil is slightly gravelly. Prune just as the flowers open.
How to use: Perfumy leaves and flowers are used sparingly in vinegars and jellies. Noted cookbook author Mollie Katzen creates a lavender-scented topping by combining two tablespoons of chopped fresh lavender leaves and one cup powdered sugar in a capped jar. After twenty-four hours, put the infused sugar into a shaker for muffins or cookies.
Etcetera: Dried lavender equals sweet sachets and potpourris. Sprigs nestled among woolens repel moths.
Lemon balm (Melissa officinalis)
What to know: Perennial. A member of the mint family, the herb smells and tastes like its name. Spreading quickly in sun or part shade, lemon balm is a hyper self-seeder. Plants start out small and grow bigger and bigger so you can divide them the following spring.
How to use: Fresh. Consider the ruffle-edged leaves for fish, duck, fruit salad or sorbet. Use dry leaves in potpourri.
Etcetera: Burn lemon balm to keep pesky insects away from guests around a bonfire.
Mint (Mentha spicata)
What to know: Perennial. There are hundreds of varieties (from spearmint to chocolate) and all are eager growers, especially if given a waterside site. To curb mint's march, plant the herb within a metal or stone barrier in sun or partial shade. Or, pop it in a pot.
How to use: Fresh leaves enhance myriad recipes from jelly to iced tea. Don't forget old-fashioned mint juleps.
Etcetera: Try soaking a cup of spear-mint or peppermint leaves in a quart of cool water. Strain and chill. Use as a body spritzer when working in the garden.
Oregano (Origanum vulgare)
What to know: Perennial. Originally from Greece, the herb responds well to hot weather and dry, average soil. Keep the plant full by snipping young leaves.
How to use: Most chefs like the easy-to-find strong-flavored subspecies O. vulgare hirtum, which is just right for Italian cooking.
Etcetera: Compact Greek oregano also makes a fine edging plant.
Parsley (Petroselinum crispum)
What to know: Biennial. For premium yields, set the plants seven to eight inches apart and supply ample water. Every so often, cut back the full length of the outside stems to keep it coming. If you're planting it in a container, make sure it's a roomy one. Parsley—flat-leaved or curly—thrives on a sunny windowsill.
How to use: Use liberally as a garnish, or try making gremolata, a pesto-like condiment that pairs well with lamb.
Etcetera: A breath-freshener, parsley diminishes even the scent of garlic.
Rosemary (Rosmarinus officinalis)
What to know: Tender perennial. This drought-resistant evergreen shrub with needle-like leaves and appealing blue flowers won't withstand the cold. Give it all the sun you can. When autumn arrives, dig up and bring indoors.
Mardosa winters rosemary in the same window her cilantro occupies.
How to use: Harvest a small bit at a time. Younger stems have the most pungent leaves for seasoning meat and poultry or making herb butter. Rosemary is also fantastic in baked goods. Freeze whole sprigs.
Etcetera: Toss a handful of rosemary onto hot coals during the last few minutes of grilling meat, poultry or fish for an aromatic jolt.
Sage (Salvia officinalis)
What to know: Perennial. Drought-tolerant sage, which grows to about two inches, demands little attention.
Excellent for gardens and containers. Prune back in spring for tidiness. When the plant grows woody—in about two years—replace.
How to use: Fresh or dried (sage grows stronger when dried), the herb sparks poultry, sausage, stews, cas-seroles and more.
Etcetera: Floral wreaths and swags sometimes use sage as a base. Hummingbirds and butterflies adore sage.
Thyme (Thymus vulgaris)
What to know: Perennial. Thymus vulgaris is the easiest-to-grow standard type used for cooking and landscape purposes, but be sure to investigate the many varieties, including orange thyme. Just about any kind of soil, in sun or part shade, will do as long as it's well-drained. Every few years, swap out old plants for new.
How to use: Perfection with chicken when fresh and with almost everything dried. A little goes a long way.
Etcetera: Another irresistible herb for bees.

Bountiful Basil

Both Catherine Mardosa and Katie Miller, who sell herbs through CSAs (Community Supported Agriculture) and to area restaurants, plant numerous varieties of basil. Local nurseries feature plenty of options, mail-order sources even more. Johnny's Selected Seeds lists twenty-eight (877-564-6697, johnnyseeds.com). Some of the following are sure to increase your dining pleasure:
Sweet Thai An anise-clove flavor for authentic Thai cooking.
Cinnamon basil Cinnamon tasting and smelling.
Lime basil A new eighteen-inch beauty with a distinct lime flavor for Thai, Vietnamese and Mexican dishes.
Sweet Dani A lemon-scented variety. Plants grow about twenty-six inches high; cut back for regrowth.
Red Rubin Flat, full-flavored three-inch leaves in a coppery-purple hue.
Napoletano Largest leaved of all. Deeply crinkled leaves leave a rich impression. Sometimes called lettuce-leaf basil.
---
Stocking Up

Drying herbs is as easy as freezing. Catherine Mardosa from Red Planet Vegetables dries oregano by spreading the herb out on sheets in her dark attic. Sage, lemon balm, mint and thyme are gathered into small bunches, secured with twine and hung upside down. When dry, the leaves are stripped and placed into tins. In this same vein, dill should be harvested two to three weeks after flowering. Cut stems long enough to form a bouquet, tie with string and hang upside down. Spread a cloth or newspaper below to catch seeds. Herbs sealed in airtight containers last six months or more. Herb vinegars? Also a snap: Heat vinegar (red, white, apple cider or rice) but don't boil, pour into glass bottle. Add two to three sprigs of fresh herbs per cup. Cap and store in a cool locale.
---

Turn a Leaf

Check out URI's GreenShare Factsheet all about herbs at uri.edu/ce/factsheets and peruse:
Rodale's Illustrated Encyclopedia of Herbs, edited by Claire Kowalchik, W. H. Hylton and Anna Carr (Rodale, 2000)
100 Favorite Herbs, by Teri Dunn (MetroBooks, 1998)
Herb Society of America's Essential Guide to Growing and Cooking with Herbs, by Katherine K. Schlosser (Louisiana State University Press, 2007)
---
Taste Test

Go ahead, experiment. Lesser publicized herbs, like these, often turn up at farmers' markets (visit farmfreshri.org for locations):
Summer savory (Satureja hortensis) Annual. Peppery accent for potato salad.
Lovage (Levisticum officinale) Perennial. Young leaves are reminiscent of celery.
Lemon verbena (Aloysia triphylla)
Perennial. Scrumptious in cakes and muffins. Plunge sprigs in cocktails.
Sweet marjoram (Origanum majorana) Tender perennial. A milder oregano-like taste.