Sea Goose Grill and Raw Bar
At this friendly restaurant, the menu draws from local waters, offering familiar dishes as well as occasional forays into the more exotic.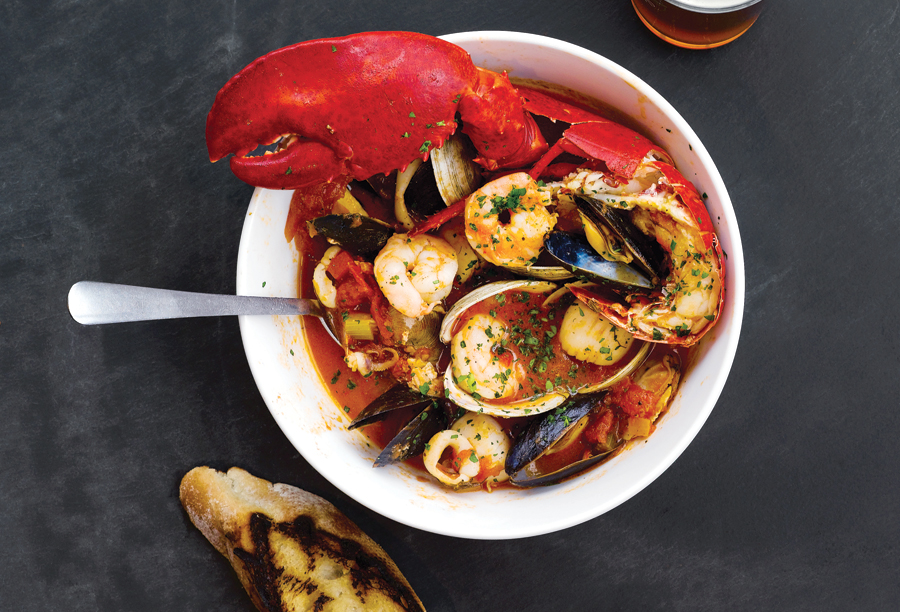 265 Post Rd., Westerly, 315-0788, theseagoose.com. Lunch and dinner seven days a week. Reservations accepted. Wheelchair accessible. Lot parking. Cuisine New England with a passport. Capacity 100-plus, including space at the bar. Vibe Yacht bar: access to luxury but a preference for modesty. Prices Appetizers $7–$20; entrees $9–$28; dessert $6–$8. Karen's picks Lobster nachos, Asian calamari, seafood stew.
Key
Fair
Good
Very Good
Excellent
Half-star
You'd do well to squint as you approach the Sea Goose Grill and Raw Bar in Westerly. Located in a town known for two things — water views and fresh seafood — Sea Goose is right off busy Post Road, next to a strip mall and across from a view that offers little more than gas prices. Even the outside of the restaurant is more reminiscent of an old-school diner than a clam, crab or lobster shack.
So have someone guide you in. Claim sun blindness until you've settled into the nautical blue interior covered in gnarled fisherman photography, oversized lobster posters and laidback blackboards telling you what's just been plucked from the sea. Because from the inside, Sea Goose is a jazzed-up, local-friendly hangout that loves beer as much as braised steamers and feels as if it's sitting at the land-end of a dock.
Wooden floors and leather booths temper the high industrial ceilings but the best seats are clearly around the immense, u-shaped bar, where couples are as likely to be toasting over the first glass of wine or groping over the third. No judgment here. Veteran chef Andrew Nathan who, along with Jennifer Gibson, owns both Sea Goose and Westerly's casual Cooked Goose, greets customers by their first names and spends nearly as much time on the floor as he does in the kitchen. Not so shocking given that the raw bar commands much of the menu's attention, and rightfully so. Innovation is esteemed in the culinary world but the world's most ardent seafood lovers — New Englanders and sushi aficionados — know that nothing complements good fish like simplicity. And Nathan's menu agrees.
In addition to the indigenous jewels (oysters from Charlestown Pond, Narragansett Bay littlenecks), lobster is the mainstay, including lobster nachos ($18), among the cleanest and most successful dishes at Sea Goose and the one people dream about days after dinner. True, the presentation is startling. A scoop of bright guacamole is pierced by a dozen freshly fried tortilla chips ("Is it a turkey or a blooming onion?" asked one diner) and served alongside the shelled meat of a lobster. That's it. And if any dish can prove that avocados are a better pairing for lobster than butter, this is the one.
Stuffies and crab cakes ($7/$14) are nearly as straightforward and certainly good but, naturally, there's always one exception to the culinary canon. This time around it's Nathan's Asian calamari ($10), which is anything but minimal but well worth revisiting. Calamari obsessives may be (scratch that…they are) happy to eat the same banana pepper and marinara-spiked version until Armageddon but this may have at least a few people reconsidering their squid destiny. Piled high with crispy rice noodles, peanuts and sweet Thai chili sauce, the calamari is no longer the sole crispy ingredient but one of several, all of which add a vibrancy that trumps traditional.
It's at this point — post-appetizer and pre-entree — that people begin to scan the room, assess who's there, order another drink. And it's here that things become less streamlined. The crowd varies (young, old, single, couples, family) as do larger dishes, drawing from Southern, Central American and Italian influences. Drinks and dinner both have uncomplicated, wiser options: craft beers for the former, lobster rolls and a seafood stew ($27) for the latter. Though the variation on bouillabaisse barely resembles a soup, the tomato-rich broth that sits beneath a teepee-tower of shellfish is the proverbial glue that binds the dish together as something far more than the daily catch. But like the jalapeño-tinged watermelon margarita and the crab boil-rimmed bloody mary, Sea Goose tends to confuse creative with slightly complicated.
The heat of a shrimp étouffée ($24) is good but the texture is gummy and unrelenting. Same goes for a quahog Bolognese ($15), which mimics the flavor of a rustic Italian gravy but still has the chew of a traditional clam sauce. The Baja fish tacos, a nightly special, may suffer from identity issues. Broad, tender pieces of fish belong with a side of proverbial chips but are too large to be copacetic with taco components. Mango salsa and slaw go unnoticed in the mix and no wonder. Who wants to highlight cabbage with fresh fish around? Ultimately, this dish may just need another name.
The regulars certainly show their preference for simplicity. Flannel shirts of winter are replaced by encroaching summer Ts and shorts. Banter moves fluidly between the generations and two hovering TVs go largely ignored by all but solo diners. Servers announce the specials with ease ("Can't go wrong but you can go more right") and lend some encouragement even to those who insist on steak in a life aquatic. Sea Goose may serve $18 appetizers but it prizes the salt of the earth.
If anything, dessert is true to form: so straightforward, it needs little explanation. If lobster represents the best of the sea, then clearly things chocolate, warm and semi-solid manifest the sweet side. A special one night, an old fashioned mousse cake, may not be novel, but it strikes a spark in anyone who longs for the security of what they know. It's an approach that's found its niche in Westerly or any seafaring community that dives deep into a single market and takes pride in the payback of doing one thing well. Here in New England, it serves a purpose. The steady stream of quahogs and clams are always the vibrant memory of a season past or the recognition that summer is just around the corner. Either way, nothing is a more apropos toast than the clinking of oyster shells and the taste of salt water.