School For Wives at 2nd Story Theatre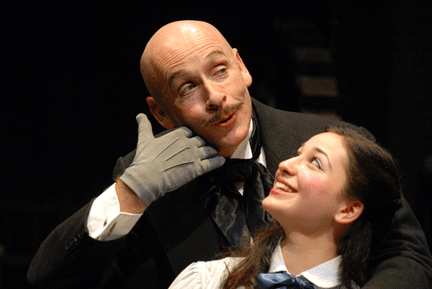 2nd Story's season continues in unmatched stride with School For Wives, a 350-year-old comedy as clever and fresh as the day it was written. Or at least it is in the capable hands of 2nd Story's Ed Shea, who directs and also, in a rare treat of a stage performance, plays the lead character in this Moliere farce, which runs until December 12 at the Warren theater.
Yeah, I know, the word Moliere sounds all French and pretentious. Also, all the dialogue's in rhyming verse. But wait! This play is for everyone – high school kids, hipsters and your mom will all love the rollicking action, witty repartee and split-second comic timing, not to mention the tender-hearted love story. And then there's the way the play explores relationships and how fruitless it is to try to control our lovers, no matter how vulnerable they make us feel. Yup, this is great date-night theater, too.
The play opens as Arnolphe, a rough-around-the-edges, self-made businessman who loves a good laugh at others' expense, extols the virtues of a "stupid" wife. All he wants, he says, is a woman who will "say her prayers, love me, spin and sew." And he thinks he has just such a woman waiting for him – a peasant's daughter half his age whom he has brought up in ignorance at a convent and is now grooming for a life of wifely submission.
He is, of course, as pathetic as he is proud – Moliere, often called the father of French farce (and, indeed, of Western comedy in general) is clearly setting this fool up for a fall. What's unexpected is just how sympathetic, how well-drawn and alive, is Shea's interpretation of the character. Moliere himself played Arnolphe the first time he staged School For Wives – the play is thought to echo his stormy relationship with his much younger wife – and Shea helps show us how Arnolphe, wracked by jealousy, suffers in a way that cannot fail to be touching, ridiculous as he is.
Jeff Church as handsome Horace and Gabby Sherba as lovely young Agnes are the innocent foils to Arnolphe's scheming, and together with Shea, hand in central performances as compelling and real as anything I've seen this season – a fact that's all the more impressive given Church and Sherba's youth. Shea has a knack with young actors, and these two have good looks along with talent. They're actors to watch.
Tom Roberts and Paula Faber make a great comic duo in servants Alain and Georgette, and the rest of the cast hand in fine, if small, performances. Only Rendueles Villalba as Chrysalde stumbles, seeming uncomfortable with the verse – unfortunately he's in the opening scene, but it's brief so don't be discouraged if you go.
Shea gives us a familiar lens – silent movies – through which to interpret this 17th century farce, and it's a smart, accessible decision. The cast sport powdered faces, pencilled eyebrows and bowler hats in a nod to vaudeville traditions. There's a lot of emphasis on physical humor. And, in a wonderful effect, some scenes are played under strobe lights with a tinny piano soundtrack. The characters, suddenly appearing as if in black and white, move through the set like Chaplinesque veterans, complete with exaggerated gestures and slapstick plot devices. Particular kudos to Church here, who ladles out the sight gags with fearless good humor.
But it's Shea who channels Chaplin most strikingly; Arnolphe's crestfallen heartbreak as the young lovers grow closer is as full of pathos as anything the silent-film master produced.
This is impressive stuff, clever without being precious, each detail contributing to and in keeping with the whole. The rhyming verse, a 2000 translation by Pulitzer-winning poet Richard Wilbur, is lyrical and modern. And, most importantly, this adaptation never loses sight of what every audience member wants – a truly fun night out that just happens to make you think. School For Wives delivers, and then some. Yet another 2nd Story production that's not to be missed.