School for Supernovas
A new charter school gives pregnant, parenting and other at-risk students a shot at a high school diploma.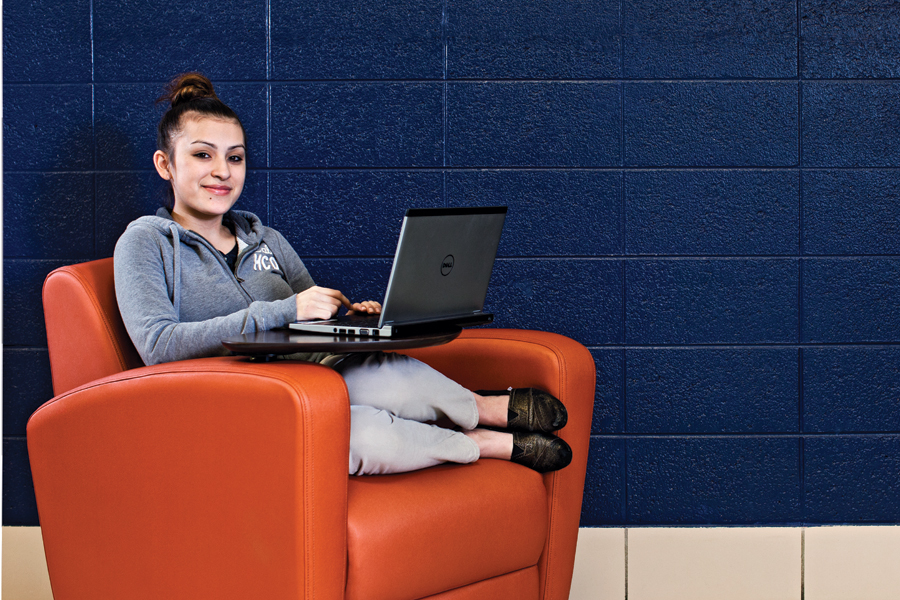 Kayla Rivera rummages through a pink butterfly folder, eyebrows furrowed, in search of her science homework.
"I did it, I swear," she tells Alissa Becker, her teacher. A few sheets of paper fly loose and land in Kayla's lap, but one stands out from the rest with a torn and dimpled corner.
"Look, miss, my daughter ate my homework," Kayla says. "No, she really did. See?" With both hands, Kayla holds the assignment in front of her nose and peers up at Becker.
"Regular kids be like, my dog ate my homework, and you be like my daughter ate my homework," notes a classmate. Eighteen-year-old Kayla giggles; she tells the group her daughter smeared cheese on her laptop that morning. The orange crust is still visible beside the shiny gray "Dell" logo.
Kayla is a student at the Sheila "Skip" Nowell Leadership Academy, a charter school that opened its doors in September to at-risk high school students, specifically pregnant and parenting teens, who'd like to earn their diploma but struggle in a traditional public school environment. The academy serves 160 students, ages fifteen to twenty, between two facilities in Central Falls and Providence. It's sponsored by YWCA Rhode Island and is the first school of its kind in the region — perhaps the nation.
The students spend fifteen hours in class and at least fifteen hours working from home on school-issued laptops, each fully equipped with a free WiFi device. Kayla and one other student in her small science class have laptops; they received them early for near-perfect attendance. A laptop-less classmate named Christina squeezes in next to Kayla to view the topic of the period: a virtual dissection of a cow's eyeball.
"I can't see this right now," Christina says, turning to another classmate who's sharing her own optical problems at full volume. Kayla's much more interested in the dissection. "It's gross, but I like it," she says, and clicks through the video slides. She finishes long before the four other girls in her class.
Kayla, a New York City native, bounced from borough to borough with her family before she got pregnant with her daughter, Nyeli. The father wasn't involved, and Kayla's parents weren't supportive. So Kayla dropped out of school, fated to become just another statistic: According to the Centers for Disease Control and Prevention, about 50 percent of teen moms receive their high school diploma, versus 90 percent of young women who didn't give birth during adolescence.
A friend suggested that Kayla move to Rhode Island and start over with her daughter. It was less expensive here, so Kayla, then seventeen, left New York and moved into a group home with three other girls in Warwick. She intended to get her GED, but that same friend convinced Kayla to get her high school diploma and told her about the Nowell Leadership Academy, too. "In New York, I never got a break," Kayla says. "The teachers keep poking at you but there was never much communication. There were so many kids and so little time. Nobody got anything done."
That's what she likes best about Nowell: the small class sizes. As her peers wrap up the video dissection, Kayla chats with Becker about how the structure of a cow's eyeball relates to its function. Science, Kayla says later, is her favorite subject.
"Hopefully I'll graduate this year. I want to study criminal justice and learn about forensics," she says. "I'm very nosy about that kind of stuff. But for now, I'll keep watching 'CSI.' "
Kayla wants to enroll in courses at the Community College of Rhode Island immediately after she graduates this June; if she waits, she won't go back. "It's not going to get easier, there will only be more obstacles," she says. "But it's not only me, it's double. I'm doing it for both of us."
That's why she drags herself out of bed before dawn when eleven-month-old Nyeli starts chattering from her crib. Kayla turns on some music, eats breakfast and prepares herself and her daughter for the day. At 7 a.m., they leave to catch a bus, then transfer to another bus, and make it to the Nowell Leadership Academy in the Olneyville neighborhood of Providence for a 9 a.m. start. Nyeli goes to day care in the back of the building, and Kayla can check on her throughout the day.
"I want her to know that even though you make a wrong decision, you can still grow and live to achieve your dreams," Kayla says. "I don't want her to think, well, I messed up, I might as well stay on the floor. And she won't, because no matter what, I'll be there to support her."
The Sheila "Skip" Nowell Leadership Academy gets its name from a YWCA living legend. In 1984, Skip Nowell, then-executive director of the YWCA of Northern Rhode Island, launched Parenting in Progress (PIP), a GED program for pregnant and parenting teens.
"Skip thought there was no excuse; there should be a school for any young person who is struggling with the traditional model," says Deborah Perry, president and CEO of YWCA Rhode Island. "She was really revolutionary in the way she was serving these folks, when others wanted to push them away and hide them."
PIP still exists at the chapter's Woonsocket headquarters and offers a GED program, low-cost or free child care, transportation and wrap-around services, including nutrition, job and life skills training. The last PIP session served thirty-nine students, two of whom have since enrolled in college. Another is involved in AmeriCorps and fifteen are working at least twenty hours per week.
But Perry, who has served as YWCA's CEO since 1999, wanted more for the young women drawn to the program. "They have incredible stories and incredible drive," she says. "They're resilient and they deserve the same high school education as their peers."
In 2012, Perry followed Skip's lead and began researching additional avenues for pregnant, parenting and other at-risk students across the country. There's the Polly Fox Academy in Ohio, an all-girls charter school with a flexible schedule for pregnant and parenting teens. The Woonsocket school district's E-Learning Academy was another model; it serves about sixty-five at-risk students who earn graduation credits at home using Pearson Education's NovaNET online learning system.
But Perry wanted a little of both: a school with flexible hours and support services — open to both genders — which also uses virtual learning. That way, schoolwork could be completed after a bath or during an episode of "Dora the Explorer."
Perry didn't see that model anywhere, so she enlisted community planner Barbara Sokoloff, pediatrician Patricia Flanagan, business strategist Suzanne Magaziner, renowned educator Joan Countryman — who helped create the Oprah Winfrey Leadership Academy for Girls in South Africa — and others to bring the school to life. Flanagan and Magaziner currently sit on the academy's board of directors.
The diverse group came together to shake up the traditional education model, and it shows; the Nowell Leadership Academy is a new school species. Rather than a maze of classrooms and hallways, the Nowell campuses make use of one big space for all educational needs. Classrooms are carved out of partitions and white boards, and a gathering space with comfortable, brightly upholstered chairs takes center stage.
"I'm not an academic," Perry, who worked as a municipal planner before the YWCA, says. "I'm a YWCA CEO. But it seems to me that perhaps at some point schools were built to prepare students to work in the factory. A bell rings, students sit down, there is a lunch break and then a bell rings and students are dismissed. Our school is different. It's innovative and flexible and has a much more modern feel. And it's completely based on the needs of our students."
"It breaks my heart that we have to have these schools, let's be honest."
On a chilly day in fall, First Lady Stephanie Chafee stands at the front of a heated tent for the Sheila "Skip" Nowell Leadership Academy's dedication ceremony in Central Falls. "We still can't get condoms in schools. What are we doing wrong?" Chafee, without irony, asks the crowd, which is filled with educators, teenage couples holding hands and young women with impossibly big, pregnant bellies.
Education Commissioner Deborah Gist is up next, and she can't help but sing at the podium. "Ah, I'm so excited about this," she says. "You are pioneers, not just in the state of Rhode Island but throughout the world. We are truly going to show the world what education can look like and how we can change it."
Mayor James Diossa is there to show support for the Central Falls campus; the school's namesake, Skip Nowell, is, too. She's eighty-eight years old, a waif of a woman dressed in a gray tailored two-piece suit, and she'd rather joke with students than talk about her legacy helping at-risk young women get ahead in the world.
"It really was the YWCA and part of the mission to give opportunities to all children," Nowell, a Juilliard-trained musician and Rehoboth, Massachusetts, resident, says. Several students gather around her and tell her how beautiful she looks, and they deem Nowell and her husband, John, the cutest couple in the world. Nowell beams, in her element amongst another generation of spunky supernovas, the stars that give birth to the universe. The supernova is the school's mascot, meant to instill a sense of pride in the young women — and young men, who make up about a quarter of the school's population.
Several teen couples also attend Nowell together, including Isaac Quirindongo and girlfriend, Lettycia Diaz, both sixteen. They met at Woonsocket High School, where Isaac played basketball and Lettycia made the honor roll. At Nowell, they spend their lunch hour at the onsite day care with their five-month-old son, Esiaya.
YWCA's Perry says the school's design was inspired by pregnant and parenting teens, but any student can apply. "As a charter school, it's open, by law, to any student, including an honors student from Barrington who isn't pregnant or parenting," Perry says. "But it's really geared toward teen parents because of all of the intensive, wrap-around services."
The services include low-cost or free onsite day care, nutrition, mediation training, family planning, higher education planning and others. More than half of the student body is pregnant or parenting, and the blended model — fifteen hours of in-class time and fifteen hours of off-site work on school-issued laptops — allows students to move at their own pace. The school uses Pearson Education's GradPoint learning system; in-class exercises are built around the online curriculum.
In addition to the small class sizes, which average out to about one instructor for every ten students, the school uses an inclusive model so that all students learn together. "We do an IEP (individualized education program) for each student, and we administer the Basic Achievement Skills Inventory test to measure students' abilities upon enrollment," Perry says. "We also offer remedial services so students who fell behind in their other schools can catch up to their peers."
The Nowell Leadership Academy operates year-round, with two weeks off in the winter and two weeks off in the summer, and the campuses are open Monday through Saturday. Students split their classroom time between two weekdays and can visit the school on Saturdays for extra help from teachers.
"Our educators, they're all rock stars," Perry says. "They're all invested in working with this population. They're credentialed and they're required to work more hours than educators in a traditional setting, and it's by choice."


Each campus has a math, science, English and social studies teacher on staff. They prepare students for the same Common Core graduation requirements as other Rhode Island students: at least four math, four English, three science and three social studies courses; six elective courses, which are offered through GradPoint and the YWCA; course assessments; a senior capstone project; and a minimum level of performance on the NECAPs. Additionally, all students are required to take the PSATs in their junior year and the SATs in their senior year.
"Along the way, I realized that if we can just wrap around them with services, they'll make it," Perry says. "It's as simple as providing them with child care, as simple as giving them a bus pass so they can get to school, as simple as providing them with a laptop so they can do schoolwork at home; that's how simple it is."
The Rhode Island Board of Education thinks so, too. It approved two more Nowell Leadership Academy campuses, one in East Providence and another in Warwick, within the next four years.
Nowell Leadership Academy's head of school can get through the day with just four items: a tube of Yves St. Laurent lipstick, a bedazzled iPhone, a Dell laptop and a copy of Born to Rise, a book about a successful string of charter schools in Harlem.
Jodi Timpani doesn't want for much more. Her few belongings are scattered about an aging, bare room on the top floor of the Nickerson Community Center, which houses Nowell Leadership Academy's Providence campus. Timpani — dressed in knee-high suede boots and a stylish print shift dress — admittedly hasn't done much decorating. She bounces between the two schools so often that a wayward electrical cord in her Providence office, which dangles from the ceiling and down a faded blue wall, barely bothers her at all.
Timpani taps at her iPhone and wonders if other people enjoy their Thursdays at work as much as she does. The forty-five-year-old just passed out Dell laptops to students who've missed less than two days of school — a reward for those who make it to class and an incentive for others to do so, too. The academy's board of directors plans to replace the laptops every two years.
"The rest will get them next Tuesday, but I told them: 'I might be here,' " she says playfully. "I said (to the students), 'Isn't it really important for you to see me on Tuesday? Well, then you should be here every day, too. Your attendance means that much to me.' "
Timpani, mother of two teenagers and a former assistant principal at Central Falls High school, thinks the staggered handout worked. "Our students are very savvy but might not have had access to the Internet before, so they're eager," Timpani says. "You don't see a lot of teenagers going to the library; they can get to the world through this."
She continues. "The computer can't teach high school without a teacher — we still need experts for a variety of reasons — but, living in this world, we cannot retreat to models that adults are comfortable with."
Timpani's energy level is high. She's been that way forever, she says, but the academy is an endless source of excitement. "It's the greatest job in the world. You know you're looking at the future," she says. "Talk about economic development: these were 160 students who weren't going to graduate with a diploma. That's setting them up for failure. And it's ridiculous, because there's no direct relationship between being pregnant or parenting and performance."
Timpani names the school's guidance counselor, thirty-one-year-old Rebeca Filomeno, as an example. Filomeno was fifteen and attending public school in Pawtucket when she got pregnant for the first time. "I was immediately labeled career-track instead of higher ed, which was upsetting to me and my family," Filomeno says. "And teachers weren't flexible if I came in late because I had a sick baby."
Filomeno's youth advocate suggested she quit high school and get her GED. It was the simplest solution at the time, and that trend continues today: pregnancy is the number one reason female students drop out of high school.
Filomeno took her advocate's advice. She started coursework at CCRI during what would've been her senior year of high school, then transferred to Lesley University to study human development with a focus on early childhood learning.
Filomeno recently talked with Nowell Leadership Academy students about her own experiences with high school and higher education. "They were surprised; it helps with misconceptions about what they can and cannot achieve. But I don't want them to have to drop out like I did."
That's what keeps Timpani focused, too. "When I come into work I'm thinking how I can help 160 kids graduate from high school," she says. Like Carlos, who works two jobs, one at Dunkin' Donuts and another landscaping, to support his family. He's seventeen. Or Janna, who has a three-month-old and volunteers at an elementary school. "I'm in awe of that but I want to give them more."
Priscilla, Priscilla, Priscilla, what am I going to do with you?"
Stephen Esau, a math teacher with a handlebar mustache and a personality to match, catches eighteen-year-old Priscilla Melendez working ahead on a ratios assignment. The final three problems were supposed to be for homework.
Priscilla, pretty with long black hair and hooded eyes, smiles coyly at her teacher. But instead of rebutting, she helps another student work on the in-class assignment by breaking it down in Spanish and bits of English.
"Alright, muy bueno," says Esau. He instructs his pupils to figure out the boy-to-girl ratio in the room: just three boys in total — two of whom are teachers — to two dozen girls.
Math is Priscilla's favorite class, partly because Esau is a ham and partly because she likes money. She's saved enough to move from where she lives in Warwick to an apartment in Providence with her two-year-old daughter, Elizabeth. Their commute to school will shrink to minutes compared to the hour-and-a-half they spent on a RIPTA bus that morning.
Priscilla was a student at Warwick Veterans High School when she found out she was pregnant. "I didn't know for four months, but I didn't have any doubt that I was going to keep her," she says. "After I had her I didn't want to go back. I was going to get my GED, but I decided to enroll back in high school. I didn't want my daughter to think it's okay to not graduate."
Priscilla was determined to finish out the year at Vets, but she says her instructors didn't show up for tutoring. She felt they were against teen parents so she transferred to East Providence High School. "The teachers at E.P. were understanding, but I jumped at the chance to enroll here," she says. "I enjoy spending time with my daughter. I can spend days with her and schedule her appointments, and I like that I can see her here."
After math class, Priscilla walks over to the onsite day care center to check on Elizabeth before naptime. She kicks off her sneakers and unlocks the squeaking partition, sliding it open slowly so as not to disturb a handful of toddlers curled up on floor mats.
A CD of nursery rhymes muffles the cries of an infant in the next room. Most of the children are already sleeping soundly — except for Elizabeth, who is thrashing beneath the hand of a caregiver. Priscilla kneels down beside the mat and scoops up her daughter.
Elizabeth noses into the crook of her mom's neck, and Priscilla cradles her tiny head, two dark-as-night pigtails perched on either side. "You gotta go to sleep, baby," Priscilla whispers as she rocks from side to side.

After a few moments, Priscilla places her daughter back on the mat and kisses her cheek, and the once-restless child is calm. Elizabeth's listless gaze is locked on her mother as she wriggles on her shoes and heads back to class — this time, it's social studies. While Priscilla learns about the sinking of the HMS Gaspee, her daughter drifts to sleep.
Correction: A previous version of this article misstated an aspect of the Nowell Leadership Academy. The school is based on innovation and flexibility, not the factory model. The story has been updated to reflect this change.