School Daze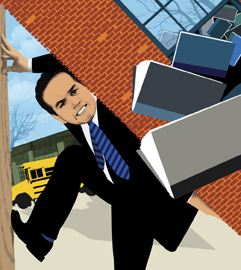 The night was cold and the meeting had entered its third hour, but the parents of Hope High School would not be denied their say. The city is proposing to spend $972 million to rebuild, refurbish or retire thirty-nine school facilities, and whatever oxygen was left after a two-hour PowerPoint presentation on the plan was taken up by the fear and anger in the room.
One man proffered a battered photo album of circa 1930 portraits of Providence buildings — including some schools — a reminder that these buildings are not mere shells, but civic icons. Others brought their individual quarrels. One man planted himself in front of the microphone and launched into a tale of a music program that had died, despite an abundance of donated instruments.
"What's happened to the closet full of violins at Nathaniel Greene?" he asked plaintively.
For many of the parents at that meeting, the closet full of violins was also a symbol — of the diminishing quality of a Providence public school education. What will happen to their children if the city pours so much money into heating ducts and carpets? A better question may be: what will happen if they don't?
A growing body of research — some empirical, some based on case studies — links academic achievement to the learning environment's air quality, temperature, lighting, acoustics, building age and size. Some of the studies, for example, have correlated poor indoor air quality with student absenteeism. In 1999, researchers studied 100 students at two New York City schools, one of which was on an airport's flight path. The students exposed to the drone of arriving and departing aircraft scored as much as twenty percent lower on a reading test than children in the other school. Other research has tied modernized buildings to higher standardized test scores in math and reading. In recognition of these results, school designers today favor flexible, homey, light-filled classroom spaces. Smaller schools are in; long, locker-filled corridors are out.
"Clearly there are many factors that go into why people test high or low," says Jeffrey Lackney, a school facility architect and scholar in Madison, Wisconsin. "We need to think in probabilities and context. The biggest issue with urban schools is that many were constructed in an earlier era with double-loaded corridors and single rooms. We recognize that it's not only about the building, but about improving teaching practices. They go hand-in-hand, if the buildings are used as they are supposed to be."
Providence Schools Superintendent Donnie Evans has pinpointed the renovations as key to his strategic vision. "We will be a national leader in educating urban youth, and we will be doing things that put us in a leadership role, including first-class buildings," Evans says. "In some cases, our buildings remind me of prisons or asylums."
In 1995, the federal General Accounting Office found that 25,000 schools in the United States needed $112 billion in repair just to comply with minimum building standards. The last ten years have seen a boom, with districts nationwide spending nearly $600 billion to build 12,000 new schools or improve 130,000 existing facilities. (In 2005, Rhode Island, by a wide margin, spent the least amount of money on its school buildings, including construction, land and debt service: $320,594.)
But the wealth has not been spread equally. After a decade of massive outlays in strong economic times, districts serving poor and minority students have made virtually no progress in improving their facilities. According to a 2005 report prepared by a consortium of educational groups called Building Education Success Together, the disparity persists: the least affluent school districts made the lowest investment of $4,800 per student, while the most affluent districts made the highest: $9,361 per student. The money spent on schools at the low end of the economic scale was more likely to fund basic repairs, while affluent districts were more likely to build science labs or performing arts centers.
In 1995, New Haven public schools became an exception to the trend, embarking on an ambitious program to remake forty-five school buildings over fifteen years at a cost of $1.5 billion. To date, the Citywide School Construction Program has opened twenty-four renovated or newly constructed schools and has become a national model, says Susan Weisselberg, program coordinator. For civic and school leaders, the project has been a puzzle of funding, of making design decisions in concert with the community and of juggling displaced students. And initially, for citizens, the project took an emotional toll.
"It can be a little hard on people," concedes Weisselberg. "It took people a while to understand this was an organized program and that it was going forward. It's quite a leap of faith to know it's all going to happen. But it's really been a wonderful thing for the city," Weisselberg says.
School reconstruction also brought the middle class back into the city, and Mayor David Cicilline was so impressed by this when he toured the project in 2005 that he resolved to do the same for Providence. Crime was down, investments in housing, roads and the arts were up; the integrity was back. Tackling the dilapidated schools, says Cicilline, was a piece of unfinished business.
"I came back from New Haven, and that night I had a zoning board meeting in Samuel Brigham Middle School," he says. "I was walking down the stairs, and it was old, with grates on windows. It was dark and depressing, and I thought: You know, the kids in Providence deserve to feel the same way they feel when they walk into a new building in New Haven."
In the history of American school buildings, the intimacy of the one-room school that served Colonial children gave way to the factory model, behemoths designed to churn the masses of immigrants into citizens. Nearly a third of Providence's schools were built before 1945, and their condition was rated by DeJong, the educational consultants that drew up the current master plan, as poor.
Hope High School, with 257,000 square feet, is a relic of the industrial age of school design. For nearly seventy years, the building has occupied the site of the old Hope Reservoir. Its brick wings open on the boulevard in a welcoming embrace to the community's young scholars. The colonial-style cupola caps the center column of the building like the homburg of a solid citizen. But of late, what happened inside the building did not live up to the promise made by its architecture.
In 2000, the state Department of Edu-cation threatened to take over Hope High School if it did not substantially improve. And after years of negotiations and dismal assessments, Rhode Island Education Commissioner Peter McWalters ordered the high school split into three separate learning communities within the building. In December, Nicholas Donohue, the special master assigned to oversee a corrective action plan, issued his final report, commending the school for making enormous progress and urging the city to accelerate the pace of improvement and "improve an-tiquated facilities at the Hope complex."
That is the challenge for all of Providence's schools. The results from the latest standardized test scores of third to eighth graders showed substantial progress in math and reading. Still, less than a third of the district's students were proficient in math, and only 37 percent were proficient in reading.
It's hard to say if $972 million will buy a spike in test scores or put those missing violins back in the hands of young musicians. Even New Haven, which is in the process of designing a study to measure the effect of its renovations on learning, has, so far, only anecdotes. But it seems safe to say that Providence will not lead the nation in educating urban youth, or even lead those students into the twenty-first century in buildings designed for an education from the last one.