Scale the Highest Peak in Newport
Miantonomi Tower opens for one day only, and you don't want to miss the views.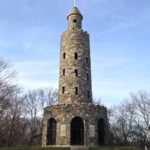 For a minute, forget the election. Shake that feeling of impending doom, and envision the fairytale tower of your dreams. (For the make-believe-deficient among us, consult the above photo for inspiration.)
Imagine ascending its spiral stone staircase, pausing at each landing to evaluate the view from lookout windows. The trees are aflame in red and gold, and the view of the ocean is better with every step.
Just as a flush rushes to your cheeks, you arrive at the top. You circle the observation deck, and the neurons in your pleasure center go wild. The air is crisp. And the panorama — well, it's one that'll make you forget about all that's wrong with the world and remember everything that's right.
Okay, now you have to think about the election again. Sorry.
But it's going to be alright: On Friday, you can do this in real life. Live in that happy place, at least from 12:30 to 3, at the tower at Miantonomi Memorial Park in Newport. The highest natural point in Newport, the park is popular among families and hikers, but the tower itself is rarely open to the public. In celebration of Veterans Day, the city of Newport unlocks the gates and invites visitors to climb the stairs and feast on the views.
The park is named after Chief Sachem Miantonomi, a Narragansett leader whose tribe held the land for hundreds of years. Miantonomi "transferred" the site to the English colonists in 1637, who used it as a lookout. It was also occupied by Colonial, British and French forces during the Revolutionary War and, in a wholesome twist, later served as a picnicking site for Newport families.
On Armistice Day in 1923, the hill was proclaimed a war memorial by the city of Newport. Six years later, the city commissioned McKim, Mead and White (the architectural firm behind the Rhode Island State House and Rosecliff) to build the eighty-foot-tall fieldstone tower to commemorate the 150th anniversary of the battle of Rhode Island.
Last year, the city sent a drone to explore the view, so here's a preview of what you'll see on Friday:
Visit the tower at Miantonomi Park on Veterans Day, November 11, from 12:30 to 3 p.m. The park is located between Hillside Avenue and Girard Avenue in Newport. The tower is located a short, easy hike up the park's central hill. It's eighty feet tall, so you can't really miss it.