Sandy Ground
Caldwell and Johnson helps a family rebuild what Hurricane Sandy took away.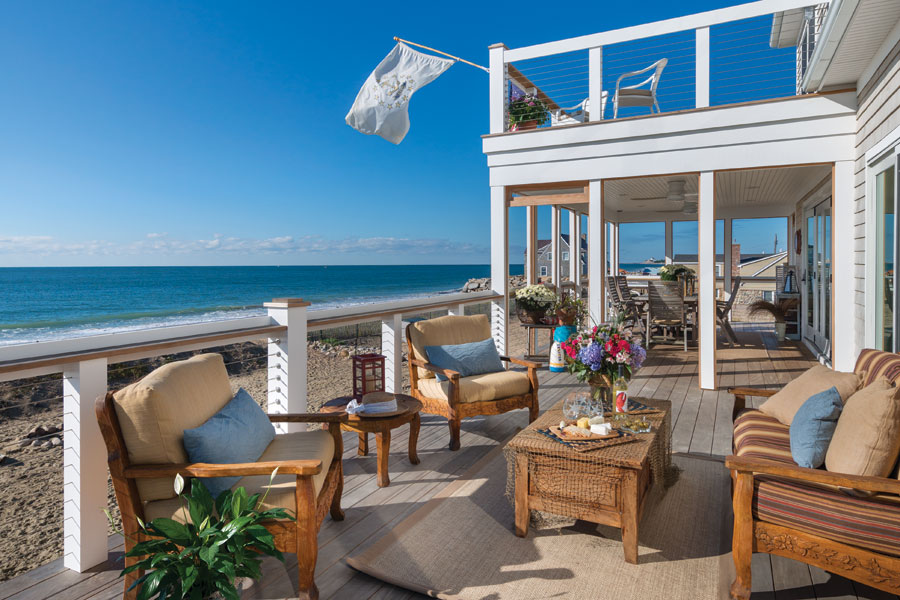 "It was our house," says Diana. "It was our family house."
Anyone who has grown up in Rhode Island or spent time in its southern coastal neighborhoods can picture it. It was a true Rhode Island beach shack: Cramped, yellow, without insulation and, say sisters Trudy and Diana of the Misquamicut vacation home, perfect.
The sisters didn't grow up in Rhode Island, but their parents had. As is so often the case when you're born here, it became a difficult place to shake. Rather than fight it, their parents spread the love and vacationed regularly in Rhode Island with their three daughters, instilling them with the same affinity for the great little Ocean State they once called home.
It wasn't until the sisters were grown with children of their own that their parents bought the little yellow house on Atlantic Avenue, where, for fifteen summers, three generations of their family gathered to enjoy one another's company and that pristine patch of sand.
Then came October of 2012 and Hurricane Sandy.
The storm left parts of Atlantic Avenue unrecognizable — buried in sand, rocks and strewn with debris. Trudy, who like her sisters and parents lives outside of Rhode Island, remembers watching post-storm coverage of Misquamicut on television and seeing the skeletal remains of a building flash on the screen. Eventually she realized the decimated structure was their house.
From their homes out of state, the family descended on the property to salvage what they could — a cribbage board made by their grandfather was found; some dishes were recovered, a bean pot that had belonged to their grandmother was not. After inventory was taken it was decision time. What to do: rebuild or cut their losses?
If they did rebuild, they wanted to resurrect a comfortable home where their beach shack had been — nothing ostentatious, but something designed to be what its predecessor had become: a family gathering place, and one that wouldn't fall so easily.
"The question wasn't only do we, it was can we do what we want to do," says Diana.
A twelve-foot folding Andersen door in the kitchen opens to a covered, screened-in porch — ideal for warm summer nights dampened by passing showers or August afternoons when the midday sun is too much. With the folding door open, the exterior space functions as part of the house, making it easy to entertain large groups.
Building on waterfront property is complicated, particularly when said property is thousands of miles and several states away from your home base. Coastal regulations, environmental zoning, town and planning permits — the regulatory angst is unrelenting when you're dealing with waterfront property. In order to make the project happen, they needed a builder with the knowledge and resources to assume total responsibility for the project, from permits to finish work.
"The goal was for the homeowner to be able to sit in the new home and watch the next category five hurricane blow through," says Dave Caldwell, the second generation owner of the full-service design-build firm Caldwell and Johnson, which was hired for the project in November of 2012. He says the agreed-upon approach was straightforward: "Mother Nature took us down. Let's go back up and be a little less invasive, accommodate the sea level rise and the location a bit better."
Working with Kitchen Design by Coventry Lumber, designer Lorine Foley helped guide the family's decision on cabinets and finishes. Because this is a family house that often hosts sizeable groups, a large open kitchen is a must. Engineered maple floors were chosen for the first floor because they're easy to keep clean (hello, sand) and they handle moisture well.
Eighteen months after Caldwell was engaged for design, engineering and permitting, the house was done, and the family was in for Memorial Day. The permitting stage for coastal projects like this often takes longer than the construction itself. In this case, the regulatory rigmarole was completed in just nine months. The new home was one of the first on the beach to be back up and, although Caldwell and his team hustled, the house is solid and is designed to be resilient to the environment. A firm believer in sustainable building materials and practices, Caldwell and his signature are evident throughout: the envelope is tight with energy efficient Andersen windows and doors, the home well insulated and the roof is lined with photovoltaic shingles, which enables it to generate much of its own electricity. The house meets the National Green Building Standard and is Energy Star certified.
"The quality of his work is outstanding, and it's important to him," says Diana of Dave Caldwell, which is something that shows in the finished product.
A fireplace was built from stones and driftwood the family collected post-Sandy. To the right of the fireplace, a beverage fridge and wine rack provide more space for drinks outside of the kitchen.
"We have all these great memories of being here with our kids," says Trudy. "We're going to rebuild those memories and make more."
"What has been built there has been built to last," says Caldwell, which is exactly what the clients wanted all along.
---
Architectural Concept and Construction:
Caldwell and Johnson
401-885-1770, caldwellandjohnson.com
Building Materials, Photovoltaic Shingles, and Kitchen Design and Cabinetry:
Coventry Lumber
4101-821-2800, coventrylumber.com.
Architectural and Residential Design:
Lorine Foley, Lorine Design Services
401-524-5927.