Sand Castles and a Penny Arcade at Spring Lake
The Burrillville beach features one of the last penny arcades around.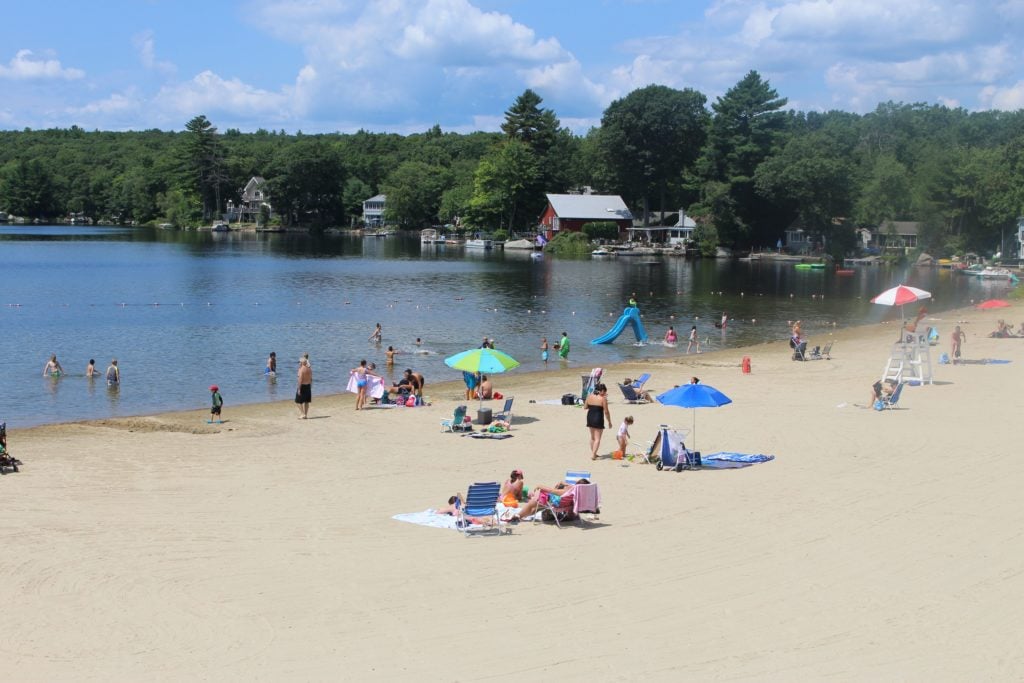 Want to escape the crowds and get a retro beach experience in the Ocean State? Head to Spring Lake Beach in the village of Glendale in Burrillville, where you can still play arcade games for a penny and compete in a sandcastle contest.
Walking toward the pastoral former cottage community is like taking a step many decades back in summer time. As you approach the water, you can hear the shouts of kids jumping off floats, slipping down slides and running around the beach.
It's been that way for about eighty years, though some of the original buildings have been torn down and replaced, says Cheri Hall, the longtime beach manager and former head of the town's Parks and Recreation Department. The lake was once known as Herring Pond, and the beach was privately owned.
"It just got to a point where there were some very old buildings," Hall says.
What has never been torn down is one of the oldest penny arcades in the country. Opened in 1931, it still features wooden baseball, driving, shooting and other games — many for a penny or a nickel.
The beach also used to host bathing beauty contests. To this day, people in their seventies come back and reminisce about summers spent in the cottages that used to reside on the beach.
"The whole beach was just an event for everybody," says assistant beach manager Rhonda Dowding.
The town bought the property in 1989. By the 1990s, the facilities had fallen into some disrepair and there was discussion about closing the gates. Hall was able to secure about $1.5 million in grants to replace buildings and established programs such as a summer camp and after school program for kids and build a hall that now hosts receptions and weddings.
"She's done a lot for Spring Lake," Dowding says of her boss, who is retiring as beach manager at the end of this season.
Assistant beach manager Rhonda Dowding and beach manager Cheri Hall.
Despite the new construction, the beach maintains a vintage, family feel. Judy Lopez has been running the concession stand, Annabelle's Spring Lake, for eighteen years.
And what better way to experience the vibe than playing a few penny arcade games and participating in a sandcastle contest? Bring your shovels on Tuesday, August 12, at 11:30 a.m. and start sculpting. Judging will be in the categories of best sandcastle, best sand sculpture, most unique, most artistic, largest, smallest and most humorous.
The beach is open from 11 a.m. to 7 p.m. daily. Price: $2.50 for Burrillville residents, $5 non-residents. Spring Lake Recreation Area, 50 Old Hillside Dr., Glendale, 401-568-9474.
Correction: A earlier version of this post incorrectly stated the name of the Beach. It is Spring Lake.