Salty Dames
It's been some rough sailing for the commercial fishing industry, but these Rhode Island women are up for the challenge.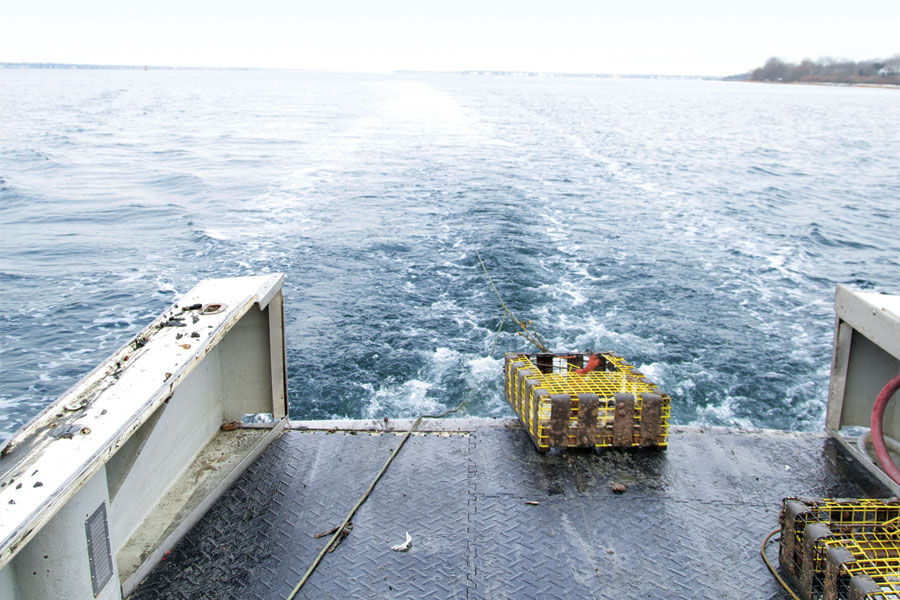 Google "women" and "fishing" and up will pop lots of calendar images of smiling ladies in bikinis, cradling impressive marine specimens they probably didn't catch.
But women have long been part of the seafood industry around the world: mending nets, landing fish, stocking aquaculture ponds, harvesting shellfish, working in markets and processing plants, running seafood companies. Mostly part of small-scale operations in Africa and Asia, women make up nearly half of the 200 million people in the business, according to a report by the Food and Agriculture Organization of the United Nations.
"Despite their crucial contributions to the fisheries industry and to household livelihoods and nutrition, these women are often invisible to policy makers who have traditionally assumed — mistakenly — that fisheries are a male domain," states the 2012 report.
In Rhode Island, however, women who work in fisheries are not plentiful. That's in part likely a reflection of the unprecedented challenges commercial fishing has faced in recent years because of declining fish stocks.
"There isn't the incentive to get in the business that there used to be," says Andrea Incollingo, who owns the Bait Company in Point Judith. "I blame that on the regulations. There aren't even young men coming into the industry."
Still, she and other women in the Ocean State make at least part of their living catching or selling fish. Not cut out for the nine-to-five, they share a wanderlust, the willingness to work hard and a love of the water and the creatures within.
Some hail from generations of fishermen, while others felt a calling as adults. Often, they're the only female in a group of men. But whether they describe themselves as fisherman, fisherwoman, fishermom or fisherbabe, once they pull on their gear, it's not easy to tell the difference.
---

Clockwise from top left: They check their traps often. Eagan's dog, Luke. Eagan heads out on Mount Hope Bay. Perreira prepares bait for the traps.
Katie Eagan
Katie Eagan drags crates brimming with bait from her truck down to Bristol's Rockwell Dock just before 7 a.m. on a chilly morning, her German shepherd, Luke, scampering beside her.
Wearing a flannel shirt and fleece, with a John Deere camouflage cap pulled low over her eyes, Eagan jumps on the Francis E, the thirty-one-foot lobster boat named for her grandfather that she bought with her dad, Dan, three years before. Soon, Dan and M.E. Perreira, a deckhand Eagan has known since elementary school, arrive. They pull on their rain gear and steam out into Mount Hope Bay to go conching.
As they head out to their first trawl, Perreira chops bait with a machete in the back of the boat. Eagan and her dad switch off in the wheelhouse, using GPS, a depth sounder and their logbook to locate their traps.
Soon, Eagan's hauling traps out of the water, passing them quickly to her dad, who examines the catch, saving the legally sized conches and tossing the rest back. The catch has been a little off, they say, possibly because of the water temperature. Then he passes the traps down to Perreira, who fills them with new bait and shoves them back into the water.
"All right, Dad, what do you want to do next?" Eagan asks, consulting the logbook.
"I don't know," he replies. "Try something on this eastern edge here."
Dan Eagan fished with his father, too. And his daughter has been working on boats since she was young. "For a while, there were three generations on the boat," he says. "We put everybody to work."
But Eagan also loved to travel, and her dad didn't know if she'd return to the family business. A marine affairs major at the University of Rhode Island, she spent two years volunteering in the Fiji Islands, helping villagers preserve their fish stocks.
"I thought she was the one who was going to leave," Dan Eagan says. "But you always come back."
When conch season wraps up, they move on to lobsters and crabs and back again. Eagan's dad will go quahogging, and she'll go fish trapping.
"To be able to make it in this industry, you have to be able to change constantly," Eagan says.
Work doesn't stop once they dock. They take their fish to their dealer, have to file paperwork and keep up with ever-evolving regulations. They read studies on water to try and predict the catch, work with scientists to track different species and serve as a voice for commercial fishermen at town and state meetings.

"You're not done at the end of the day anymore," she says.
Eagan recently developed a project that got funded by the Rhode Island Sea Grant which involves fishers in the data collection process for a more accurate stock assessment of shellfish.
As for making a living on the water as a woman, Eagan says she doesn't see herself as different from her male counterparts. "It's just like anything else," she says. "You have to earn respect."
---
Schumann heads out to a sandbar to catch razor clams. Schumann looks for moon tides to fish for razor clams.
Sarah Schumann
Sarah Schumann grabs her bucket on a bright December afternoon and kayaks out to a sandbar in Point Judith Pond. Wearing a sweatshirt and rubber boots, her hair is bundled under a baseball hat that announces her opposition to the proposed construction of a copper mine many believe could destroy salmon fishing in Alaska's Bristol Bay.
A part-time commercial fisher, Schumann has been razor clamming since a friend shared his top-secret method. "Most people have no idea that you can eat them," Schumann says of the slender shellfish. "I've been doing it for two years on this sandbar."
After catching a bundle, she pulls out a kitchen scale, weighs the clams and gathers them in one-pound bunches, which she'll sell to Narragansett Bay Lobster. On a good day, she'll fill her mesh bags with thirty to forty pounds' worth.
But fishing's just one of the many activities that make up Schumann's days — and one that her parents never anticipated. The Washington, D.C., native spent summers visiting her grandmother in Warren, where her father taught her to quahog recreationally on the Kickemuit River.
But it wasn't until she traveled to Chile that she fell in love with it. Schumann spent a year interviewing artisanal fishermen up and down the coast. Growing up during the 1990s, she was familiar with controversy that pitted environmental concerns against jobs. "I always hated that," she says. "And when I found fishing, I found a job that depended on the environment, where those two priorities were aligned. It was magnetic for me."
Back in the United States, Schumann enrolled in the marine affairs program at URI. But she was embarrassed telling her classmates what she wanted to do after graduation.
"They're going to laugh at me," she thought. "Here's a woman who knows nothing about this. Should I really open up, or should I make something up that sounds more professional? But when it got to me, I said, 'well, to be honest, what I really want to do is become a commercial fisherman.' And everybody laughed."
Andrea Incollingo, the owner of the Bait Company, helped her find work aboard a lobster boat. Schumann got horribly seasick her first day, but felt like she had to prove herself. She waited until they got back through the Harbor of Refuge before throwing up over the side of the boat.
Schumann loved the work, and spent the next few years alternating between boats and returning to Chile, working in a salmon cannery in Alaska and earning her master's in environmental policy from Oxford. Along the way, she applied for a commercial fishing license but learned that getting permission to fish for popular species isn't easy.
At first she grumbled about her basic license for shellfish. But she's equally passionate about her activism and has realized she doesn't want to be a full-time fisher.
In 2011, Schumann started Eating with the Ecosystem, a traveling series of educational dinners at restaurants such as Newport's Tallulah on Thames that bring commercial fishers, scientists and chefs together to talk about how to eat sustainably. She was also a featured speaker at TEDxProvidence, urging people to eat like a fish.
Last year, as a representative of Commercial Fishermen for Bristol Bay, Schumann walked the docks in Point Judith, gathering signatures from fishermen and at businesses and organizations, saying that they stood with their colleagues in Alaska.
The organization flew her down to Washington, D.C., where she met with United States Senators Sheldon Whitehouse and Jack Reed. Whitehouse sent a letter to the Environmental Protection Agency urging the EPA to complete its scientific assessment of the potential impact of the mining on the Bristol Bay watershed, which the agency has since done.
"We influenced our senator," Schumann says of Whitehouse. "And fishermen around here were all too happy to do that. They know what's up in situations like that."
Eventually, she'd like to become part of a nationwide network of fishers who are learning from each other to protect the habitat. In the meantime, Schumann's still checking Craigslist, looking for jobs for deckhands.

Stommel sells fish such as cod (right) and herring (above) to chefs and other customers.
Gabrielle Stommel
Gabe the Fish Babe wants to help you get over your fear of frozen fish. Sitting under a poster showcasing the variety of Rhode Island saltwater fish that enticed her to open for business in Point Judith, she rails against the evils of imported seafood while keeping a close eye on her iPhone, awaiting orders from some of New York City's top chefs.
The granddaughter of a well-known marine scientist in Woods Hole and the daughter of a former commercial fisherman, Gabe Stommel knows fish. Her father used to design his own boats and caught ground fish like cod, flounder and haddock.
She was a picky eater, but her mom would tell her, "you love fish, it's your bread and butter."
Stommel eventually came to love seafood for the wildness of it, and the way it made her feel when she ate it. But she also saw her father stop fishing in a changing industry.
"He was used to unloading these huge loads of fish," Stommel says. Her approach is to sell less fish and get it to the consumer faster, "because it's so strictly regulated now."
Lanky, with the mouth of a sailor and a propensity to dress like a mermaid, Stommel went to college in Vermont, traveled around South America after graduation, then waitressed in New York City. She started a business called Brooklyn Haddock, and on weekends, Stommel brought fish from her father's boat back to sell to chefs out of the trunk of her car. Then she got a job at one of the city's largest distributors to high-end restaurants.
"I have very personal relationships with my chefs," Stommel says. "They love me and I love them. I've been working with them for a long time. I tell them, 'Oh, Dave, I've got this today.' I know what he wants."
The concept of Gabe the Fish Babe began as a newsletter. Then nearly three years ago, she opened for business in Point Judith.
Working out of a dockside trailer with a walk-in freezer one January afternoon, Stommel oversees an employee as he handles an order of squid she isn't impressed with and watches over the packing of cod for shipping to New York that night, her rescue pit bull, Buddy, and iPhone never far away. (Customers include Manhattan's Waverly Inn and Roberta's in Bushwick.)
Stommel says she's bringing chefs back to basics. "The best fish in the world is coming right from your backyard. You don't have to go buy Branzino," she says, referring to European sea bass. "I assure you you'll be fine with black sea bass."
Stommel supplies some of the most innovative restaurants in Rhode Island — Flan y Ajo, north, birch — but would like to expand her local business by encouraging more people to join her fish club.
Being in business for herself means she works all the time, whether she's in Austin networking at Indie Chefs Week, checking in with her drivers in New York, salmon fishing in Alaska or posting pictures of her latest inventory on Instagram (@gabethefishbabe). She admits that sometimes life in Point Judith can feel isolated, though.
"You can't have it all," Stommel says. "I sacrificed a lot to start the business and come here. Even in New York, I had to work like a devil to survive. But I'm not complaining. I love my job, I love it."
---
Incollingo sells barrels of skate (bottom right) and herring (top left) to fishermen. She keeps a skeleton of a monkfish in her office (above right.)
Andrea Incollingo
The fishing life of the woman who became the largest supplier of bait to lobster boats in Point Judith began the summer she didn't want to go home from URI.
It was 1975 and Andrea Incollingo and her roommate thought it would be easier to convince their parents to let them stay if they had jobs. "One of our friends said, 'go ask the lobster boats if they want somebody to string the bait,' " Incollingo recalls. "We had no clue what that even meant."
Beyond preparing bait that summer, they cleaned boats, painted, you name it. "It was all exciting," she says. "There was quite an influx of young, college-educated people at the time into fishing." Incollingo had found her calling. She transferred into the commercial fisheries program at URI.
After graduation, she got jobs on lobster boats in the winter, working offshore for four or five days at a time and getting hands-on training. "I remember changing an injector line on a six-seventy-one diesel with one of the guys, helping dismantle a reverse gear," Incollingo says. "It was hard work, but the hard work was rewarding in so many ways. Not just money. There was always a sense of accomplishment and satisfaction."
Back then, there was opportunity everywhere for people who wanted to work, Incollingo says. "And there were a lot of really cool older guys who once they accepted you, were incredibly generous with teaching. Because there were so many skills involved. These guys, they're fishermen, they're people managers, they're diesel mechanics, they're businessmen, they're troubleshooters for all kinds of situations."
By 1984, Incollingo decided to strike out on her own. She started the Bait Company in a trailer at the rear end of a twelve-foot Ryder truck. Before trap limits and regulations were enacted in the early 1990s, she counted more than 150 customers inshore and offshore, assembling about 20,000 strings of bait a week.
Incollingo hired lots of former commercial fishermen — and some women — to string bait for her. "She's a great boss," says Donald Houle, who has worked for Incollingo for more than twenty years. "She's a worker, too. She does everything."
The Bait Company, which now resides in a former icehouse on Great Island Road, has long been a hub for fishermen and marks thirty years in business this year. On a morning in December, Incollingo holds court at her desk, just inside the building. Every few minutes, the front door opens and she greets lobstermen ordering barrels of skate and herring like family.

After more than four decades in the fish business, she still loves the work, even though she's quick to point out the industry is not what it once was. Incollingo's favorite part of the job is still driving a forklift down to Town Dock to pump out herring at 2 a.m. in the middle of winter.
It's working in the bitter cold stillness side by side with others who love it too where she finds her community of marine iconoclasts.
"That's why people were in this business: because we were misfits and we're not the regular lot," Incollingo says. "We didn't fit. But we fit this."

Wheeler fishes with her father and sometimes her two brothers during the season. Wheeler mends fishing nets in a meadow during the off season. They set traps with heavy anchors in Sakonnet Harbor and off Newpor.

Corey Wheeler Forrest
It's the first of May and Corey Wheeler Forrest can't wait to start fishing.
By that time last year, Forrest and her family's trap fishing operation were already hauling nets filled with thousands of pounds of scup out of Sakonnet Harbor. But this spring's weather was the worst in recent memory, its unpredictable winds making trap setting, with 900-pound anchors swinging on deck, too dangerous on many days.
As the rain teems down, Forrest's father, Alan Wheeler, pulls a trailer filled with nets up to their sixty-five-foot steamer, the Maria Mendonsa. Working with a skeleton crew of about eight, Forrest attaches rope and a hook to the nets, so they can be lifted and lowered into a workboat. They hope to set more traps the next day, when the weather is supposed to improve and maybe start fishing that Saturday.
"There's always something, every year," says Forrest, dressed in boots, orange overalls and a raincoat, her long brown hair in braids. "Last year it was lines snapping. So this year we're making sure all the straps are in good shape, so that won't happen again. And now we've got the weather. The beginning of the season is always a little unorganized. But it all works out."
Descended from a long line of quahoggers, lobstermen and gillnetters, fishing had always been in Forrest's family, but she didn't expect she'd one day make her living at it. By 1995, the summer before her first year in college, Forrest had lifeguarded, worked retail and peeled peaches while her two brothers fished with her dad for Point Trap Company, one of a remaining handful of trap fishing operations in Rhode Island.
Trap fishing dates back more than 200 years in Rhode Island, and not many people still knew the ages-old practice of mending nets. Forrest's dad encouraged her to learn and she loved it. Then one day when Alan Wheeler was shorthanded, he asked his daughter to jump onboard, and she was hooked.
She worked on a lobster boat one winter, considered grad school and real estate, and worked briefly in fashion and at a magazine in New York. But she couldn't wait to get back on the water.
"Nothing was as challenging and fulfilling," Forrest says. "I missed my ripped jeans and fishing boots, the sunrises, the calm and the storms, the culture, the language and my shipmates."
The self-described commercial fishermom of two learned from the likes of George Mendonsa, the legendary trap fisherman out of Newport. As the only woman on the crew, she didn't want special treatment, but she did feel like the other fishermen were more protective of her.
"With a new guy, they sort of want to see you screw up," she says. "But I felt that they actually taught me stuff," she says.
Jack Van Hof, a partner in the Point Trap Company who has been fishing for about forty-five years, says Forrest is strong, smart and willing: "Pretty much anything you could want in an employee, in really unusual conditions."
"I used to work on draggers and there were a couple of small boats with a captain and one or two people," he says. "A couple of those had a captain's wife, or some woman who came to work on the boat. But that was it. It was mostly a man's world."
Once the season starts each spring, the Maria Mendonsa typically steams out at 6 a.m. Scup, squid, black sea bass, fluke, bluefish, butterfish and striped bass swim into their traps. Then by hand, the crew hauls up nets filled with thousands of pounds of fish, also known as "pulling twine." An aspiring photographer, Forrest often documents their work on Instagram (@fishandfrisson).
They return to dock in Sakonnet Harbor, where they spend hours packing the fish for customers in New York, Philadelphia, Maryland, the Carolinas and Canada.
Forrest balances her marine life with family. Soon after she joined the business, she met Rob Forrest, whom she later married. Their son, Finn, was born in 2002, and their daughter, Isley, followed in 2006.
She got back down to the dock as soon as possible, her kids strapped in carriers on her back. "I would try to go on the boats as much as I could and I'd be nursing them on the boats," Forrest recalls.
By then, the state had computerized all the fish reporting, and Forrest took that over, along with setting up at the dock for packing and shipping their catch. "Then when I started back going fishing, I still did all the dock stuff and all the computer stuff. Now it's like double duty," she says.
Her father has always had confidence in her skills on the water — more so than she sometimes has. "Especially when we're sort of shorthanded some days, he expects a lot more from me, which I don't mind, but sometimes I say, I've never done it by myself without you helping me, and he says, 'you can do it,' " she says.
During the busy season, her husband, a self-employed real estate agent and property manager, takes over a lot of the childcare. She's missed things like Isley's first jump off a diving board in Little Compton — a family tradition — and doesn't get as much time as she would like with her family in the spring and summer.
"That's the thing," she says. "Nobody does what I do out there. That's why I feel like I can't take a day off ever. This is my time of year that I need to work and do the job well."
Trap fishing off Rhode Island from Onne van der Wal on Vimeo.