Safe House
Reporter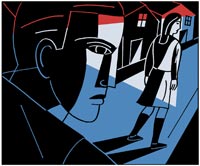 In August, Gary Lamountain was a maintenance man living in a Cumberland apartment building. He was three months out of prison and still on probation for a rape conviction. He had registered with the Cumberland police as a sex offender the day he left the ACI and was in treatment—all of the things he was supposed to so.
Then, police say, Lamountain did something he shouldn't have: He broke into a woman's apartment and raped her.
The incident provoked a public outcry. Under current law, the community should have been notified of Lamountain's presence because the Sex Offender Board of Review had classified him as a Level III offender, someone who carries a high risk of committing another sexual assault. But the state board—whose members serve voluntarily—had been backlogged, and Lamountain wasn't classified until after he was released. By July 20, Lamountain was on the parole board's sex offenders website. Each offender has ten days to appeal his or her classification before police can begin notification. Cumberland police had his information and were preparing to publicize Lamountain's sex offender status throughout the town when he allegedly re-offended.
We presume that announcing the arrival of the sex offender next door will make him or her less likely to repeat earlier crimes because a mindful community will provide fewer opportunities and because the felon's fear of being caught committing a new sexual assault is high.
Are we protecting ourselves or fooling ourselves?
The national experiment in sex crime prevention began in earnest in 1994, with the passage of the Jacob Wetterling Crimes Against Children and Sexually Violent Offender Registration Act, which established state sex-offender registries. Two years later, Megan's Law required states to enact a sex offender community notification law. In 2006, Rhode Island passed the Jessica Lunsford Act, which stiffened the penalties for sexual assault crimes and required some high-risk offenders to wear global positioning devices for life. In 2006, the federal Adam Walsh Child Protection and Safety Act required states to enact its provisions to create a national sex offender registry, or risk losing some federal funds.
For thirteen years, these memorials to children who were raped and murdered by sex offenders have been stacked like bricks in a wall to protect living children from predators. But there is very little research to show whether registries and community notification actually work.
The Washington State Institute on Public Policy, a nonpartisan research organization that studies the impact of legislation, has been probing the effect of that state's sex offender notification system since 1991. Several studies have shown that sex offenders have low rates of recidivism. But two years ago, the institute tried to determine if those rates could be attributed to the sex offender community notification laws. The institute tracked 8,359 sex offenders released from Washington prisons before and after the passage of the original statute and amendments in 1997. Researchers looked at different types of new felony convictions and found that felony recidivism rates stayed the same. But violent felony recidivism decreased 20 percent from pre-1990 rates. The rate of sex felony convictions decreased 70 percent. And the link between community notification and recidivism rates failed to crystallize.
"There appeared to be some change in recidivism that could be attributed to notification," says Roxanne Lieb, the institute's director. "But in the exact wording of the report, the influence of community notification laws can't be ruled out."
In other words, maybe. Researchers pointed out that the national and state drop in crime rates and the state's increased incarceration of sex offenders could also account for the decrease.
"Ninety percent of sexual assaults are committed by relatives or persons who are known to the victim," says Craig Latham, a Natick, Massachusetts-based clinician and state public policy advocate for the Association for the Treatment of Sexual Abusers. "The registries target statistically the least likely thing to happen."
Rhode Island's first foray into community notification ended in a fiasco. In 1999, notification by the North Providence police that the state's first Level III offender had moved into town touched off an angry reaction. Vandals drove Chester Kidd out of his apartment; he lost half the cleaning jobs that sustained his janitorial business, and he was forced into hiding. The law faltered on a series of due process legal challenges and was stayed. That year, a statewide planning team convened to iron out the program's wrinkles, but it disbanded after a year.
In 2003, the process began anew. The state had accumulated a roster of about 300 juvenile and adult sex offenders who needed to be classified. With improved assessment tools, the Sex Offender Board of Review began to whittle away the old cases, while taking on new ones. Today, it averages up to 200 new offenders annually, with about 30 percent of the classifications appealed to the Superior Court.
At the same time, the newly formed Rhode Island Sex Offender Management Task Force, drawing members from legal, law enforcement, mental health, victims advocates and corrections arenas, began writ- ing a plan to improve the system. Last year, a separate legislative study commission was established to determine how the state would manage the new weight of the Jessica Lunsford Act and other sex offender initiatives.
The Adam Walsh law raises the ante against sex offenders even higher. It expands the National Sex Offender Registry by integrating the separate state registry systems into one system for police and the public. It imposes tough mandatory minimum penalties for the most serious crimes against children and creates a national child abuse registry.
"For the first time, there's blanket coverage for sex offender notification across the United States. There's no pocket where sex offenders can hide," says Laura Rogers of the United States Department of Justice. "And for the first time we have a minimum standard states must meet. Adam Walsh establishes a floor but not a ceiling."
Many—including Lisa Holley, chair of the State Parole Board and Thomas Briody, a defense lawyer on the task force—are concerned about the height of the floor. For one, the Walsh act connects the level of classification to the offense, instead of the offender. It does not take into account the offender's past history, personality, present circumstances or commitment to treatment.
"I'm not fond of the broad-brush approach," Holley says. "There are shades of gray we see in a lot of cases that don't go to trial." It could also encourage more offenders to plead to a lesser charge to avoid the consequences of a higher-risk classification, "and we'll be bypassing the whole assessment process," she says.
It also treats juveniles like adults, forcing someone to bear a lifetime label that may not be justified over time.
"The government threatens to cut off 10 percent of funding," Briody adds. "But the requirements they insist upon may cost more than the money that may be lost. To my knowledge, no one has figured that out."
No one in Rhode Island has figured out the price tag for the current notification laws, either. The costs are divvied up among municipal police departments and three different state departments. Police bear the cost of community notification. The state courts provide a special magistrate to hear the appeals of offenders challenging their classifications. It also pays for the defense of indigent sex offenders, including expert opinions, if required. The Department of Corrections handles community supervision for high-risk offenders under lifetime monitoring requirements. The Sex Offender Notification Unit of the state Parole Board spends about $450,000 annually to classify offenders and run the sex offender website, which lists the names and towns of the Level II and III offenders.
Organizations such as Day One, a sexual assault resource center that helped write the new plan, argue for a balanced approach that attacks the sexual assault problem at the roots.
"Our resources are limited," says Peg Langhammer, Day One's executive director. "Let's use our resources toward what we know is effective. There's a lot of research to show what works in terms of prevention."
We may not know what it costs to keep tabs on a sex offender, we may not know whether it makes the world safer, but Senator James E. Doyle II, co-chair of the sexual predator legislative study commission knows this: "Next legislative session, there will be a ton of bills. And anybody who could be against them, we'll have everything worked out. There's not going to be any issues.