Rubber Ducky Fun(draising)
The fourteenth-annual Pawcatuck River Duck Race is fun for the whole family, and benefits the greater Westerly community.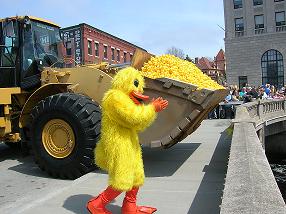 All eyes are on the river. Spectators try to catch a glimpse of their pick in a mass of 20,000, but it's not easy. The competition is beak-in-beak.
The thrill of the Pawcatuck River Duck Race is upon us once again, and there's still time to bet on a rubber friend and get the chance to win more than ninety prizes, including an all-inclusive trip for four to Walt Disney World or $2,500 in cash.
The winning prize might sound like a long shot, but at least your $5 duck will benefit more than forty-five schools and nonprofit organizations in the Westerly-Pawcatuck area, including Cathy's Rottie Rescue, Save The Bay and the Riverfront Children's Center.
But what about the disappointed kids in tow, who waited hours for a win? Their tears will dry quicker than a quack after they spot the games, rides and food booths nearby.
For a sneak peek at all the family fun, check out this video of a 2010 Duck Race by Chris Walsh.
The event will be held on April 28 from 11 a.m.–2:30 p.m. Ducks will be dumped in the Pawcatuck River at High Street in downtown Westerly at 1:30 p.m. Call 596-7761 or visit westerlychamber.org for more information.