Rock On With Mineral Inspired Accessories
Geology-inspired jewelry, home goods and cards.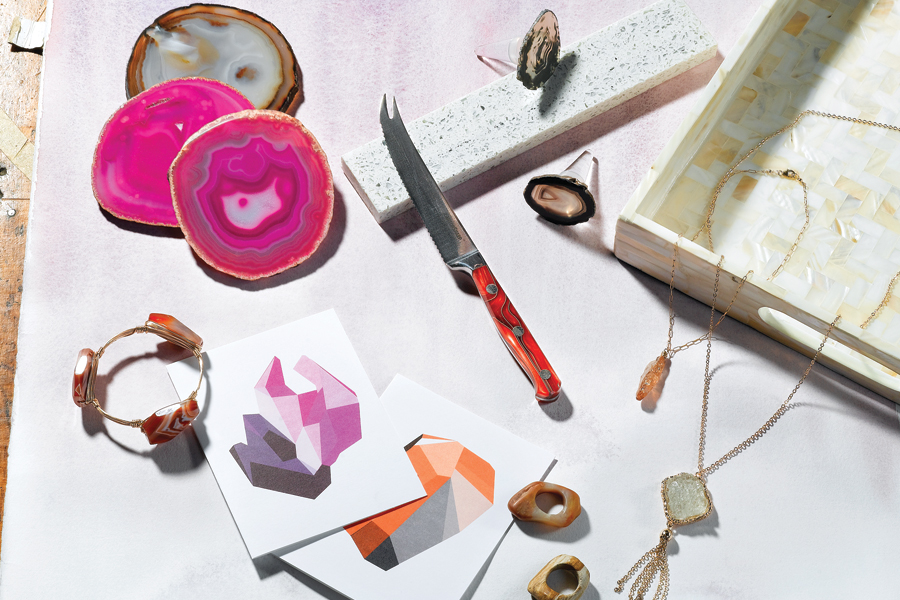 Clockwise from top left: Brown agate coaster, $60 for set of four, Store Four, Wakefield. Pink agate coasters, $56 for set of four, Lou Lou's Decor, Newport. Magnetic wall knife block, $28; knife, $79, both at Stock Culinary Goods, Providence. Wine stoppers, $28 each, Store Four. Mother-of-pearl inlaid tray, $57, Lou Lou's Decor. Raw crystal pendant on gold-filled chain, $39.95, by Design by Nergina, Purple Cow, Wakefield. Tasseled crystal necklace, $24, Nava, Providence. Tiger's eye rings, $130 each, risdworks, Providence. Birthstone notecards, $14.95 for boxed set of twelve, Nava. Red bracelet, $28, Hollies, Barrington.

Clockwise from top left: Candle and aqua agate coaster, $54, Hollies. Cabinet drawer pulls, $14.99 for set of two, by Cynthia Rowley, Homegoods. Green agate coasters, $60 for set of four, Store Four. Cube necklace, $18, Nava. Green bracelet, $32, Hollies. Turquoise earrings, $45, risdworks. Agate geode vintage necklace with glass beads and Swarovski crystals, $65, Restored by Design, Providence. Lapis ring, $130, risdworks. Druzy earrings, $12, Nava.