Ride The Wild Surf
Rhode Island is home to points and reefs that can set up the perfect surf session. But pristine waves come with a price—crowds, extreme conditions and the need for experience have driven a few hardy locals to test their limits and ingenuity to find the ultimate ride.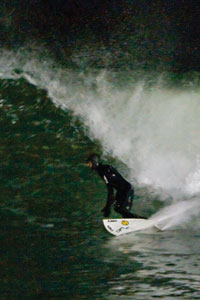 A wave can be unpredictable when it breaks fast and shallow over a rock reef, even more so when it's over your head. At night, in the dead of winter, it's a critical drop, and for the inexperienced it adds new meaning to the phrase "lights out." Rhody surfers Charles A. Donadio, Jamie Risser and Curtis Niles haul lights and generators down to a South County surf spot to illuminate the waves with 16,000 watts, braving bone-numbing water temperatures to beat the crowds and get the serious mid-winter stoke on.
Photography by Alexander Nesbitt
Text by Dean Welshman
Barrels in the bowl: Jamie Risser and Drew Wheelan survey; the possibilities.
Charles Donadio slotted in a South County barrel.
"We're pioneering night surfing. It's a hardcore local crew at midnight in 20-degree weather searching for that perfect wave. It's an adrenaline rush." – Charles A. Donadio
Curt Niles, smacking off the lip at midnight.
Tow-in surfing was invented and perfected in Hawaii. Big-wave riders travel by inflatable raft far off shore—in this case about ten miles south of the Rhode Island coast—then get pulled by a Jet Ski through waves too high to paddle.
The team is composed of highly experienced surfers from Newport; but also from Hawaii and South Africa.

The right stuff: Teague and Christian position themselves to tow into a wave that would be considered too big to paddle into and catch.
All-around waterman and Newport surf shop owner Christian Schlebach catches a wave before it breaks. The green room is a state of mind. It also means being in the right place at the right time—the inside of a barrel of a wave. On this particular day, Schlebach experiences both.
Christian Schlebach dropping into the great green room. Teague Sobin mans the Jet Ski for both tow-in and possible rescue operations.
"Extreme board sports require the right tools for the right situations. Don't be afraid to get involved and get out there." – Christian Schlebach