Rick's Roadhouse is Now Xaco Taco Modern Mexican
The restaurant will open on Saturday, January 20, serving Mexican street food.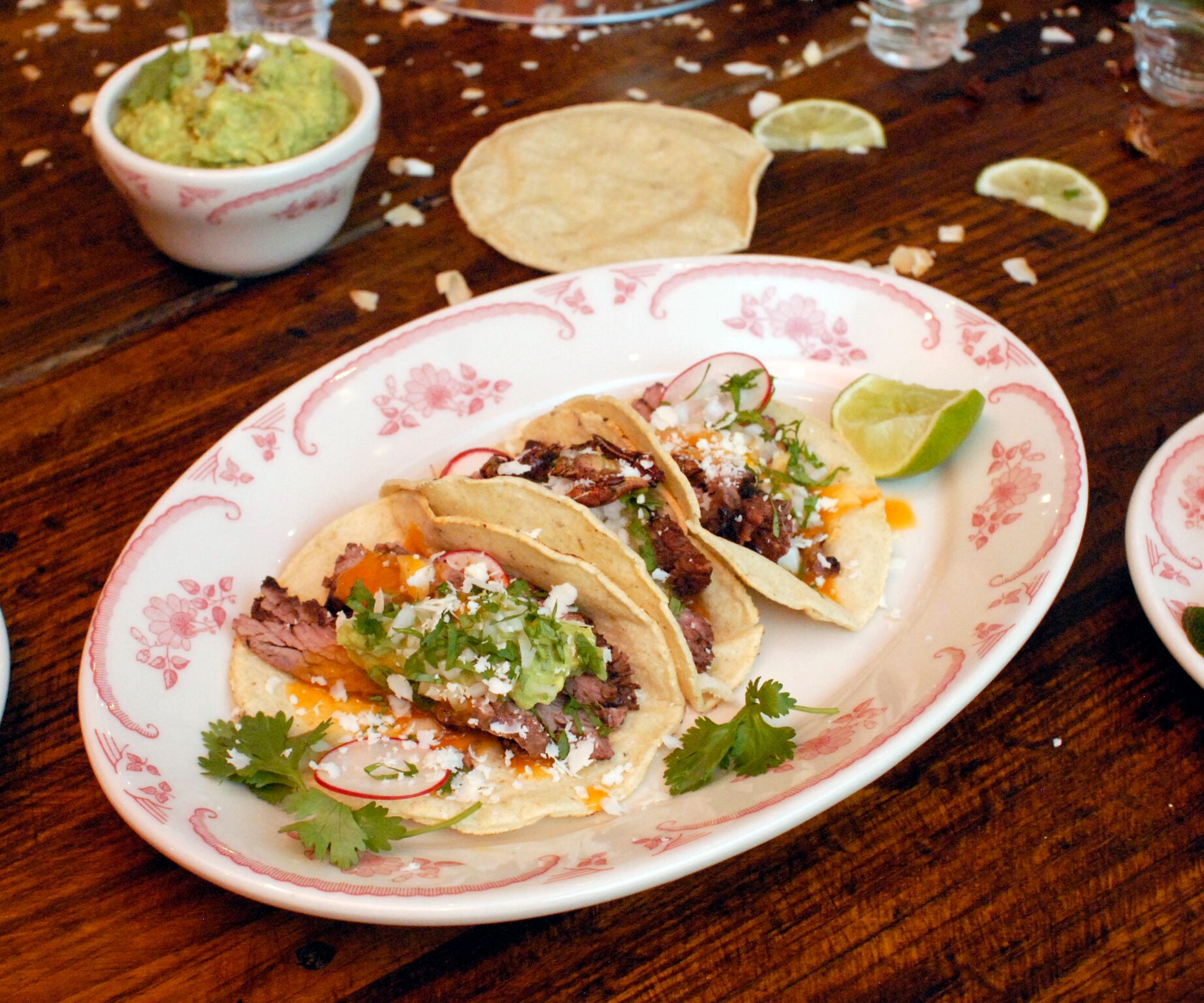 Editor's Note: This article was updated on Jan. 19, 2018.
The colorful mural blasting "Best Barbecue in Rhode Island" on the side of Rick's Roadhouse is gone. Replacing it is the logo for the new, highly anticipated Xaco Taco Modern Mexican restaurant, the latest spot coming soon from Chow Fun Food Group. "We are rebranding Rick's mostly because the quality meats we use in our barbecue have gone up exponentially over time," says Chow Fun Food Group maestro John Elkhay. "It put us in a place we were no longer comfortable with."
Rick's Roadhouse is now closed and will reboot as Xaco Taco on Saturday, January 20, serving all kinds of tacos from $3 to $3.50 each. Similar to Harry's Bar and Burger's famous special, everyday between 3 and 5 p.m., all tacos will be $2 each.
It's been a long time coming, says Elkhay, who now owns eight restaurants including four outposts of Harry's Bar and Burger (North Main St., Providence; Federal Hill, Providence; Lincoln; Newport), Luxe Burger Bar, Ten Prime Steak and Sushi and XO Café, which is celebrating its twentieth anniversary.
Two years ago in October 2015, Elkhay hired a chef from San Francisco, Andy Pyle (who worked at Chez Panisse), to specifically help develop the menu for Xaco Taco while he served as executive chef at XO Cafe. Pyle is handmaking the corn tortillas that will be stuffed with meats and veggies including pork, al pastor, chicken, barbacoa, lamb and more, plus vegetarian and vegan versions that include roasted cauliflower and mushrooms and tempura fried avocado with cotija cheese.
The white corn tortillas will be made daily using organic, non-GMO corn, lime and filtered water, reminiscent of how the Aztecs and Mayans made tortillas. "There's been a big trend of fresh white corn tortillas, the way the Aztecs made them," says Elkhay. Xaco Taco will also feature chapulines (grasshoppers) throughout the food and beverage menu, which is a staple in the city of Oaxaca.
Xaco Taco has been over a year in the making. Chow Fun Food Group spent that time researching tacos and figuring out a way to take down its back wall in the restaurant. "I've been eating a lot of tacos over the last year, and visiting other countries; everywhere from L.A. to New York, and Mexico," says Elkhay.
The new space will have the appearance of a street with a 1972 Volkswagen bus converted into a taco truck as a tribute to street food. It took awhile to perfect everything from the tortillas to the fillings. "A taco is like a french fry," says Elkhay. "A French fry is very simple to make but it's the most difficult thing to get right."
Xaco Taco will be open every day for lunch and dinner and serve brunch every Saturday and Sunday from 11 a.m.-5 p.m. Xaco will feature $2 tacos every day from 3-5 p.m., as well as, Sunday through Thursday 10 p.m. to midnight and Friday and Saturday, 11 p.m.-1 a.m. 370 Richmond St., Providence, 401-228-8286, chowfunfoodgroup.com
RELATED ARTICLES